Entertainment
Queen Latifah Former Girlfriend Pregnant; Has Anything To Do With It?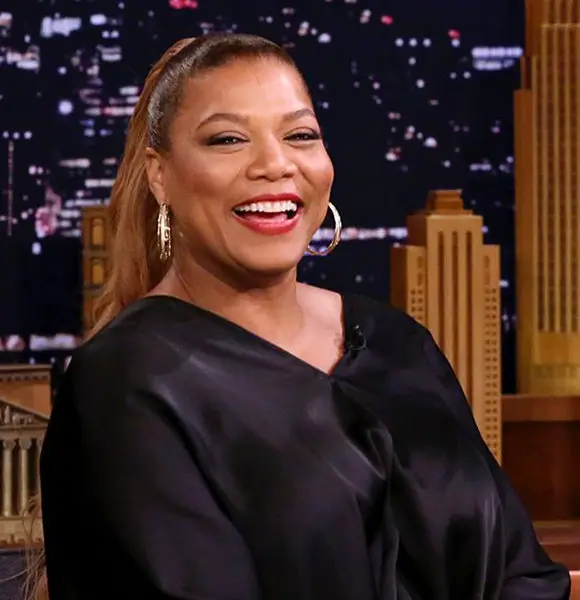 Born Dana Elaine Owens, Queen Latifah, age 48, may have gotten her first taste of success as a Hip-Hop act, but it's her acting skills in movies such as Chicago, Living Single alongside John Jeaton, and most recently Girls Trip that made a household name in America.
Although never shying away from speaking up for the plights of the LGBTQ community, the one-time Grammy winner, however, doesn't like to discuss her sexuality; the consensus among the public is that she's lesbian.
And with the recent news of her wife-to-be Eboni Nichols being pregnant, everything lays bare for the U.N.I.T.Y. songstress.
Longterm Girlfriend/ Wife-To-Be Pregnant
Maybe, the loss of her mother to heart disease in March 2018 made her realize the importance of having a family?
Read Also:- Don Warrington Family, With Wife Or Partner? Status Of 'All My Sons' Star
Whatever the case, the New Jersey looked elated in her lesbian partner's company when photographed by paparazzi at the backend of October 2018. In addition to showing off the baby bump, Queen Latifah's soon-to-be wife Eboni also flashed an engagement ring.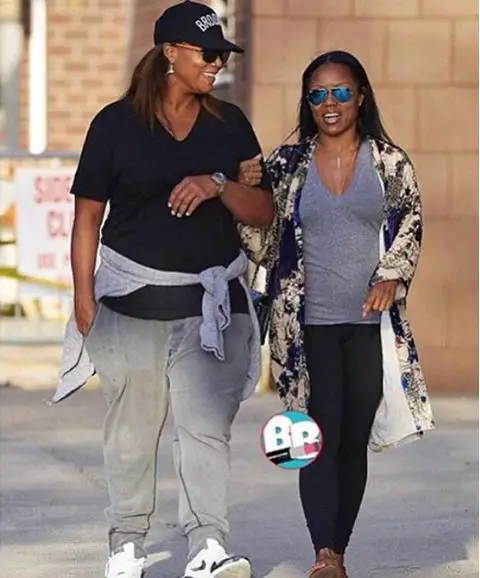 Queen Latifah's girlfriend-turned-fiance showcases her baby bump (Photo:- thesource.com)
Not long ago, the daytime talk show host had professed a desire to start a family of her own. In an interview, she quipped:
"I'm a little bit of a procrastinator. I had some things to deal with. I had to get a lot of partying out of my system early in life for about 40 years. You know what I'm saying. I'm good now. I think I'm ready."
Lucky for Queen Latifah, she has found a real gem with her Hollywood photographer fiance, who's now pregnant with "their kid."
That said, the pair's relationship hasn't always been "rainbows and unicorns." Back in March of 2015, gossip site RadarOnline reported that the couple - who had been dating since 2013 - had decided to part ways.
Interesting:- Is Tony Todd Married Or Keeping Everything Silent Because Of Gay Sexuality? Dating Anyone Or Caught Up With Responsibility?
The news of Queen Latifah and her then-girlfriend Eboni's breakup had come just three months after they were seen enjoying helicopter sightseeing and going for sushi dates while vacationing in Brazil.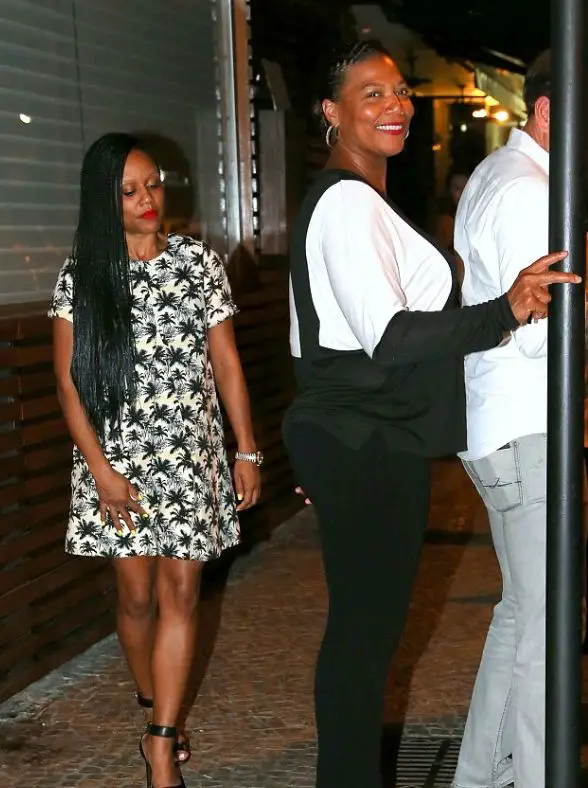 Queen Latifah and Eboni in Brazil (Photo:- dailymail.co.uk)
Before dating Eboni, the Wrath Of My Madness wordsmith was in an 8-year-relationship with fitness Jeannette Jenkins. Since their fallout, her former girlfriend, Jeanette has reverted to dating men.
Interesting enough, Queen Latifah has experience dating men as well; her romance with her ex-boyfriend Sean Moon may have been short-lived but not without drama. The latter sustained severe injuries in a brawl against two teenagers who had tried to steal Queen Latifah's BMW.
Queen Latifah:  "Don't Find Being Gay Or Lesbian To Be A Character Flaw."
Looking back at Queen Latifah's dating history, a question begs: Is Queen Latifah bisexual or straight or lesbian?
Discover:- Did Ryan Upchurch Split From Girlfriend/ Wife To-Be Or Married Her?
The Bringing Down The House actress seemed defiant while tackling the very question in 2008 The New York Times interview. She said:
"I don't have a problem discussing the topic of somebody being gay, but I do have a problem discussing my personal life,"
Almost seven years after her The New York Times Interview, she sat down with Uptown Magazine to discuss a plethora of topics including the difficulty faced by black gay women in show-biz and anti-gay marriage laws. The 48-year-old said:
"Who you choose to marry is really up to you and it's not something you should be judged on. I don't find being gay or lesbian to be a character flaw."
Queen Latifah, however, echoed her earlier sentiments by claiming that she doesn't fall under the assumed "black gay woman" trope.