Entertainment
Did Ryan Upchurch Marry Brianna Vanvleet Or Found New Wife?
Quick Information
Divorce/Split

Taylor Eileen Smith

Official Site

https://www.ryanupchurchmusic.com/

YouTube

https://www.youtube.com/channel/UCaQVx6CxQNmQktFQ-_jxmzQ

Instagram

https://www.instagram.com/ryanupchurch/?hl=en

Twitter

https://twitter.com/upchurchrhec?lang=en

Facebook

https://www.facebook.com/OfficialRyanUpchurch

Tattoo/s

Yes

Eye Color

Hazel

Hair Color

Brown

Weight

76 Kg

Height/ How Tall? 5'9
Career

Singer, Rapper, Songwriter

Net Worth

$4 Million

Girlfriend

Brianna Vanvleet

Engaged Date

July 10, 2020

Date of Birth 1991
Relationship Status

Married

Brother/s

Austen

Mother

Patty Lynn

Parents

Yes

Zodiac Sign

Gemini

Nick Name

Upchurch

Birth Name

Ryan Upchurch

Profession

Rapper, Songwriter

Home Address

Nashville

Birth Place

Pegram, Tennessee, USA

Nationality

American

Birthday

May 24

Birth Year May
Comedian and Social Media influencer Ryan Upchurch rose to prominence circa 2014 when he began uploading a succession of videos titled Upchurch Talks on YouTube.
Around the same time, he created his Hick-Hop alter ego named Upchurch the Redneck, a parody of the quirks and stereotypes of young men in the Deep South. Since then, he has gone on to release multiple musical projects both under his real name as well as his controversial moniker.
Today, the Nashville native boasts a staggering 2.38 million YouTube subscribers and a successful clothing line RHEC titled after his break-out single Raise Hell and Eat Cornbread.
In addition to YouTube, Ryan's influences reach the far corners of the internet; Facebook and Twitter in particular, where he shares regular updates on his impending married life with his wife-to-be. But does his most recent tweet suggest that he has found himself a new girlfriend?:
Called Off Engagement With Fiancee, Brianna Vanvleet
Call it a Freudian slip or a subtle way of hinting that he and his wife-to-be Brianna Vanvleet had separated, but when Ryan referenced his "girlfriend" in a tweet, it went under the radar from many of his fans.
Interesting:- Michael Rapaport & Wife Still Together Amid Girlfriend Issue? Family Status
Without giving any context, on 23rd April of 2018, the Keep It Country hitmaker tweeted about beating up his girlfriend's Mexican tutor.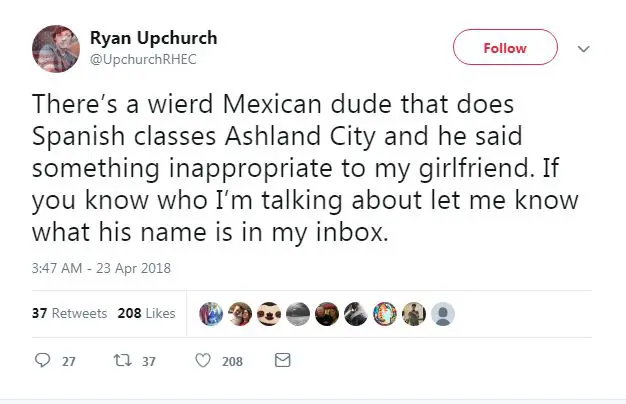 Ryan mentions his girlfriend (Photo:- Ryan Upchurch's Twitter)
If one were to take Ryan's tweet at face value, one couldn't help but conclude that the engagement between him and his girlfriend/ fiance Brianna Vanvleet had been called off.
Discover:- Tana Ramsay Bio: Wife Of Gordon Ramsay, Her Age, Children, Height & Facts
The revelation came as a surprise to many of his followers because long ago, the Hick-Hop star was waxing poetic about then-imminent married life between him and Brianna. On 10th June 2016, he showcased his eagerness by tweeting:
"Brianna Vanvleet, I can't wait to marry you and have little brown Upchurch babies running around with fake tattoos all over them."
Digging further back to 2015, Ryan peened a heartwarming Facebook post dedicated to her Brianna. In it, he asserted that she was always the first thing on his mind. Again, he made a point to include the "little Upchurch's" they were going to have one day.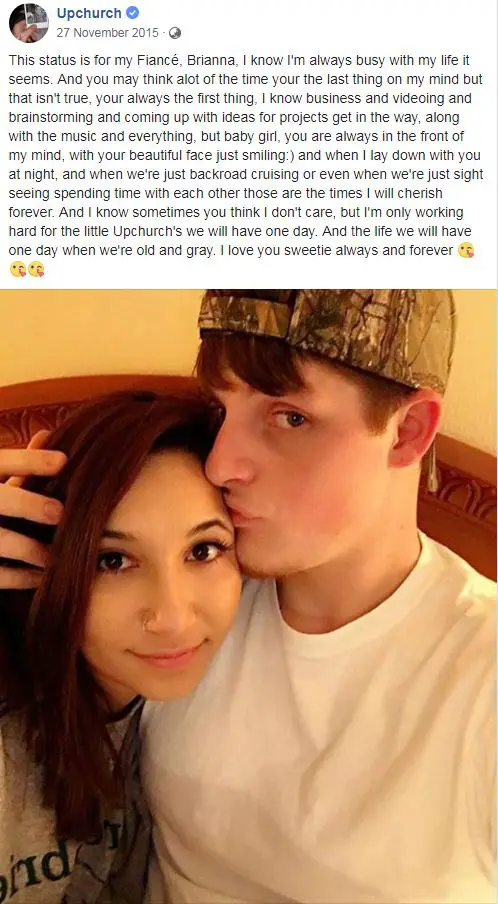 Ryan Upchurch dedicates a post to his fiance (Photo:- Ryan Upchurch's Facebook)
Where did all the love go?
Fellow YouTube Star:- Openly Gay James Charles, Exceptional Makeup Artist Boyfriend | Dating?
Meet Ryan Upchurch's Wife, Taylor Eileen Smith
Many might have thought Taylor was the one he was referring to as his girlfriend, but that's not true.  
Ryan and his now-wife started dating only in 2020. After a couple of months, they got engaged on 10 July 2020. He shared an intimate picture on his Instagram with his fiancee flaunting the huge diamond ring. 
Then, the couple took the big step and got married on 18 September 2020. Taylor's best friends, Haylee Dickerson, Lexi Dunfee, Makayla Hassler, served as the bridesmaid while her elder sister Ashley Smith was the Maid of Honor.  
Is Ryan Still Married?
While congratulations and wishes were on their way, the couple suddenly went low-key with their relationship. It went on to such an extent that they removed the pictures they had shared for one another. And the performer started promoting his new songs and albums on his respective social media. 
Ryan even unfollowed his wife on Insta. This had hinted on their relationship falling apart. Moreover, Taylor's post from 1 Feb made things more certain. 
Posting her daughter's video, she captioned it saying:
Please don't ask if Ryan and I are still together. This post is about my child.
For the recent Valentine's Day, we did not see any romantic posts from the couple. Instead, Ryan was spotted having fun at a party with his friends, while Taylor didn't even bother to post anything that day.
Things suggest that the couple might have separated, but nothing can be said with surety because they have not talked openly about the matter.  
Ryan Upchur's Mini-Bio Including Family & Age
Born on 24 May 1991 in Pegram, Tennessee, Ryan grew up in a middle-class family alongside his brother Austen.
Unlike his predecessors - Hick-Hops acts who were caught lying about their upbringing - he has always owned up to his privileges. This self-consciousness of his was on full display when he uploaded a preview of his new music with the caption that read:
"I grew up middle class, bills paid but parents still breaking even. I didn't have much growing up but I had good friends and good times, and that's what my music is about."
Ryan, age 27, is the living embodiment of what it means to succeed without putting on a facade. For the Heart Of America rapper, his art is not just a means to make ends meet but ends itself.