Entertainment
AGT's Hunter Price Age 25 & Kathryn Dennis Are Officially Dating
Country singer, Hunter Price with his newfound fame on America's Got Talent (AGT), became the talk of the town not just for his musical success but also for his romance.
The musician - who won the hearts of millions of listeners, but could not persuade the judges on the talent show - made headlines for his dating affair with Southern Charm actress, Kathryn Dennis.
The couple went official with their relationship at the beginning of 2019, and since then there's been no turning back.
Dating Actress Girlfriend Amid Children's Custody Battle 
The newest romance between Hunter Price and Kathryn Dennis surfaced only in late January 2019. 
Kathryn was the first to make the affair official as she Instagrammed an image of herself and the country singer on 19 January 2019. Although she didn't mention anything romantic, the comment section was filled with good wishes and blessings for the newly found lovers. 
Equally Low-Key Relationship:- It's Official | Paul Bernon Age 41 Is Dating Rumored Girlfriend Bethenny
When one of the fans questioned the identity of the man, Kathryn replied with a straight forward yet an intimate answer; "My Person." Later, the same day, Hunter also posted the same photo which was taken during the duo's trip to Charleston, South Carolina.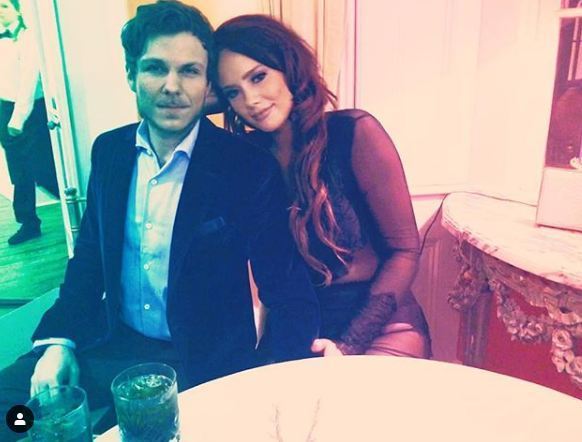 Hunter Price and girlfriend, Kathryn Dennis at an event held in Charleston, South Carolina on 19 January 2019 (Photo: Hunter Price's Instagram)
Kathryn Dennis, who was previously married to the politician, Thomas Ravenel, is in a middle of a messy divorce as the former partners are legally fighting for the custody of their two children: a daughter named Kensington, age 4, and a son named Saint, age 3.
Children Custody Battle:- Jon Gosselin & Girlfriend Getting Married Soon Amid Children Custody Battle
The ongoing court battle has witnessed the former partners throw accusations at each other with Kathryn accusing Thomas of using drugs & alcohol and hiring nannies to take care of the children, while the politician claimed his ex-wife to be trying to boost her social status as a rehabilitated mother.
On the other hand, the uprising singer, Hunter, has not been known to be involved with any girlfriend or a dating relationship in the past. With his newly found fame, dating Kathryn could be a game-changer for Hunter as it is said; behind every successful man; there's a woman.
Split With Girlfriend
It all ended before getting started for Hunter Price.
Just when things looked to be going the country singer's ways, the tables got turned back on him. After fueling the internet with their dating life, Hunter and Kathryn were rooted by almost all of their fans with congratulatory wishes from all around.
The Instagram picture of the two posted by Kathryn in January became a piece of news in an instant. The pair confirmed dating each other later and shared photos more often.
But, the exchange of pictures lasted only seven months as the couple parted ways quietly. Hunter and Kathryn, who looked perfect for each other, didn't make it to the end. Though she raised questions of getting reunited by posting a picture showing off a diamond ring on her Instagram, unfortunately, the romance was long gone by. 
Now, that the two have parted ways, Hunter is busy with his music while Kathryn is back to drinking alcohol and getting involved in trouble with a second car accident between August and September.  
Audition And Elimination In AGT, New Single Released
A country singer from Barnesville, Georgia, Hunter got his breakthrough appearing in the 13th Season of America's Got Talent (AGT). During his audition, Hunter was asked to sing twice: the second time only to impress Simon Cowell. 
Hunter, age 26, first chose "Everything I Do (I Do It For You)" by Bryan Adams, but was interrupted by the judge after merely 30 seconds. Simon argued that his voice sounded generic and even asked about the singer's inspiration. 
When Hunter answered Taylor Swift, he was asked whether he had written an original song. He affirmed and sung a single titled "Left Behind," which was composed by the musician himself.
AGT Contestant In Our Archieve:- Piff the Magic Dragon From AGT Drowned In New Shows & Tour Schedule
The judges praised his second attempt, and Hunter also shared his life story. He mentioned that due to extreme poverty, he has been looking after himself since the age of 18.
Although Hunter was eliminated during the Judge Cuts round, he didn't give up on his singing dreams. Interestingly, he released his first single "Left Behind." It seems like the aspiring singer has got a boosting start to his musical career.