Acting is a game of presenting one's capability of performing in a real-life scenario where they are able to entertain people out there. The Young Iain Glen is someone who is capable of entertaining people by his phenomenal act. Young Iain Glen, who has done a fantastic job in Games of Thrones. Had a split with his first wife, is he married again? Let's find out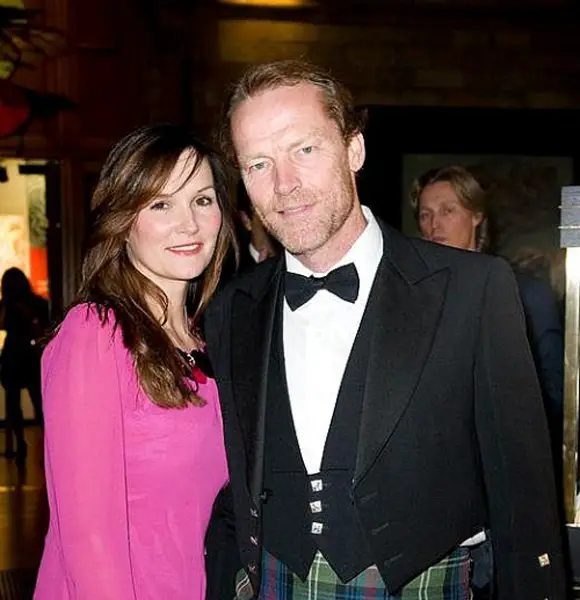 Acting is a game of presenting one's capability of performing in a real-life scenario while being able to entertain people out there. Iain Glen is someone capable of entertaining people by his phenomenal act.
Iain Glen, who did a fantastic job in Games of Thrones, split with his first wife, but is he married again? Well, let's dig in to find out!
Good Married Life Of Young Iain Glen:
Iain Glen, a man with success in career, is successful in his marriage life as well. He is now living a happily married life, though it is his second marriage.
He was previously married to Susannah Haker, and they share one son together, Finlay Glen (born in 1994). They were together since 1993 and split in 2004, but the former couple remains silent when it comes to the reason for their split.
Divorce From First Wife:- Larry Caputo Dating Again After Divorce, Who Is New Girlfriend?
After his split with Susannah, Iain got married to Charlotte Emmerson, and it's been 12 years of togetherness. The couple has two daughters; Mary Glen (born on September 2007) and Juliet Glen (born on 2012).
They have been sharing a good bond that is evident from their fondness for attending many occasions together.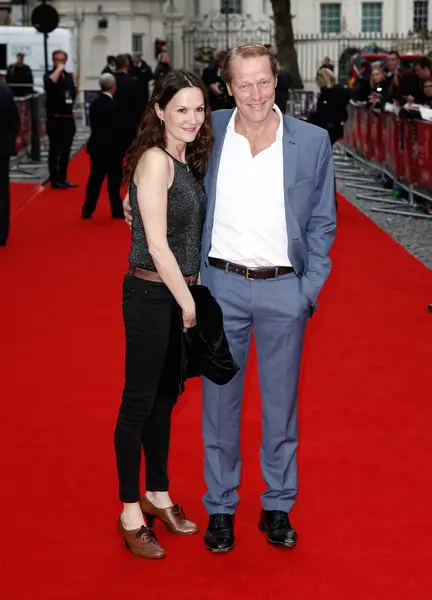 Iain Glen and wife Charlotte Emmerson attend the UK Premiere of 'Eye in the Sky' on 11 April 2016 at Curzon Mayfair (Photo: zimbio.com)
Not much unlike her husband, Charlotte is an actress known for her performance in movies & TV shows like Underworld, The Last Minute, and Casualty 1909. Although not famous like her esteemed life partner, her contributions to acting can never be ignored.
Performing Still While Keeping The Illness Aside!
Iain Glen kept his illness aside and started performance on GOT, as he is passionate about acting. According to his doctor's advice, he ended his role as Kuzovkin in Fortune's Fool, but he was back soon as the premiere of GOT's seventh season was on schedule.
 "I am much recovered. I know what I'm doing for the rest of the year and it's all pretty camera-based. But I'd love to return to the stage soon, just not immediately."
Illness never harmed his career, and Iain is found to be a very hard working person. 
Iain wasn't the only one to have a health condition. His wife, Charlotte also suffered a brain hemorrhage while Iain was shooting for the eighth season of GOT.
Recovered Illness:- Jayne Kennedy Now Free From Illness? A Glimpse At How The Actress Looks Like in 2017
The actor had to immediately pack up his work to meet his wife in the hospital. However, he assured fans that Charlotte was recovering swiftly and the hemorrhage would not repeat again.
Iain Glen Bio:
Iain Glen, a Scottish film-television actor, was born on 24th June 1961 in Edinburgh, Scotland, United Kingdom. Alike Iain, his younger brother, Hamish Glen is also involved in this industry. He is the artistic director of the Belgrade Theatre, Coventry and former creative director of the Dundee Repertory Theatre.
Iain Glen started first appeared in TV movie Ring of Keys in 1983. Then he began playing in television series The Fear in 1988.
He continued his acting career in many other films and series with his energetic personality. In 2011, he started working as Jorah Mormont in Game of Thrones. His character died in the 3rd episode of the eighth season. The fierce battle of Winterfell witnessed Jorah sacrifice himself to save the life of his queen, Daenerys.
In Game of Thrones, he portrayed the role of Daenerys Targaryen's (played by Emilia Clarke) chief advisor along with other key characters including 'Kristofer Hivju,' 'Melanie Liburd,' 'Neil Fingleton,' who have given a remarkable performance in GOT. 
Iain's determination and passion for the acting sector are the main reason for him to get success in this acting field. He is the example of one who is handling his acting career and maintaining his love life in a better way.
His success has not only awarded him with fame but has paid him well as well, that is evident in his net worth, which is estimated to be $3 million.