Entertainment
Model Ireland Baldwin Clears Lesbian/Gay Relationship Trauma With Hunky New Boyfriend
American model and actress, Ireland Baldwin came to the limelight after signing a modeling contract with IMG Models in 2013. Also the actress, Ireland, has included famous movies including Grudge Match, Goofy Chefs, and The Great Illusion under her resume.
However, a total contrary to her professional career, Ireland had a jumbled dating history. She has intimate relationships with both genders, male and female, and ending one of the ties even took her to rehab.
To add to her tragedies, she shares an estranged relationship with her father from her childhood, which includes sending an infamous voice message.
Dating A Lesbian Rapper; Admits To Rehab After Breakup
Ireland was previously in a gay relationship with rapper Angel Haze. They first met at the New York Fashion Week after Ireland's cousin introduced the two ladies. The duo soon developed immediate friendship and started dating later after a few months.
Don't Miss:- Camryn Grimes Bio Reveals: Married, Lesbian & Personal Life On & Off Screen To Net Worth Details
The relationship surfaced months after Ireland's breakup with her ex-boyfriend, Slater Trout, when the two women began exchanging private messages on Instagram and Twitter. On 5 April 2014, Angel tweeted to Ireland,
"Your body is a canvas. I want to paint it red."
To which Ireland replied,
"You are so many things. You have so many meanings."
Several more tweets were exchanged between the two dashing ladies. And finally, Ireland was believed to have confessed her love with a tweet on 21 May 2014,
"Don't let this go to your head, but you're the best I've ever had."
The girlfriends were even pictured sharing an intimate kiss. While many thought that Ireland was trying to mess with her father, who is often considered a homophobic, some claimed that they were indeed in love with each other.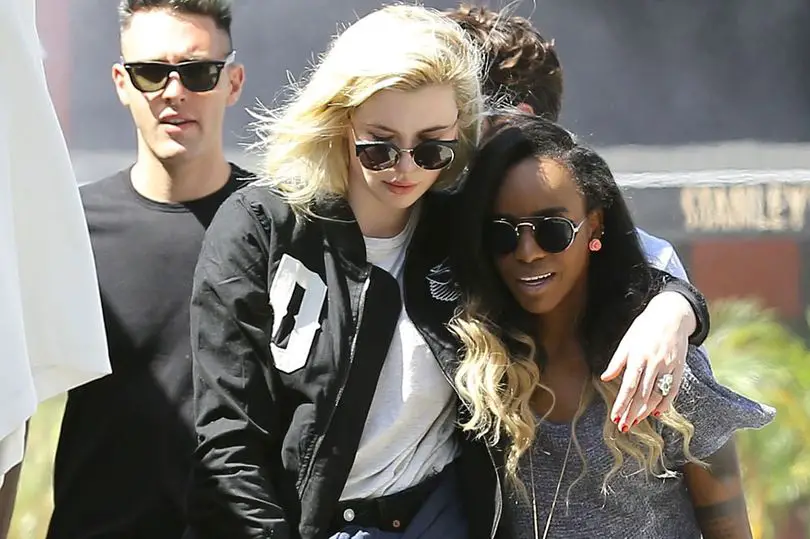 Ireland and Angel get spotted sharing some private time (Photo: Mirror.co.uk)
It was only in June 2014, when Ireland confirmed the relationship. Talking about her ongoing affair with pansexual Angel, Ireland told the Independent,
"We f**k and friends don't f**k"
Unfortunately, their romance didn't last long, and the pair separated after dating for ten months. Ireland even had to admit herself to rehab for getting rid of the emotional traumas she suffered from the breakup.
Girlfriend To Boyfriend, Dating With Surfer
Like, her relationship to Angel, Ireland's pain was also short-lived as she began dating a man less than one year from their separation.
The 23-year-old model dated Australian snowboarder, Luke Trembath, for a short period in 2015. However, they later broke up without mentioning the reason for their separation.
You May Also Like:- Redmond Gerard Snowboarding Through PyeongChang 2018 Olympic Winter Games
In December 2015, she started romancing with surfer Noah Schweizer. A month after their first anniversary as a couple, Ireland and Noah were spotted at the Peppermint Club in West Hollywood on January 2017. The couple shared a meal at the club and were seen enjoying their time together.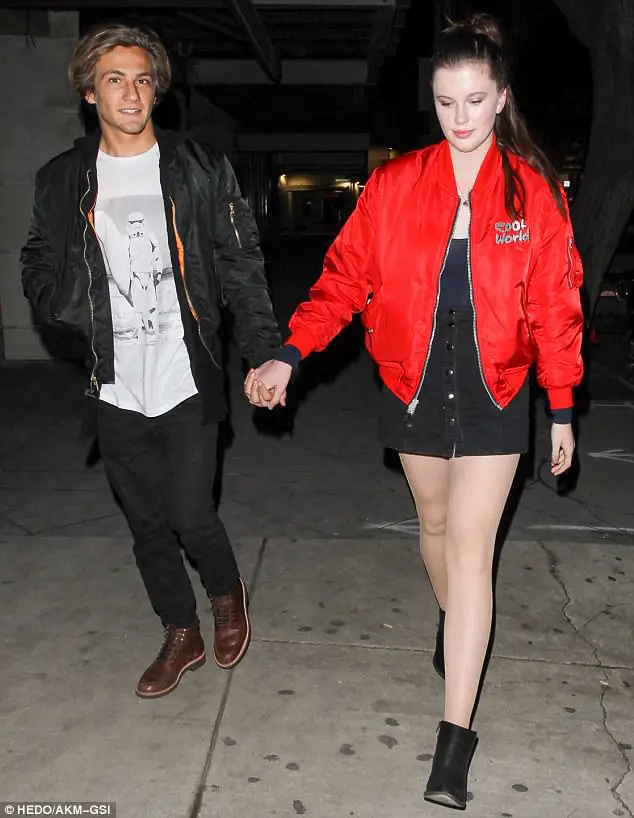 Ireland and boyfriend Noah hold hands as they enter the Peppermint Club (Photo: DailyMail.co.uk)
Moreover, Ireland has also flaunted her boyfriend several times on social media. For the occasion of Noah's birthday on 18 October 2017, she shared a post on Instagram wishing him for his birthday and expressing her love towards the surfer. The couple is close to each other, although they kept their romance low key in 2018.
Although Ireland has no immediate intention in getting married or even engaged, she still supports her sister who intends on settling down. Back in July 2018, news surfaced that Ireland's cousin Hailey Baldwin and Justin Beiber were engaged and on the verge of getting married. Ireland was not about to leave her cousin alone and immediately joined in the celebrations.
One day later, Justin announced the engagement, Ireland shared an Instagram post to congratulate the couple for their upcoming nuptials. On 10 July 2018, she posted a throwback picture of the siblings from their childhood and called Hailey as "one less lonely girl," which is the title of one of the earlier songs of Justin Bieber.
New Dating Partner
After a rollercoaster ride in the dating circuit, Ireland finally seems to find the right person who understands her and treats her the way she likes men to treat her.
Starting the rumors of dating musician Corey Harper back in October 2018, the hot model quickly became the talk of the town when she was pictured sharing a passionate kiss with the singer.
Making her fans go haywire with the picture; the connection between the two was quite evident as she stood in the front row to show her support for her new love during his concert in California.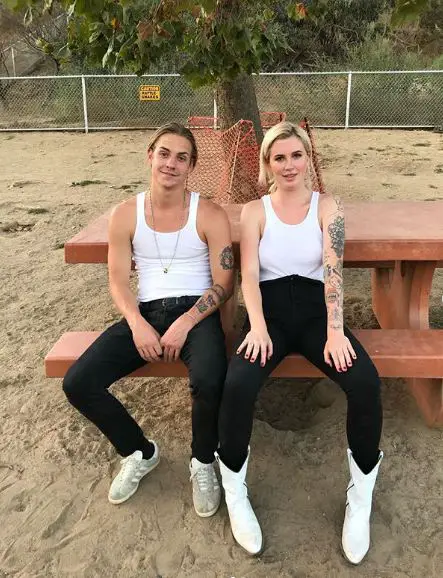 Ireland and boyfriend Corey Harper at Laurel Canyon Park in September 2019 (Photo: Corey Harper's Instagram)
Having been a victim of sexual abuse and a series of failed relationships, the model hasn't let her past experiences define her. As of 2019, the couple wished each other on Valentine's Day.
Well, the couple is still going all guns blazing with their relationship. They often share pictures on Instagram and show their fans what they are upto.
Now, it will be fascinating to see whether their relationship will go to the next step or end like any other normal relationship.
Parents' Divorce; Sour Relation With Father
She is the daughter of famous actor Alec Baldwin and Kim Basinger.
Her parents met while shooting for the 1990 movie The Marrying Man and got married in 1993. They later split up in 2002, which became the starting point of Ireland's estranged relationship with him. Post their divorce; Alec repeatedly accused Kim of keeping his daughter away from him.
See Also:- Caleb McLaughlin, Young Age Actor Reaches Tremendous Height - Parents, Siblings Of 'Stranger Things' Star
The father-daughter's poor relationship was reflected in an infamous voice message which Alec sent her while she was 11. In the clip, Alex can be heard calling Ireland a 'thoughtless little pig.' Alec had previously mentioned that the voicemail caused a long-term degradation in his relationship with Ireland. However, they have made peace and share a healthy bond. Alec is currently married to yoga instructor Hilaria Baldwin. The couple has four children from their marriage in 2012.
Harry Potter Fan Loves Getting Tattoos
Ireland is a tattoo-enthusiast and has decorated her body with several of them. Ireland has carved a series of tattoos on her body which includes Hello Kitty, an open mouth with sharp fangs, an Asian girl eating spaghetti, beautiful geometrical design, and more. On 24 June 2018, she posted an image on Instagram flaunting her tattoos and the piercing on her navel region.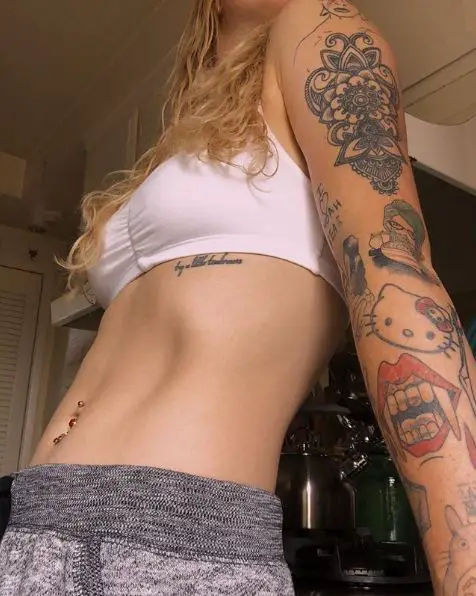 Ireland flaunts her tattoos and navel piercings on 24 June 2018 (Photo: Ireland Baldwin's Instagram)
Further, Ireland is also a die-hard Harry Potter fan and has not missed any of the movies from the franchise. She even posted a birthday message to Harry Potter on his fictional birthday via her Instagram on 1st August 2018.