Entertainment
A Look At Peter McMahon & Dana Perino Enduring Relationship | Bio
For Peter Mcmahon and his wife, Dana Perino, co-incidence became a sweet destiny!
The couple first met through a mere accident and a single encounter changed their lives forever, which they never thought of.
Peter and his now-inseparable wife were just strangers on a plane when they first greeted each other "hello," but as the time passed their love grew swiftly and the couple soon tied the knot.
Today, the lovebirds are sharing a happily married life and have been together for more than two decades.
Surely, for long-lived romance, Peter and his wife are couple goals taking their loving relationship!
First Met While Flying To Chicago; Wedding After A Year
Peter first met Dana in August 1997 during a flight to Chicago.
Peter, who ages 18 years more than his political commentator wife Dana Perino, initially thought that he had no chance of dating her. But, it became possible when Dana shared her details with the British national.
The couple met for a few times before they started dating. Peter and Dana later got married in 1998 in a low-key wedding ceremony in England after which they headed for a 10-day honeymoon to the Greek Island of Santorini.
Recommended For You:- Liam Hemsworth & Miley Cyrus Are Married! A Wedding Over Christmas
During their 20 years of married life, the couple has experienced their share of romantic moments which they regularly share through their social media posts.
On 17 August 2017, Dana shared a picture on Instagram marking their 20 years since the first encounter and even called their relationship as "love at first flight."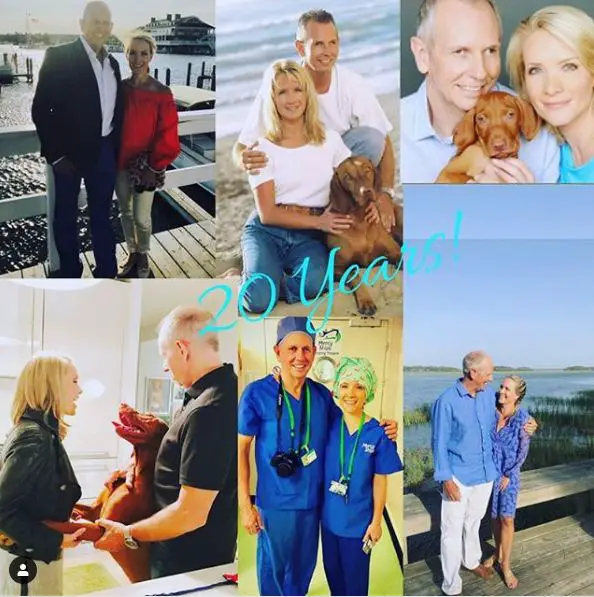 Peter McMahon and wife Dana Perino celebrate 20 years of their first meet on 17 August 2017 (Photo: Dana Perino's Instagram)
Further, the pair also took a romantic trip to Granada, Spain in September 2018. Dana Perino uploaded a Facebook post thanking her husband for making the visit possible and mentioned that it was her dream to tour Spain since she was in grade 7. Dana wrote on her Facebook,
"Hello from La Alhambra in Granada, Spain. I've always wanted to come here - well, since the 7th grade when we learned about Granada in my Churros y Chocolate Spanish book. Peter made it happen. We wore hats to shield us from the sun - but we also represented South Carolina and Maine while we were at it!"
As of now, Peter and his wife reside in Manhattan, New York along with their dog Jasper, whom they consider as their child, and are currently leading a happily married life.
The couple recently celebrated the 2018 Christmas together in New York. For the occasion, Dana shared a beautiful portrait of the longtime husband and wife enjoying the streets of the New York City.
Don't Miss:- Pia Muehlenbeck Age 27 & Boyfriend Gets Married, Here's Wedding Pics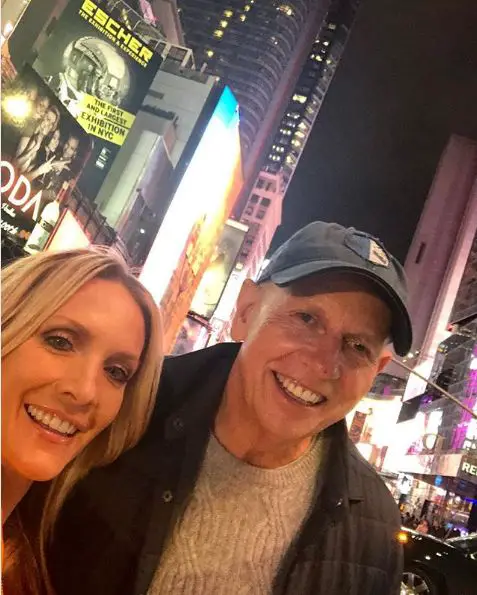 Peter McMahon and wife Dana Perino celebrate Christmas 2018 in New York (Photo: Dana Perino's Instagram)
Before marrying Dana Perino, Peter was twice married and even has kids and grandkids from his former relationships.
Peter McMahon's Bio: Age, Job, And Net Worth
Born in Blackpool, Lancashire, Peter is an English businessman, whereas, his wife Dana Perino is a former White House press secretary and now works for the Fox News as a television commentator.
Peter's bio reveals that he has his job as the CEO of a retail company called Shopko located in Ashwaubenon, Wisconsin, USA. Further, he also has ties to several multinational companies.
More From LiveRamp Up:- Chris Potoski Bio: Age, Job, Family Struggle & Married Life Bliss
Over the years, the former British national, who took up American citizenship in 2006, has excelled in various fields including Merchandising and Labor Relations.
From his business, Peter, age 64, has accumulated a substantial net worth; however, the exact amount of his net worth has not been disclosed. On the other hand, his wife Dana Perino is also worth millions and currently enjoys a net worth of $6 million.