Entertainment
Tana Ramsay Bio: Wife Of Gordon Ramsay, Her Age, Children, Height & Facts
Tana Ramsay is a wife of the famous celebrity chef Gordon Ramsay. Their fairy-tale romance began after Tana...Comin out from the shadow of her husband, Tana has been able to ... A mother of five, Tana...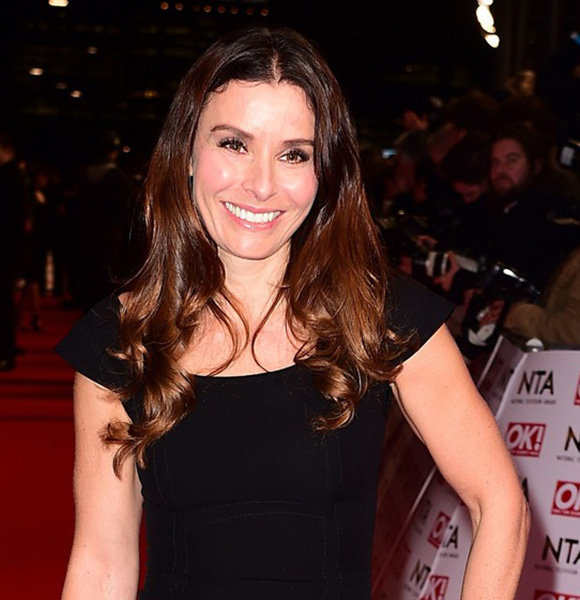 Known for his outspoken and inconsiderate comments and display of cold and rude personality in TV shows, one wonders how anyone could spend any time whatsoever with Gordon Ramsay.
But talk about grace, Gordon's wife, Tana Ramsay is all there and is not as bad as one imagines to be!
Together with her husband, Tana has had a very blissful married life. With a romantic story made for the movies including even exes and beautiful children, it seemed the couple was destined to be together since the beginning of their relationship.
Tana has also been able to come out of Gordon's shadow from just being solely recognized as a celebrity wife, to make a name for herself!
A Romantic Fairy Tale With Husband and Mother Of Five Children
The story of Tana and her husband of more than two decades, Gordon is nothing less than the romantic fairy tales seen in the movies. The happy couple, seen today, actually had to wait a significant time before they could go out with each other.
You May Also Like: Tracy Grimshaw Speculated Lesbian Reveals Partner Details!
It turns out that Tana was dating one of Gordon's chef friend when she first met him. Blown apart by her looks, Gordon fell in love at first sight with Tana. However, he patiently waited for his turn and approached Tana after her breakup from the previous relationship.
Despite being in love with each other, the couple found it difficult to make it work in the early days of their relationship. With Gordon a well-recognized chef, he found it hard to separate time from his 16 hours long working days.
However, Tana, very patient just like her personality, somehow made them go through the early storm, and rest, as they say, is history.
The duo, who married on 21 December 1996, has been redefining their love and has produced several 'aww' moments throughout the tenure of their relationship. The couple has five children from IVF procedures after initially facing difficulties to conceive.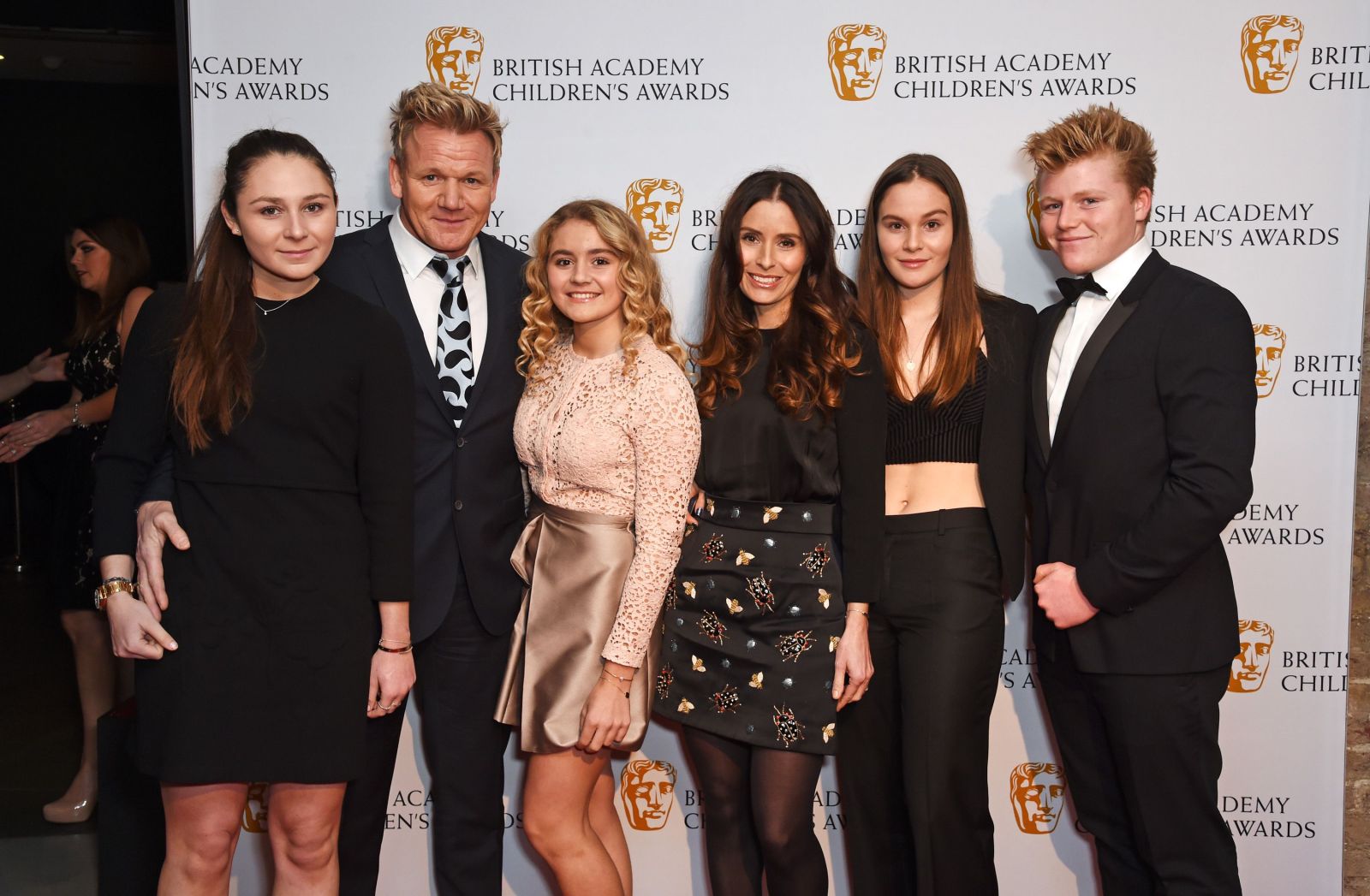 Tana Ramsay with husband Gordon and their four children (Photo: delish.com)
Mother to daughter Megan, age 21, twins Jack and Holly, age 19, daughter Matilda, age 17, and a newly-born son James, Tana and her husband faced a significant blow when they suffered a miscarriage in 2016 while anticipating their fifth child.
Related: Gordon Ramsay Is Concerned When It Is About Their Kids! Ex-Affair Set To Crumble Down The Happy Family?
Updating fans in Facebook post-Tana's miscarriage, Gordon mentioned that the incident helped the family get closer with each other.
"Hi guys, Tana and I want to thank you so much for your support over the past couple of weeks. We had a devastating weekend as Tana has sadly miscarried our son at five months. We're together healing as a family"
Despite the traumatic incident, the Tana's Kitchen Secrets star stays active in her paths and holds the glue to her family acting like a loving wife to husband Gordon and a caring mother to her four teenaged children plus one new child.
Welcomes Fifth Baby In 2019
Tana and her husband Gordon's attempt to conceive a fifth child, thankfully, didn't have a tragic ending.
On 4th April 2019, she and Gordon welcomed their fifth baby - a baby boy named Oscar. Her celebrity chef husband took to Instagram to break the news by sharing an image of the three with the witty caption. It read:-
"After 3 baftas and one Emmy... finally we have won an Oscar, please welcome Oscar James Ramsay... "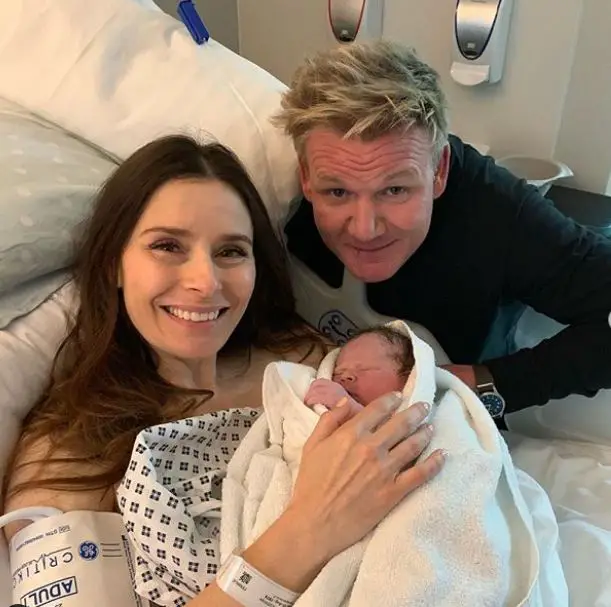 Tana Ramsay and her husband, Gordan Ramsay smile for a photo with their newborn Oscar on 4th March 2019 (Photo:- Gordan Ramsay's Instagram)
Born approximately at 12:58, baby Oscar already has an Instagram account. Brooklyn Beckham, who is friends with his siblings, follows him on the popular social media platform.
Welcoming A Baby In 2019:- Michael Phelps Wife, Pregnant, Baby
The news of Tana and Gordon welcoming their fifth bundle of joy came three months after the married duo confirmed their pregnancy. The former had taken to Instagram to flaunt her baby bump amid 2019 New Year's Eve celebration.
Before giving birth to Oscar, Tana hosted a low-key baby shower with close friends and family. Gordon and their daughter Hollie were notable absentees at the bash.
Bio - Age, Birthday, Height & Net Worth
Tana, age 44, apart from being a celebrity wife, has been able to make her own identity!
A Montessori teacher in her early career, her husband's culinary background has had a significant impact on the star wife, as she has since then been an author to many best selling cooking books.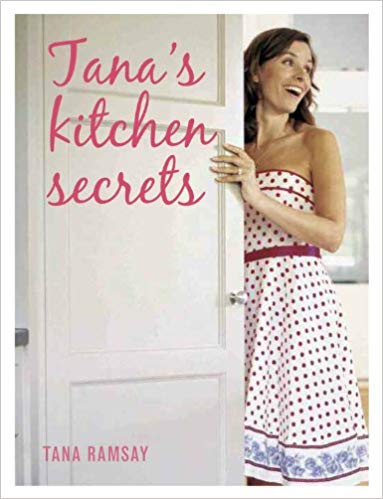 Tana Ramsay on the cover of her cookbook Tana's Kitchen Secrets (Photo: amazon.com)
Celebrating her birthday on 16 August, Tana, standing in at the height of 5 feet 5 inches and blessed with a beautiful face, has also made several television appearances accompanying her husband on her Tv shows.
Wife to one of the most successful chefs of all time, and the best selling author herself, Tana, therefore, enjoys a net worth of $190 million along with her husband, Gordon.
The couple also has several houses throughout Britain and America, including the $2 million Cornwall holiday home, which has been put on rent for the general public as well.
Don't Miss: Heston Blumenthal Married Stephanie; From Romance Rift To Wedding Aisle
With a down to earth nature accompanied by a firm and robust personality, Tana remains successful in every responsibility she performs, be it her career, her role as a celebrity wife, or being a mother to her five children.