Entertainment
Jacinda Ardern Baby Bliss With Partner, Married Life Through Hurdles
As she won the title of New Zealand's Prime Minister on 19 October 2017, Jacinda Arden has stunned everybody with her sharp intelligence and warm empathetic personality. Breaking the big news of her "Baby-On-Board" the PM then became the second elected world leader in history to have a baby while in office!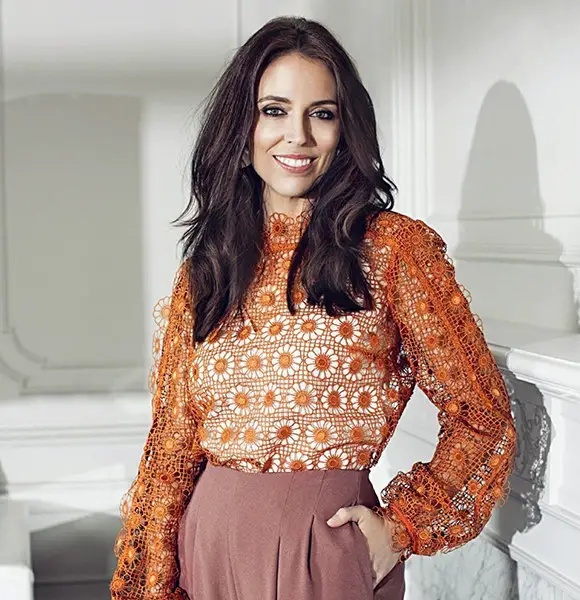 It's a win to gender equality when a lady succeeds in being designated at a higher level of the Parliament and comes far enough to rule a country.
Jacinda Arden, the current Prime Minister of New Zealand, has stunned everybody with her sharp intelligence and warm empathetic personality. Breaking the big news of her "Baby-On-Board," the PM then became the second elected world leader in history to have a baby while in office!
Balancing both family and politics, Ardern has stood as an example with her hardihood character to the whole world while also remaining loyal to her partner.
Unexpected Route In Discovering Her Partner; Alleged Husband Under Investigation?
Being a Labour Party leader and winning the maximum votes to the Prime Minister's seat on 19 October 2017 is already an interesting story itself. But, meeting her partner through a hurdle-some path and sparking a new romance is another topic worth talking about.
First crossing paths in the year 2012, in the Metro Restaurant Award, both Ardern and her husband Clarke Gayford had no clue about landing as life partners later in life.
Don't Forget: Alexandra Pelosi, Unlikely To Get Divorce With Husband, Examining Strength of Mega Donors in Politics
But, after a constituency issue that made Gayford spark the connection with Ardern to pour his anger about the potential erosion of privacy proposed by the Government Communication Security Bureau Amendment Bill, the duo just ended up creating a stronger tie together.
In response to solve his problem, the pair met over a coffee and bonded over a shared interest in music. Ever since that incident, the two began dating since 2013.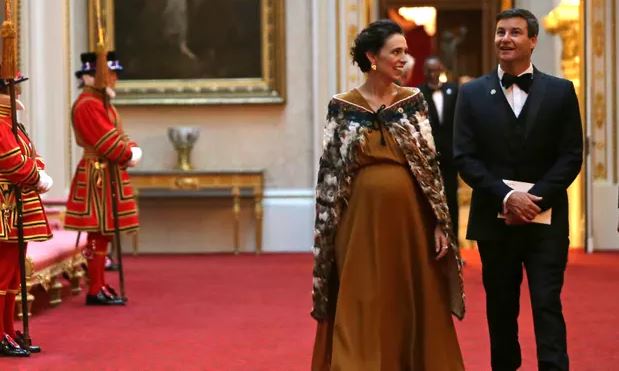 Prime Minister of New Zealand walking with partner Clarke Gayford (Photo: The guardian.com)
Keeping their romance under tight lips, nobody ever had the slightest idea about their marriage until the public saw a hint in one of her Facebook video.
Ardern quashed speculation about her engagement in 2017 after she was spotted wearing a ring on her wedding finger in the clip which she had earlier posted. After a blazing curiosity from her audience, the Labour Party head cut short the rumors by reporting:
"I am happy to confirm that I have eczema on my left hand that causes me to rotate where I wear my beautiful onyx ring, so no, I am not engaged.
To the pair who cut short all the rumors about their marriage and had managed to carry their entire romance under wraps made it pretty obvious about their wedding after Jacinda Ardern became the Prime Minister of New Zealand and Clarke Gayford the first bloke.
Read Also: Neil Gorsuch Family & Romantic Tale With Wife Restores Faith In Love
Earning her net worth from the total salary of NZ $ 491,117 per year, Ardern is counted as one of the highly paid PM all over the world. With such fame, money and a grand purpose, Ardern with support from her husband can make anything possible!
Beyond their happy going life, the pair faced a major bump on the road when Arden's partner was criticized for piggybacking on her success. He was held for many brutal accusations like being called a "hipster salty sea dog" and mocked for having an "e" in his name.
Gayford, who first rose to prominence on a New Zealand reality TV show in 1999, has ever since worked as a television and radio presenter. He has presented Fish of the Day, which he co-created, since 2015.
With all the unrealistic accusation held against her partner, Ardern defends her partner by saying:
"Clarke had a public profile long before I came along," she said. "That means both of us have been in the public eye ... I'm not here to be the ultimate person editing Clarke's social media."
With so much support on the back of each other, no doubt the pair does signal for a long and happy time together!
Ardern Gives Birth To Baby Girl: Blissful Journey Of Parenthood!
Earning a bigger responsibility to run New Zealand and then entering the blissful married life with her rumored husband, Arden has been living life to the maximum.
After becoming the ruler which her parents once dreamed of her becoming, at age 38, she has made them proud again by breaking the big news of her pregnancy. Discovering she was pregnant just six days before she became Prime Minister-elect, the leader shared the glorious news through her social media saying,
"And we thought 2017 was a big year! Clarke and I are really excited that in June our team will expand from two to three"
The news broke through the media like a rocket collecting Ardern heaps of congratulatory messages from the public. Among all the messages, Green Part co-leader James Shaw extended his wishes to Ardern saying:
"This is wonderful news. On behalf of the Green Party, I'd like to congratulate Jacinda and Clarke, and wish them the very best for parenthood, that a woman can be the Prime Minister of New Zealand and choose to have a family while in office says a lot about the kind of country we are and that we can be – modern, progressive, inclusive, and equal."
After the break of such a news, the duo then welcomed their daughter Aroha Gayford into the world on 21 June 2018. The PM posted a cuddlesome picture of the new parents along with their newborn in her Facebook alongside the caption,
"Feeling very lucky to have a healthy baby girl that arrived at 4.45pm weighing 3.31kg (7.3lb). Thank you so much for your best wishes and your kindness. We're all doing really well thanks to the wonderful team at Auckland City hospital."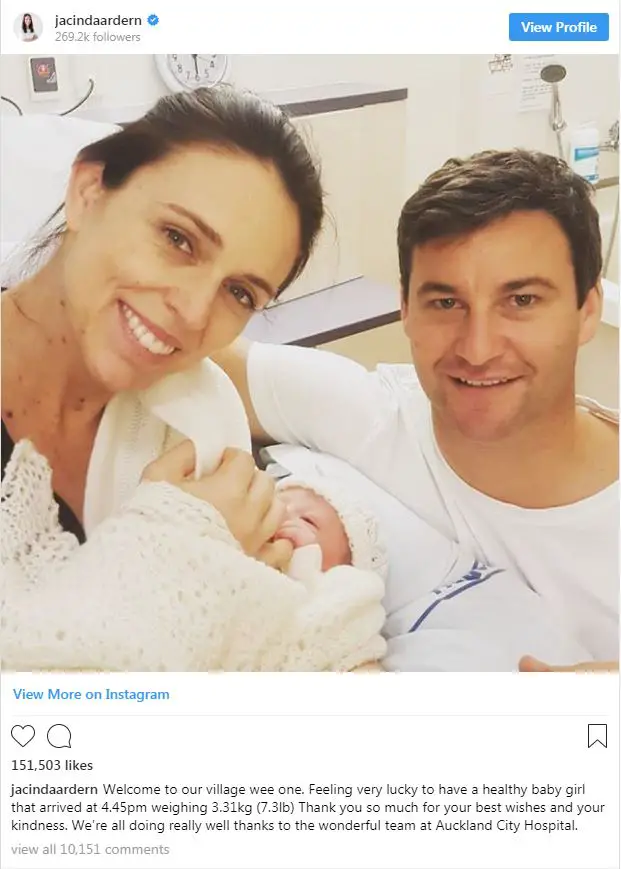 Ardern posts a picture with husband and her baby right after her birth (Photo: The guardian.com)
The birth of her baby, Aroha Gayford got the entire New Zealand ecstatic indulging in the duo's happiness.
Don't Miss: Hilary Duff & Boyfriend Welcomes Their First Baby, Daughter Banks Is Love!
Ardern, who took 6 weeks maternity leave, is back in her political endeavor trying to uplift New Zealand more than ever before. The beautiful tale of the duo, who have now extended their family into three, has yet to be updated!