A US Army veteran, Jackie Aina later turned into a cosmetologist to follow her long lost dream of achieving success in the fashion industry.
Popularly known as MakeupGamePoint and LilPumpkinPie05, the makeup guru became an instant hit sharing her detailed explanatory makeup videos via YouTube. Also, she collaborated with MAC & Bobbi Brown in cosmetics and even freelanced as a makeup artist for five years.
Married Status, Husband?
At the young age of 20, Jackie got married to a husband who supported her in whatever she did. He even inspired her to join the military when she was disconnected from being in a college. But, their marriage did not prosper, and the pair got divorced after only one year of marriage.
But, all was not lost for the makeup queen. In 2017, she found a replacement for her ex husband in men lifestyle and fitness influencer, Denis Asamoah. The two first appeared together on an Instagram post by Denis, which confirmed their relationship.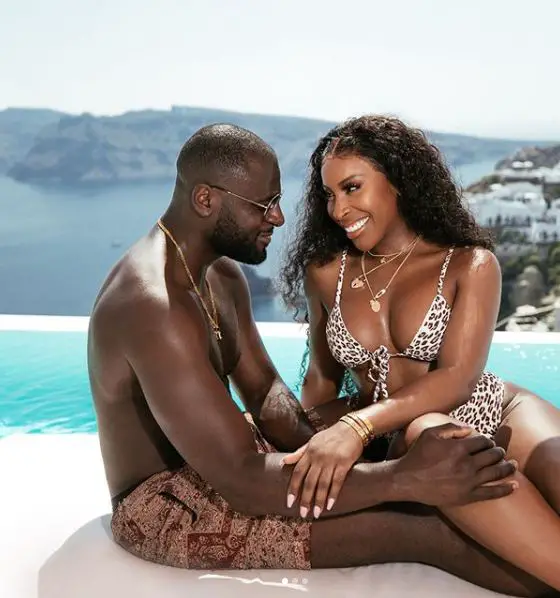 Jackie Aina and boyfriend Denis Asamoah visit Greece for holidays in August 2019 (Photo: Denis Asamoah's Instagram)
As of now, the two are inseparable as they are seen going on holidays and celebrating anniversaries together. Even though they are not engaged or married, it seems like something is in the cards for the couple.
Engagement Rings Exchanged
It could not have got any romantic for the Youtube beauty, Jackie Aina, after her long-time boyfriend Denis finally proposed her on the occasion of her birthday.
It was August when the two were enjoying their holidays in Santorini, Greece, and Denis popped up with a surprise proposal which took everyone by surprise.
While Jackie was unknow about the plan, the stage was set for a dream proposal. The loving boyfriend covered the floor with rose petals and led his lady love to a private rooftop which gazed upon the perfect sunset.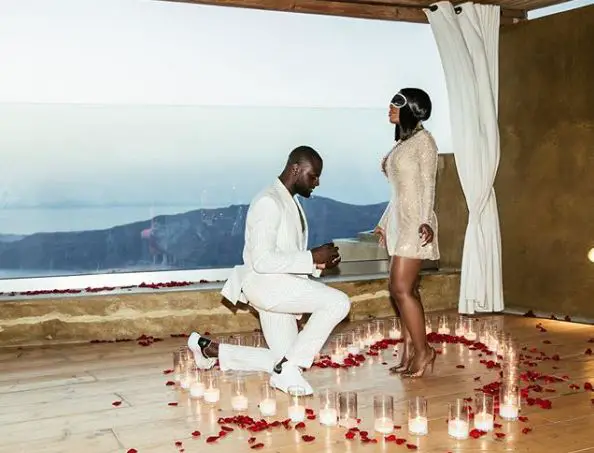 Jackie Aina and boyfriend Denis Asamoah exchange engagement rings in August 2019 (Photo: Denis Asamoah's Instagram)
The Saxophonist played all her favorite songs from an artist, Sade Adu and then one knee bent; Denis proposed the lady with a beautiful diamond ring. The glimpses of the ceremony were posted on Instagram by Denis, which made all the fans go crazy.
Now the soon to be married couple are pleased with each other and by the looks of it might quickly come up with their marriage announcement as well.
Bio: Age, Height
Jackie Aina was born on 4 August 1987 in the United States as Jacquelyn Lonje Olayiwola Oyeshola Bolayemi Aina to Nigerian-American parents. Growing up, she was raised along with three brothers and three sisters.
Her stellar height and African-American ethnicity favored her to a career in fashion, but she was pursued to become a doctor or lawyer, and nothing less than that.
Artist With Similar Skill Sets:- Adelaine Morin Bio, Age, Boyfriend
The makeup artist then joined the US Military after her college and served her country for a while. Soon, she dropped out of the army and focused on reliving her dream to become a professional makeup artist.
In 2009, she established a makeup channel and started posting videos. One of her sisters named Folake Aina also followed on her footstep and began her very own YouTube channel. As of now, 32-year-old Jackie is one of the most influential personalities in the makeup scene.
However, Jackie was in the headlines with a scandal involving her name. In one of the videos posted by Patrick Starr and Manny Gutierrez which promoted Jackie new palette, the YouTubers were accused of not providing proper credit to Traptorials creator Chelsie Worthy.
Though Jackie was not aware of the fact, the trolling that she faced in social media compelled her to delete her Twitter account.
Net Worth Info
Jackie Aina is one of the most prominent names in the makeup and fashion business. She boasts an ever-growing fan base of 3.1 million subscribers with an average of 11K views per video on her YouTube channel.
Veteran Artist:- Ve Neill Married, Husband, Net Worth, Family
Often referred to as the YouTube makeup Guru, Jackie transformed the makeup concept with her unique approach consisting of shades and colors. Having worked with Makeup Art Cosmetics, the Nigerian-American made makeup easy with her skillful YouTube videos.
As of 2019, she boasts a net worth which could amount a few million. Her YouTube earnings ranging from €17.8K to €284.8K yearly is evident of her massive income.