Makeup artist Ve Neill, age 68, is a magician of hands. In her decades-long career, she transformed A-list actors like Robin Williams and Jennifer Lawrence, to name a few, in never seen characters for their movies.
For her breathtaking works, the talented artist has been awarded the Oscar awards three times (Ed Wood, Mrs. Doubtfire, and Beetlejuice) and nominated a total of eight times!
Beside her legendary professional achievements, fans are also curious to know about her dating life and relationships, if any.
Is Ve Neill Married?
Well, Ve Neill's husband is none other than her work. Yes, the talented artist is so dedicated in her craft that her personal life is none existence or so she says.
Gay Makeup Artist In Our Archieve:- Openly Gay James Charles, Exceptional Makeup Artist Boyfriend | Dating?
Even while advising aspiring women in the makeup artist business, she talked about the difficulties of maintaining a household with husband and children due to long work hours. She further suggested that she liked working on TV ads and series unlike films, they take less time to complete.
Net Worth Details
The award-winning makeup artist is the best in business; there is no doubt about it. Besides her work in the movies, she manages time to judge Syfy reality game show, Face Off.
Furthermore, she runs Cinema Makeup School as the permanent Director of Education. The vision of the school is to teach people, who are enthusiastic about makeup. Well, the reason behind her priceless sentiments towards the school is her years of experience there.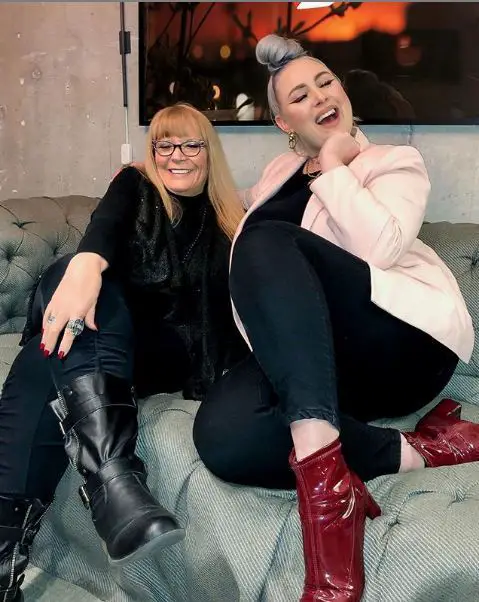 Ve Neill shares a laugh with a friend on 18th January 2019 (Photo: Ve Neill's Instagram)
While starting, Ve had no makeup school to attend. An eager learner, she learned everything about makeup in films via actively searching work and relentlessly calling senior makeup artist for advice.
YouTuber With A Makeup Line:- Patrick Starrr Wiki, Age, Gender, Net Worth
Back in 2016, the veteran artist talked about plans to write a memoir which she once retired. Courtesy of her various endeavors, her net worth stands at $2 million.
Biography: Childhood & Family
Ve was born in Riverside, California in 1951. Interestingly, her real name is different from the title which people know and love. Well, her real name is Mary Flores.
Little Mary was five years old when she watched the movie, Frankenstein. Although a mere kid back then, she was fascinated with the makeup used in the film. Her cousins then became the subject of her experiments as she used to employ them as a canvas for applying lipstick and even shoe polish; giving them different "looks."
Interestingly, it was convenient that her next door neighbor was a makeup artist, who worked in TV and movies. Her neighbor often did her makeup for Halloween, making Mary dream about becoming a makeup artist someday.
Well, her family, on the other hand, was relieved when the talented guy moved away. Ve Neill's family, especially her mom, thought that their daughter's dreams would fade away eventually. They were not wrong to wish a different career for Ve as there used to be no woman in the makeup industry.
But the makeup artist, who holds American nationality, pushed through with passion and grit to learn the art and reached the height of success. Thus, Ve is one of the most awarded makeup artists in the world today.