NBA player Jamal Murray has remained one of the key players for the Denver Nuggets since the team drafted him in 2016. With a five year contract the team along with a $170 million deal, it's apparent that his reign in the field continues to progress every year.
But all these achievements had a tough beginning that started from his childhood. Likewise, he maintains a very healthy relationship that very few are destined to keep up in the long run. So, let's peek into the personal life and career that life has bestowed upon him.
Jamal Murray's Girlfriend
The NBA icon is in a committed relationship with his long-time girlfriend, Harper Hempel. Their love story dates back to Jamal's starting days at the University Of Kentucky, where he played for his college's team in the 2015-2016 season as a freshman.
On top of that, his partner Harper too was beginning her career at sports by joining Kentucky Women's Volleyball team. So, they began dating each other while also advancing in their respective academics and athletic career.
Although he left the University after only a year (to play for the NBA) while she stayed in college to finish her degree, they were able to maintain their relationship.
NBA's Gary Clark :- Dating, Girlfriend, Parents, Family
As of today, his partner hasn't advanced in the sports arena like him, but she is more than supportive of him in various steps of his life. While many tabloids are quick to address Harper as the inspiration for his success, it's the opposite as per her. She even gave the world a tweet in April 2019 quoting,
"Not only am I lucky to get to call this man my boyfriend but he truly is an inspiration to me and everyone around him. This story never gets old. Proud of you every day."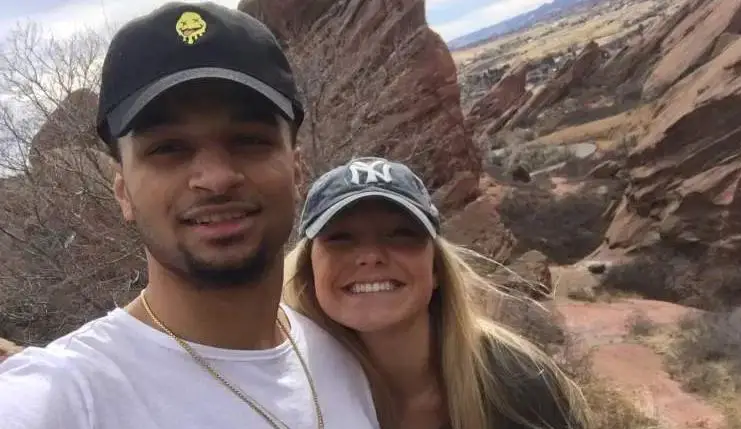 Jamal Murray and girlfriend as seen spending time together in 2019 (Photo: heavy.com)
Moreover, she has instead pursued a career in photography with her self titled business that is active in doing professional photoshoots. Interestingly, she was the person who captured Murray's viral clip from the 2018 NBA offseason.
Age, Father's Role In Success, Family Background
Jamal's extreme and rigorous practice began at a young age of seven when his father, Roger Murray, made him play against player twice his age. But he wasn't one of those parents who push their kids hard into achieving a goal they couldn't pursue during their lifetime.
In reality, his father wanted him to be best at what his passion lay in and tried to strengthen him both mentally and physically to sharpen his skills.
His dad, an immigrant from Jamaica, shared about his willingness at the start of mentoring his son citing,
"For me,it was proving to him that he could do it, that it was mind over matter.Whatever my boy wants to do, I promised, I'm going to help him be the very best at it."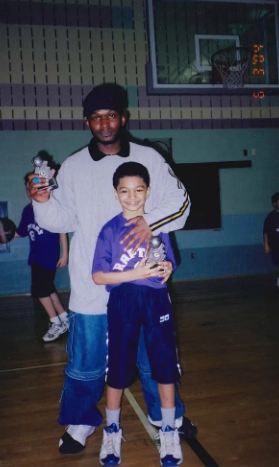 Six-year-old Jamal Murray with father and coach Roger Murray (Photo: denverpost.com)
Looking back now, all of the struggles have finally paid off, and the 22-year-old player is doing very well at his basketball career with impressive stats every year.
Soon To Be Dad Basketballer:- Kyle Anderson Girlfriend, Married, Family, Height
Talking about Jamal's(height of 6 feet and 4 inches, i.e.1.9 meters), other family members, his mother is Sylvia Murray. He also has a younger brother named Lamar Murray.