"Nobody knows what they want to do until they are doing it." James Acaster is a perfect example of the statement as mentioned earlier.
He studied music as his major and also pursued a career in it for a while. But during his leisure, he practiced comedy. And, when he realized he could make people laugh, he ended up making a career out of it.
James Acaster Bio-Like-Wiki
James was born in Kettering, Northamptonshire, England, on 9th January of 1985. Information on his family and siblings remains a mystery.
For his education, he attended Montagu Secondary School in his hometown, Kettering, and studied Music at Northampton College in the UK. As for his measurements, James is a lanky fellow. He falls on the south side on height and weight of the average range for an English man.
Ex-Girlfriend Dumped Him For Mr. Bean
Everybody faces a few hurdles in life before they reach that sweet utopia. For James, the obstacles have been in his relationships.
He was in a relationship with Louise Ford back in early 2010. The couple split due to reasons unknown.
Love Story You May Wanna See:- Colin Jost Girlfriend, Gay, Affair
However, two years after the split, a newspaper had a surprise for him. While going through an article in The Sun. James discovered his ex-girlfriend dumped him for Rowan Atkison, famously known as Mr. Bean.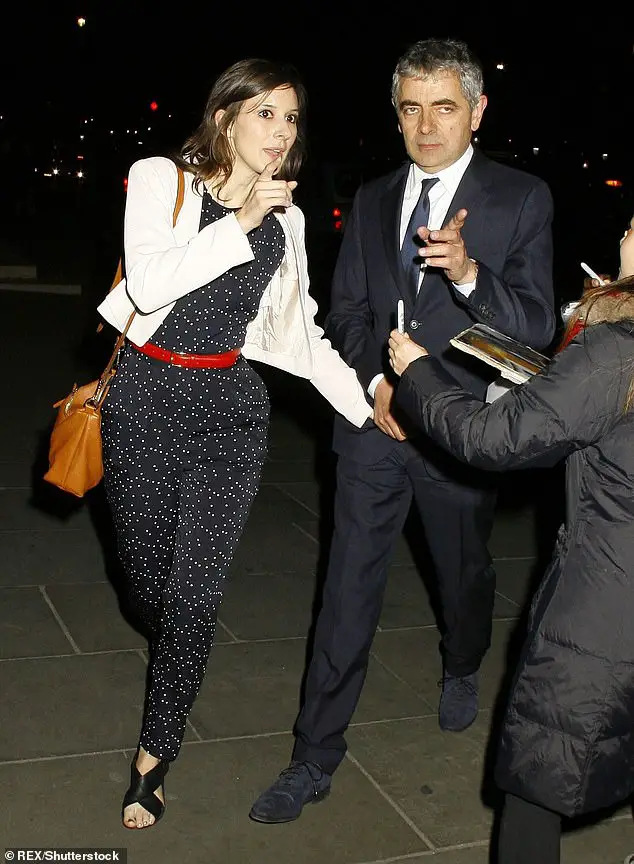 James Acaster ex-girlfriend Louise with Rawson, aka Mr. Bean (Photo: Dailymail.co.uk)
It was then the comedian found out about the reason for the split. However, while they were together for two years, James already had a distant feeling when she worked with Atkinson on a play.  
In a stand-up routine on March 2019, he said:
I got left for Mr. Bean. I found out a year after we split up. I opened the newspaper and there was a full-page story. No-one else in the history of time has ever been left for Mr. Bean.
It sounded like he was embarrassed to have been left for Mr. Bean.
Well, for his ex-girlfriend, she is happy to have found the veteran actor Rowan Atkinson as her partner. Together, they have a daughter named Isla, born in December 2017. 
Previously, Atkinson was married to his wife Sunetra Sastry, a make-up artist. The husband-wife duo divorced after 24 years of relationship. 
Dated Comedian Rose Matafeo
Just a year after James and Louise parted ways, he was in a relationship with a fellow entertainer, Rose Matafeo. They met on a comedy circuit in New Zealand in 2014. And since then, they had managed to be in a long-distance relationship.
But, the pair were so much in love that Rose even moved to the UK to be with her partner in 2015.
Anyone that saw the chemistry between the two would have assumed that they would get married and call each other husband and wife.
But, despite the connection, the couple ended their relationship.
Neither of them said anything on the split reasons. The public only came to know about the breakup when Rose mentioned James as her then-boyfriend in an interview with The Guardian.
On top of that, in 2017, James tweeted that he wanted a girlfriend for Christmas, implying that he was indeed single.
From Music To Stand Up Comedy 
Before what everyone knows him for, James tried his luck on the music industry. He drummed for local Northamptonshire bands as Pindrop, Three Line Whip, The New Hardcore Skiffle Movement, The Capri-Sun Quartet, and The Wow! Scenario.
Suddenly, James started his comedy career in 2009 with a performance at the Edinburgh Festival Fringe with comedians Josh Widdicombe and Nick Helm.
Another Comedy Sensation:- LeJuan James Wiki, Age, Wife, Real Name, Girlfriend
He has since then performed at various venues, hosted multiple shows, and made guest appearances on countless others. With almost a decade in, James is still doing well for himself. He won an award for the most outstanding show at Melbourne International Comedy Festival in 2019.
Considering that his shows till the end of 2019 are all sold out, he has built up quite a reputation for himself. Also, the comedian has accumulated enough net worth to live a very comfortable life.