Entertainment
Jamie Foxx Reveals Dating Affair With Actress Girlfriend Slowly; Has Any Plans On Getting Married To Her?
Some celebs might want their private life to flaunt publically, wanting their fans to be updated about what's happening, while the others love having space in their private life keeping it all under the Radar. It's an individual's choice and preference, and we should cope with it despite the fact that knowing everything about our favorite Celebrity is what the fans desire the most.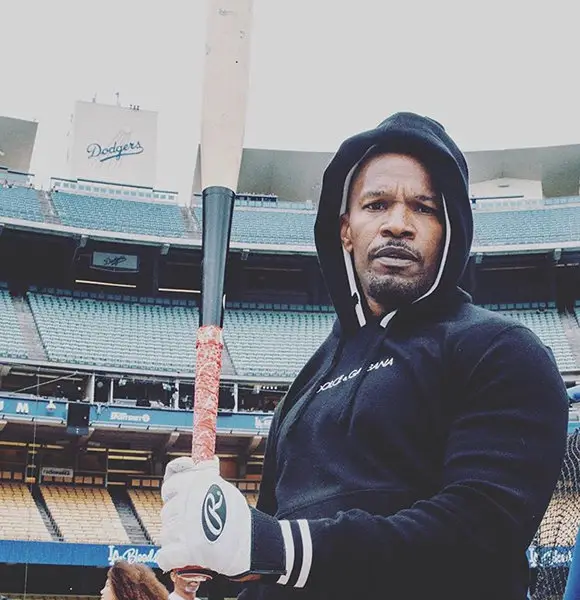 Some celebs might want their private life to flaunt publically, wanting their fans to be updated about what's happening, while the others love having space in their private life, keeping it all under the radar.
It's an individual's choice and preference, and fans should cope with it even though knowing everything about their favorite celebrity is what the fans desire the most.
Similar was in the case of Eric Marlon Bishop, famously known by his stage name Jamie Foxx. A talented man, Jamie is well renowned as an actor, comedian, singer, and many other traits that he carries under his sleeves.
After keeping his relationship details close to his chest for years finally spoke about it. Read along to find out what is cooking and what are his plans for the marriage.
How & When Jamie Foxx Began Dating Katie Holmes?
Jamie seems to be funny most of the time and has a straightforward going nature; being a comedian and an actor, he is fun to be involved in a conversation.
Girls usually tend to fall for such a light-hearted guy, and it is no surprise that he is very famous amongst the girls of Hollywood.
In 2013, Jamie allegedly got rumored to be dating Katie Holmes, Tom Cruise's ex-wife, when they were found dancing together. But, the duo didn't enlighten the facts about their relationship.
Tom Cruise & Katie's Daughter:- Where Is Suri Cruise Age 12 Now? Wiki Facts On Daughter Of Tom Cruise
A year before that, Katie and Tom had parted ways. As for Jamie and Katie, the duo went as far back as 2006. A decade later, in 2016, they got photographed having quality time at a benefit in Hamptons.
Later that year, paparazzi again photographed the lovebirds sporting wedding rings. However, a representative shot down the engagement rumors.
Relationship With Girlfriend Confirmed
Katie seemed to have gone 'head over heels' for Jamie and finally spilled the beans about their romance in 2017.
Later that year, a source told Us Weekly that the actress feared the attention before and now was at the time done hiding about their relation.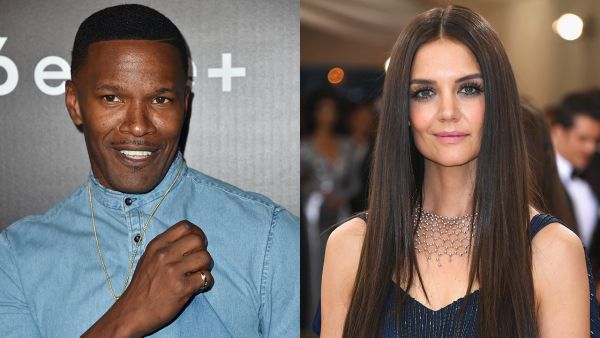 Jamie Foxx and his rumored Girlfriend; Katie Holmes (Photo Credit: Etonline.com)
Foxx's close friend, Claudia Jordan, also confirmed the relationship and revealed that he was happy with Katie.
More On The Confirmation:- Budding Relationship! Katie Holmes Has Just Confirmed Her Boyfriend
However, the duo didn't deem it fit to provide an official statement about their relationship status, but it seemed - at the time - like Katie was Jamie's girlfriend.
Engaged Or Married? Is Katie Jamie's Wife?
By the time 2018 kicked around, Jamie and his wife prospect Katie were already household items -- albeit without an official confirmation from either.
At the 2018 Clive Davis' Pre-Grammys Gala, the lovebirds sat together and looked as if they were in love. A month after the event, Jamie walked out an ESPN interview after a journo fielded a question about their romance.
Several months later, the news of them getting married hit the headline as Katie got spotted sporting a ring.
In late 2018, the yet-to-be-married duo again engaged in PDA, first in New York and later in Miami. Neither Jamie's camp nor Katie's camp acknowledged their relationship the whole time.
Reunited After Brief Split?
Jamie entered 2018, proclaiming that he is single. However, a month after hinting his split from longtime girlfriend Katie, he got pictured strolling the streets of New York City.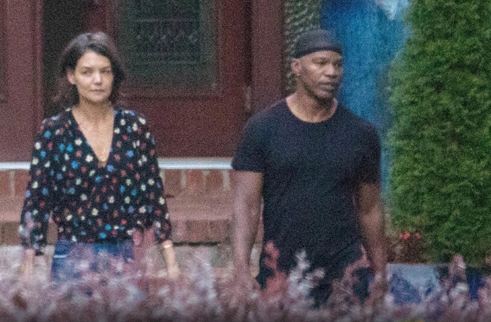 Jamie Foxx and his longtime girlfriend, Katie Holmes leaving the latter's residence in NYC in March 2019 (Photo:- hollywoodlife.com)
Stepping out of Katie's home in New York, the lovebirds strolled through Central Park and into the Metropolitan Museum of Art together.
However, it turned out everything was not well after all between the couple. Despite keeping their relationship under the wraps for six years, the couple were suddenly very public with each other. They were spotted in a yacht outing in Miami, followed by a jet ski trip the next day in December 2018.
The pictures lightened the hopes of the two reuniting, but it turned out to be the last nail in the coffin. Appearing for the last time as a couple in the Met Gala on 6 May, the two ended their six years relationship. Interestingly, the Blame It hitmaker did not stop there.
Just a few days after the news of the couple's split, Jamie was seen hand in hand with his newest artist Sela Vave as they stepped out of the West Hollywood nightclub Bootsy Bellows in August 2019.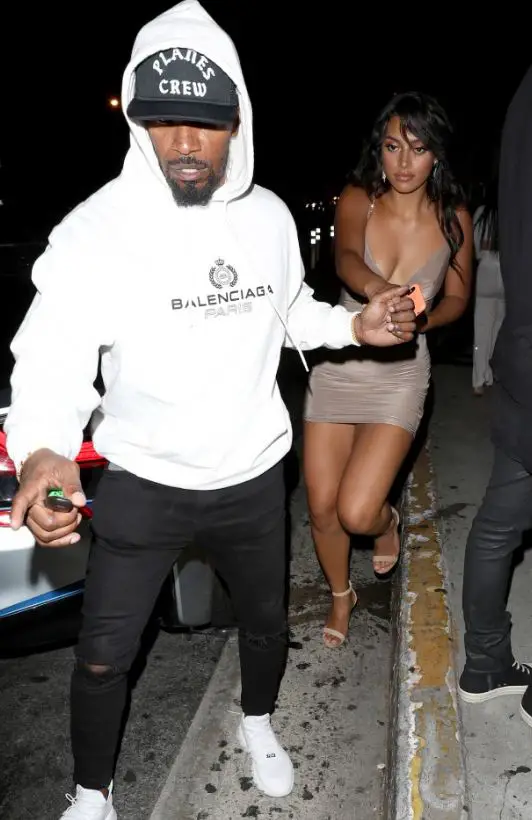 Jamie Foxx spotted with Sela Vave Bootsy at Bellows night club in August 2019 (Photo: usmagazine.com)
Also, the two were together in Jamie's house for weeks, which confirmed the fling between the two. Sela - age 21 - was happy to have known the producer, and it seemed as though the new love was working very well for both.
When it seemed as though both were having a thing for each other, there was a twist in the tale. In August 2019, when asked about their relationship Jamie denied dating the model and said he had no intentions doing so.
However, the music guru was not far away from making headlines when he was spotted with another fitness model named Dana Caprio. The two were enjoying a lovely date at Beverly Hills hotspot Mr. Chow and were seen leaving the place together. According to the source, the two met through a mutual friend and since then not left each other side.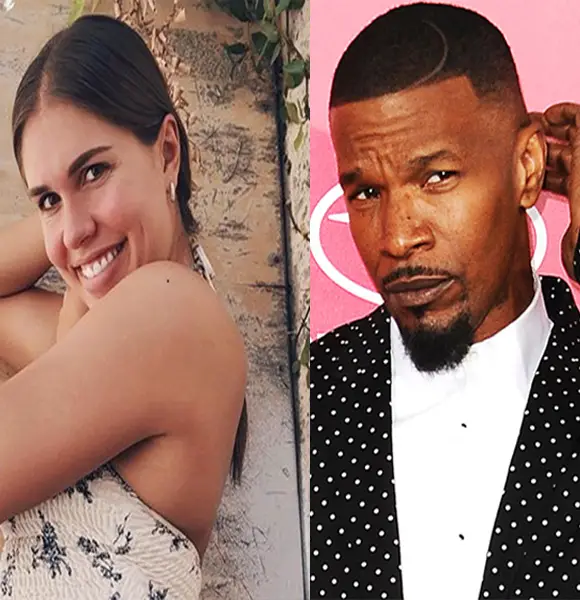 Jamie Fox and rumored girlfriend Dana Caprio in November 2019 (Photo: Liverampup.com) 
Also, Jamie did not back down from liking the hot pictures of the model on her Instagram. Similarly, the matter got even more profound when the two appeared in the model's Instagram story posing alongside Snoop Dogg dressed in a Halloween outfit. As of now, Jamie is totally into the model, and the two are steaming ahead with their new love story.
Family: Daughters & Ex-Wives
Jamie has been linked up with many girls in the past. However, Jamie has two beautiful daughters, namely; Annalise, 9, and Corrine, 24, from two different women. Corrine is a model by profession, and Jamie is proud of her.
Discover:- Mixed Ethnicity Camilla Belle-Clear About Dating Terms And Making Boyfriend; Will Not Get Married To Co-star In Future?
Jamie always kept the identity of his daughter's mother a secret, but he was spotted spending some family time with Annalise and her mother back in 2014: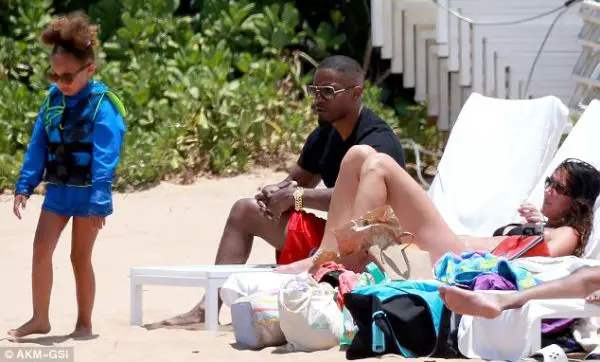 Jamie with his daughter Annalise and her mother relaxing at the beach (Photo credit: dailymail.co.uk)
Jamies' eldest daughter, Corinne's mother, also got pictured for the first time in 2016 with her another child.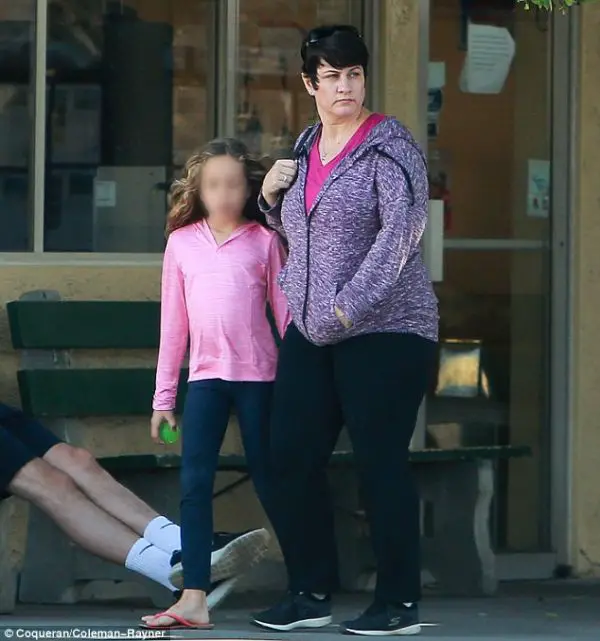 Corinne's mother, Connie Kline with her another daughter (Photo: dailymail.co.uk)
The father of two beautiful daughters is yet to get married. Speaking about marriage, Jamie had claimed in 2012 during an interview with Oprah Winfrey on her show Oprah's Next Chapter that he wasn't marriage material.