Jane Hajduk may be popularly known as the blushing wife of Tim Allen, but she has more to offer than just clinging to her husband's name. An actress by profession, Jane showcased her acting talents in various TV shows & movies and even had her spouse as a co-worker in some of those.
Apart from her acting career, Jane maintains a happy family that consists of her children and a step-daughter from Tim's former marriage. Here are the five fast facts that you must know about The Monk star.
Married Tim Allen After Five Years Of Dating
Jane Hajduk started dating actor Tim Allen in 2000. The couple remained in a romantic relationship for five years before finally tying the marital knot in 2006.
The wedding took place on 7 October 2006 in an outdoor ceremony held in Grand Lake, Colorado. Very few guests were invited to the wedding as the only people present there were the duo's family members including Jane's stepdaughter Katherine.
Wedding On Valentine's Day:- Brittany Furlan Wedding, Tommy Lee, Married
The marriage was the first for Jane whereas the second for her husband.
Tim was previously married to his college girlfriend, Laura Deibel. The couple got married in 1984 and remained together for nearly 15 years before finally splitting in 1999. The divorce between Tom and Laura was finalized four years after their separation in 2003.
Shares A Daughter With Husband, Also Parents A Step-Daughter
Nearly three years after Jane and Tim's wedding, the couple announced Jane's pregnancy in early January 2009.
The duo welcomed a daughter named Elizabeth the same year in April. Elizabeth's birth took place at the Cedars-Sinai Medical Center located in Los Angeles, and Tim described the delivery as a "marvelous experience."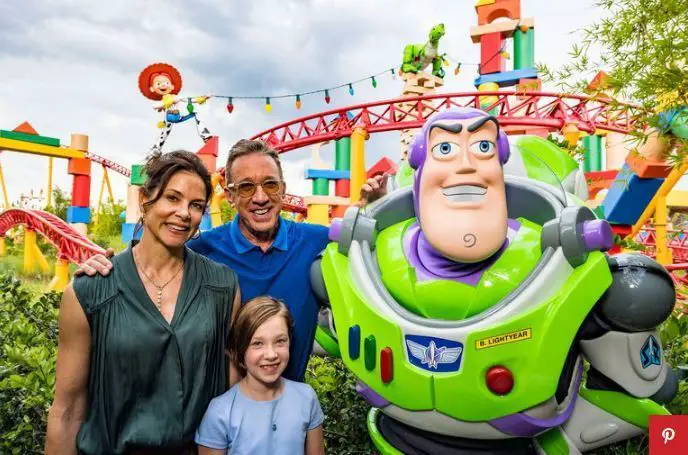 Jane Hajduk and husband, Tim Allen along with daughter Elizabeth at a Pixar-themed park in 2018 (Photo: Pinterest.com)
Soon after giving birth to her daughter, Jane lost most of the weight she had gained during her pregnancy in a short time. Jane revealed that she lost 20 pounds of the 28 pounds within a month of her delivery.
Explore:- Eliza Dushku Is Pregnant; Expecting First Baby With Husband Peter
Now, while Jane relishes her motherly time with Elizabeth, she is also close to her stepdaughter Katherine, who was born from the relationship between Tim and his former wife, Laura.
With their children growing swiftly, Jane and her husband can now focus their time and attention towards each other and their respective careers.
Worked Together With Husband
While Jane and her husband, Tim Allen, are loving partners, the couple also worked as professional colleagues.
Till date, the duo has appeared in two comedy movies namely Zoom and The Shaggy Dog. Both of the pair's films were appreciated by the audiences and also managed to become box-office success with the business of the movies amounting to several million dollars.
Jane and her spouse, who currently resides in a luxurious home in Los Angeles, have not revealed if the couple is planning a new project to work together but judging by their onscreen chemistry, the duo should be psyched to be working as professional colleagues.
Shares Millions Of Net Worth With Partner-In-Crime
Jane Hajduk is known for her works in movies and TV shows including Chicago Hope, Monk, Ultimate Spiderman, and NCIS. Further, she served as a producer for the 2018 TV series, The Watch.
Jane's resume might look insignificant compared to her husband, who has been in several successful movies and TV shows like the Toy Story franchise, Wild Hogs, Last Man Standing, and others; however, the actress has done her part and that too flawlessly.
Biography You May Like:- Alex Lange Bio: Age, Height, Girlfriend, Parents
Considered shorter in height than her spouse, Jane receives an annual salary amounting to $50,529 which is less in comparison to Tim. Further, Jane has not revealed her net worth but her husband, Tim Allen, is known to be worth $80 million.
Bio: Celebrates Birthday In October
Jane Hajduk was born as the daughter of Matthew J. and Elizabeth Hajduk in Pennsylvania, USA. She possesses a mixed ethnicity consisting of 75% Polish and 25% Irish & English heritage.
Being born in 1966, she celebrates her birthday every year on 26 October. As of 2019, she is 52 years of age.