Entertainment
Janelle Monae Revealed Her Sexuality, Dating Details, Net Worth & Facts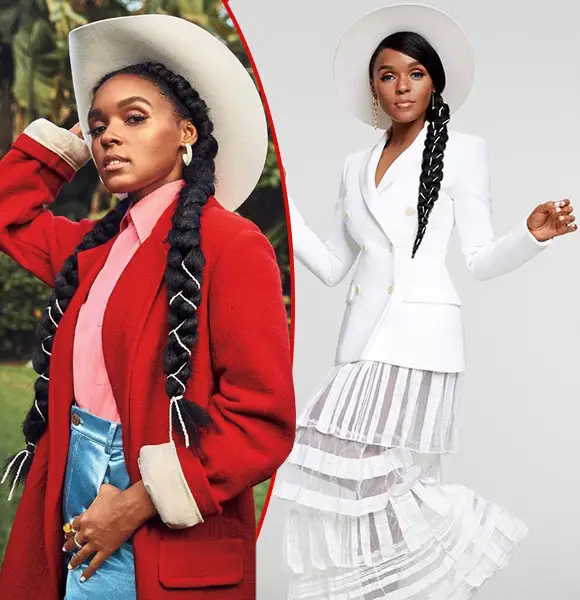 Song-writer-singer Janelle Monae is best known for her full-length studio album, The ArchAndroid (2010); the album reached number seventeen on the Billboard U.S. album chart and featured the singles like Cold War and Tightrope.
Further, the singer has earned six Grammy Award nominations and multiple other honors.
Additionally, Janelle is also an actress who appeared in the historical drama movie Hidden Figures in 2016. Also, she is pretty famous for her unique fashion sense. 
What Is Her Sexuality?
The Kansas native came out as pansexual in April 2018.
More About Janelle Monae's Sexual Orientation:- Janelle Monáe, 32, Confirms Sexuality, Frees Herself 'Pansexual'!
In a Rolling Stone cover story published on 26 April 2018, Janelle said that initially, she identified herself as a bisexual. But after getting to know more about pansexuality, the singer could relate to it more. 
Relationship With Tessa Thompson
Janelle is dating Ragnarok (2017) actress Tessa Thompson.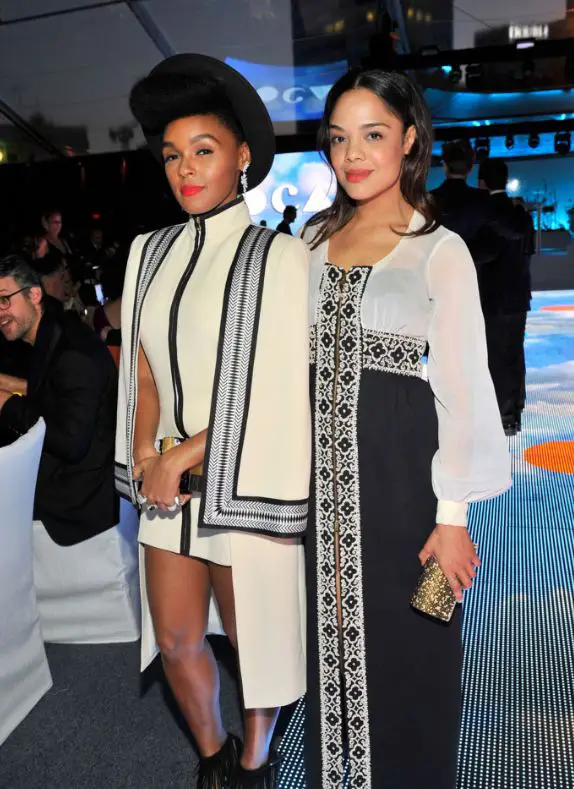 Janelle Monae poses with girlfriend Tessa Thompson at the 2015 MOCA gala (Photo:thecut.com)
In 2015, Tessa appeared as a backup dancer in a music video called Yoga of Janelle. And in May 2015, the two were spotted together at the 2015 MOCA gala for the first time.
Further, in September 2017, Janelle and Tessa were getting cozy at the Equality California Awards and then at HBO's Emmys after-party.
More About Janelle Monae And Tessa Thompson's Relationship:- Janelle Monáe & Tessa Thompson Dating Revealed As 'Ragnarok' Actress Outs As Bisexual
Besides, their official red carpet debut came in February 2018 with the Annihilation (2018) red carpet; Janelle and her bisexual girlfriend entered hand in hand together. 
Also, in June 2018, Tessa shared with Porter magazine that she and Janelle love each other deeply. 
Janelle Monae's Previous Relationships
The singer was previously dating a British F1 racer, Lewis Hamilton. The couple briefly dated for a while in 2015. 
Besides, Janelle was also rumored to be seeing the American rapper MC Lyte in the past. However, none of them came forward and confirmed the rumors. 
More On Janelle Monae
Jenelle was born on 1st December 1985 in Kansas City, United States. Her father was a truck driver, and her mother used to work as a janitor. Even though her family was not rich, they lived quite happy lives. 
Being a Sagittarius, she is a very optimistic person and is very positive about everything. 
With the support from her family, Janelle, who stands at the height of 5 feet (1.5m), now has a net worth of $12 million, according to Celebrity Net Worth. She contributed greatly to the entertainment industry and has also appeared in print ads for CoverGirl's range of nail gloss and lip colors.
Find Out: Janelle Monae Revealed Her Sexuality, Dating Details, Net Worth & Facts
Besides her acting career, she also has her range of clothing products under the Electro Phi Beta Sorority label. Apart from her work, she loves to watch series for stress relief. She once shared that Game of Thrones is her favorite TV series. 
Jenelle has been excellent in everything, and she has published her book, The Memory Librarian: And Other Stories From Dirty Computer.
Harper Voyager published the book in April 2022, and according to Jenelle," the book explores how different threads of liberation—queerness, race, gender plurality, and love—become tangled with future possibilities of memory and time in such a totalitarian landscape... and what the costs might be when trying to unravel and weave them into freedoms,"
Stay tuned to get more updates on Janelle Monae.