Entertainment
Janet Varney: Her Ex-Boyfriend From Former Dating Affair is Married - What About Her?
Love is important in a relationship, but it's not enough to maintain a relationship. With time people change and simultaneous, various problems arise which changes the dynamic of the relationship. At times the couple finds ways and reasons to stay with each other, but they may also choose to part ways considering the pain they inflict on each other. An individual has his/her own way to deal with heartbreak. 
Similarly, actress Janet Varney was in a long-term relationship with her ex-boyfriend; post-breakup her former boyfriend moved on in life and got married. But has Janet moved on in life? Does she have a boyfriend with whom she can get married and turn into a husband? Let's dig in to find the answers!
Janet Varney's love life!
The beautiful actress Janet Varney was romantically associated with the "Talking Dead" host Chris Hardwick. The duos reportedly started their relationship in the year 2004 and went on to date for seven long years, however, the former couple went separate ways in the year 2011.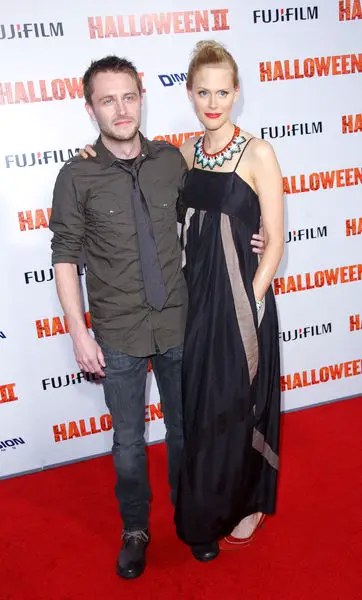 Caption: Janet Varney with Chris Hardwick arriving for the Los Angeles Premiere of Halloween 2
Photo Credit: aceshowbiz
Janet has maintained silence regarding the reason for splitting with Chris and has not been spotted with a man who could be guessed as her boyfriend. 
But, her ex-boyfriend Chris Hardwick has demonstrably moved on. Chris had been dating the model and actress Lydia Hearst since 2014. Finally, the couple got married on 10th of August 2016 at the luxury resort and are now living together as husband and wife.
Janet uses the social media platforms like Instagram to share about her projects with fans and followers while shielding her private life. She has not spoken about her love life or family, and it seems that she enjoys keeping her personal life private. 
Moreover, the reports regarding her romantic unions have not surfaced the media; thus it's difficult to arrive at any conclusion until the lady in question comes forward and clears the curiosity. But still, the chances of her romancing with a boyfriend or even married life with a husband cannot be warded off.
Well, it seems while dealing with the breakup, she shifted her focus towards her career. In the year 2012, Janet got an opportunity to become the voice of Korra in TV series "The Legend of Korra," which indeed gave her the much-awaited fame.
Janet performed in the famous TV serials like Neil's Puppet Dreams (2012-2013), Shameless (2015), Kroll Show (2013-2014), Mutt & Stuff (2016) Comedy Bang! Bang! (2016) and American Housewife (2016).
In an interview with the SplitSlider, Janet also talked about her dream role and shared that she wishes to portray the role of a detective onscreen.
I think there's part of me that's longing to play a Sherlock Holmes or sort of a House character, like a real detective. Like a real, moody detective. Like a real sarcastic, mentally ill detective. I think it would be really fun to do something like that. I'm really drawn to procedurals as a viewer. Boy, I know shooting that stuff is hard work, but I think it would scratch a lot of itches to be part of a show like that.
She even starred on the American comedy horror television series, 'Stan Against Evil' created by Dana Gould from 2016- 2017. Back in November, she shared a clip from her horror show via Instagram.
With her hard work and dedication towards her craft, she must have accumulated decent net worth, however, just like her relationship status, her net worth is kept under the wraps.