Jared Dines is the star behind his self titled metal-themed YouTube channel. His covers and musical comedies have made him a sought after online star. His following of over 2 million YouTube subscriber makes Jared's popularity glaringly obvious.
Previously, he used to juggle his online and music careers together. Jared worked as a lead singer in the band, Dissimulator and played drums for Rest, Repose. However, he hung up his musician boots as he couldn't keep up with the bands' hectic tour dates.
Jared's Net Worth
Jared built his brand on YouTube from scratch. Even before, social media was a thing; he was into singing and filming himself while doing it. His parents had bought him a Sony camcorder, which aided in his endeavors.
As a 13-year-old, Jared found that he wanted to do music and skits both and worked towards it. The audience got to know Jared and his personality as social media gained prominence.
Budding YouTuber:- Reece Hawkins Age, Net Worth, Dating
Now, Jared earns an average of $30.3K - $485.2K per year via his YouTube channel entitled, Jared Dines. Also, he has another YouTube channel, The DickeyDines Show which fetches him an annual average of $3.5K - $56.7K. Both the projects bring him a considerable net worth.
Also, the YouTuber used to tour with his band, Rest, Repose, which brought him revenues in the past. But, he left the group as his mental health issues cropped up due to the band's tour schedules. He announced about his mental health situation via Twitter on 19th April 2019.
Age, Birthday & Songs
Jared was born in 1989 at Washington. The 29-year-old musician-cum-YouTuber is a Libra according to his birthday, 6th October.
Without a doubt, he is a multi-talented guy; he can play several instruments namely bass guitar, and drums. As a singer, he has released songs namely, Afraid to Die, Demogorgon, The Clown, The Psycho and Death Sentence from his 2016 EP The Dark.
Furthermore, Jared's another 2016 EP titled The Light features the songs Rebuild, Gaze into the Iris, Across the Earth, Grigori and 11 Days.
Girlfriend Details 
Jared is pretty open about his dating life. The metal singer's girlfriend is Renee Wrath. Liker her metal rocker boyfriend, Renne is a massive metal fan. Her love for the music genre has found a place in her Instagram bio.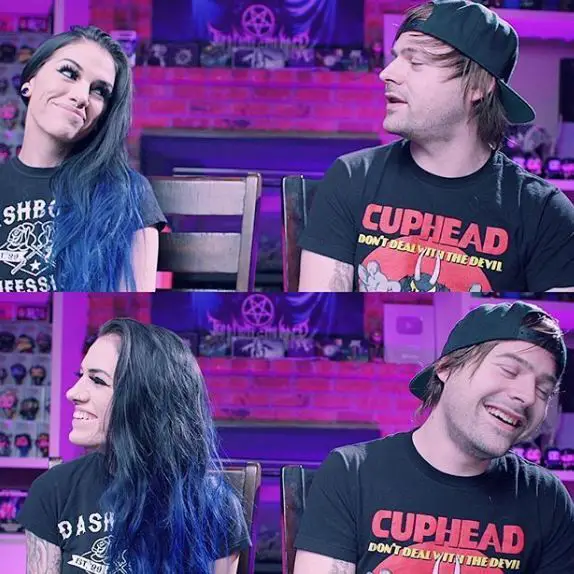 Jared Dines shares a cute moment with girlfriend Renee Wrath on 15th February 2019 (Photo: Renee Wrath's Instagram)
Well, the metal lovers couple's relationship became public when Jared first posted about his girlfriend on 24th October 2018 on Instagram. Since then, the YouTuber and his girlfriend have flaunted their love all over social media. However, the pair are yet to get engaged or married.
YouTuber's Open Romance:- Tana Mongeau Wiki: Age, Affair, Net Worth Of Girl Who Was Dating Mac Miller
Other than the love story with his girlfriend, Jared has an original love affair with his family members.
He is extremely close to his family, which includes his mother and father. The YouTuber makes it a point to spend quality time with his parents. Jared also lets his followers in on his family time. On 13th May 2019, he posted a Mother's day tribute for his momma via Instagram.