Jaren Jackson is an...helped win San Antonio Spurs their first NBA championship in...NBA star is married to... a few months after Jaren won the NBA championship with...here is always a buzz among his fans about the NBA star at age 52 worth... looks like Jaren Sr's net worth is...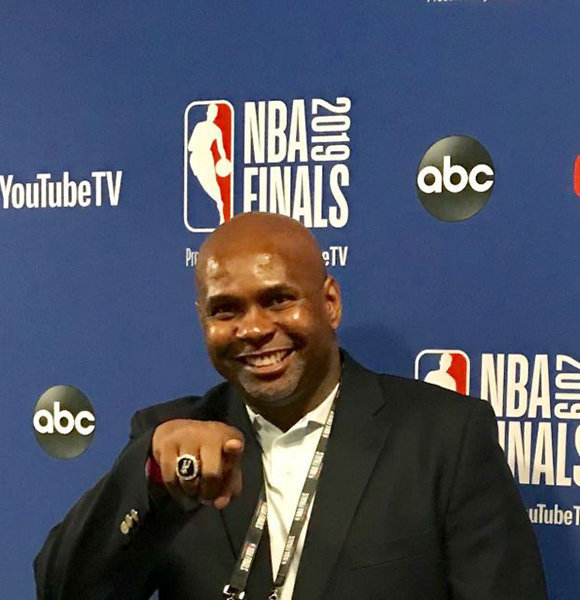 Apart from his identity as a former shooting guard with a height of 6 feet 4 inches (1.93 m), Jaren Jackson is also a proud father to NBA player Jaren Walter Jackson Jr.
Jaren Sr. helped win San Antonio Spurs their first NBA championship in 1999, and after 19 years, his son made his chest broader as Jr. was selected 4th by the Memphis Grizzlies in the 2018 NBA draft.
Jaren's Background, Wife And Son
Jaren was born on 27th October 1967 in Jazz Town, New Orleans. After finishing high school from Walter Cohen, he played at Georgetown University from 1985 to 1989 before graduating with a Bachelor's degree in Finance.
Though he was never drafted into NBA, he played 13 seasons accumulating 2,370 points for multiple teams like New Jersey Nets, Portland Blazers, Philadelphia 76ers, Orlando Magic, and of course, San Antonio Spurs.
Famous Basketball Wife:- Tasha Marbury Husband, Net Worth, Family
The NBA star is married to Terri Carmichael Jackson; she did not play basketball but was a tennis player and cheerleader in high school. The duo met at Georgetown University, and there, she pursued a law degree, while Jaren played in the NBA.
Terri worked as the NCAA's director of law, policy, and governance before landing as the director of operations to executive director at the Women's National Basketball (WNBA) Players Association.
The duo has a son, Jaren Walter Jackson Jr, who was born on 15th September 1999, a few months after Jaren won the NBA championship with Spurs. A Memphis Grizzlies forward Jaren Jr. is already an NBA star, who brings his 6 feet 11 inches (2.42m) height and personal style to Hoop.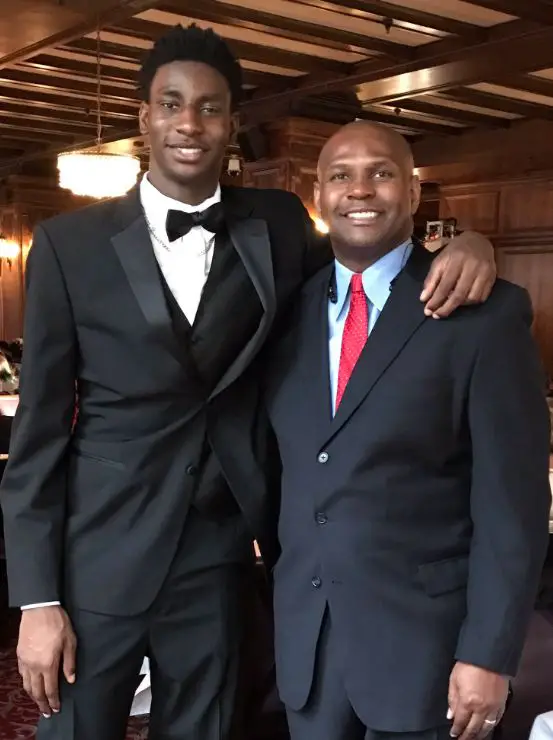 Jaren Jackson with son Jaren Jackson Jr. in 2017 (Photo: Jaren Jackson's Twitter)  
Terri, after her keynote address at the WFGN annual tribute luncheon, spoke about her Grizzlies star son and NBA legend husband NBA in Memphis in 2019.
 "This is home. Yes, this is home. And it became home almost immediately to the Jackson three."
The Jackson three viz. Jaren Sr., Terri, and Jaren Jr. are investing in the city of Memphis, which they gladly call 'home,' to support women's roles in the world of sports and WNBA in the area. With an impressive family background and support, the trio is bound to grow bigger each passing day.
Jaren's Career and Net Worth
The native of New Orleans played 431 games with an average win share of 11.5 in his career before retiring in 2002. Along with the title of 1999 NBA Champion with Spurs, Jaren has 786 rebounds and 500 assists in his NBA career of 13 seasons long.
He started his coaching career in 2007 and held several basketball coaching positions at both the college and minor league levels. He was a head coach of the National Basketball League of Canada's Ottawa SkyHawks and retired from his coaching career in 2015.
DeMar DeRozan And Wife Prospect:- DeMar DeRozan Wife, Daughter, Family, Height
Further, there is always a buzz among his fans about the NBA star's worth at age 52. Indeed, he earned a career-high salary of around $3 million in 2002 and now works as a color analyst for NBA G-League Fort Wayne Mad Ants since November 2015.
Even his son, the 2018-19 Rookie scaled for the fourth overall pick, is estimated to be $4.92 million.
Considering all these, it looks like, with an impressive bio, Jaren Sr's net worth is far more, but still under review as of 2019.