Jason Dirden is an American actor who carries his father's long legacy in the acting industry.
His passion for acting came late in his high school days, but the actor excelled immensely under the guidance of his brother and father.
Even though he started late in acting, Jason has already starred in movies like GreenLeaf, Elementary, and The Start of Dreams.
Bio: Parents, Age
Jason Dirden was born on 23 August 1980 in Houston, USA. He was raised in a large family full of siblings by his father Willie and mother Deborah, who boasted an American nationality.
Among his four siblings: Brandon, Maria, Bridgett, and James, Jason's oldest brother Brandon took the first initiative to pursue a career in acting after his father. Jason, on the other hand, was pulled towards the arts rather than acting.
Jason's father was one of the most recognized faces in the acting business; whereas, his mother was an artist and teacher at MacGregor Elementary and Texas Southern University.
Also Read:-Robyn Crawford Wife, Lisa Hintelmann, Net Worth, Now
It was in his high school when the actor had a go in acting. He was interested in storytelling from his teenage years but didn't find much of a pull towards it until then.
Even though he started late, he was in the safe hands of his father. However, it was not an easy task for Jason, as his father often fell asleep when he performed monologs in front of him.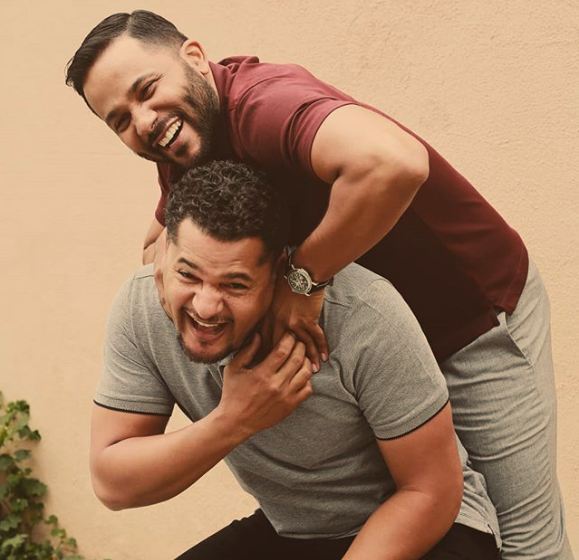 Jason Dirden with brother Brandon Dirden on his birthday in March 2019 (Photo: Jason Dirden's Instagram)
Then, his father taught Jason the craft of character development and thier principles. He also hinted that acting was a long story beyond what an audience sees, and the actor should be able to peel the character to the exact point.
Taking his father' advice and mentorship, the Huston native, started landing recurring roles in plays and on-stage drama. He slowly enhanced his acting skills and got his break in 2010 in the movie, The Start of Dreams.
From then on it has always been an uphill climb for Jason, who has booked his place in the upcoming American TV show American Soul.
Married To Wife
Jason Dirden rocks the brownish-black skin tone and stands at a decent height. But he has not married anyone even at the age of 39.
The actor enjoys his role of laying back and letting his elder brother Brendon do everything first, whether it is starting acting or getting married to a wife.
On-Screen Wife:-Asia'h Epperson Parents, Net Worth, Boyfriend
Though Jason has managed to avoid marriage in real life, he played the role of a husband to actress Asia'h Epperson in the 2016 drama, Greenleaf. He had also joked about his works relating it to a girlfriend on Twitter in July 2011.