Entertainment
Jason Gardiner Secretly Married Boyfriend He Mentions In Tweets? Details
Jason Gardiner is an Australian choreographer, singer and television producer known for his razor-sharp comments as a judge in...Facing an extremely difficult childhood with bullies, he came out as gay in... after coming out, he has hinted his partner...However...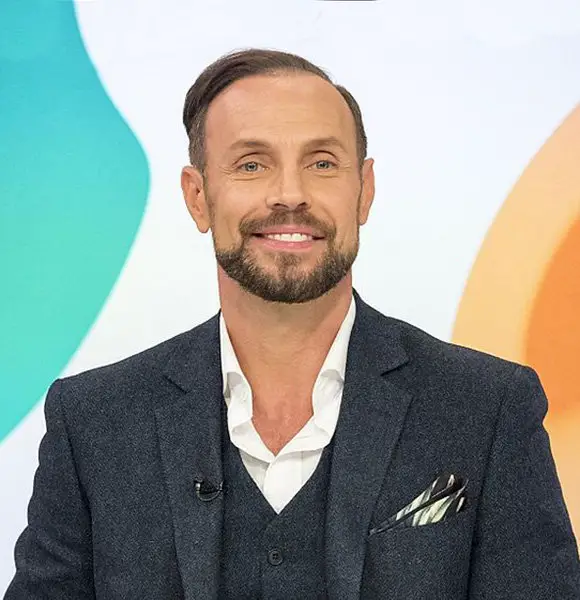 With his nasty humor and razor-sharp comments, Jason Gardiner has made a name of himself as one of the most popular reality show judges in TV world!
An Australian choreographer, singer and television producer, Jason is best known for his controversial personality whilst being a judge on several ITV shows including Dancing On Ice and Born To Shine.
Proud of who he is today, Jason, however, has a lot to go through to become the man he is today. 
First, the choreographer dealt with childhood bullies and he had come out with gay sexuality in his teenage days. Conquering all, openly Gay, Jason with his fearless attitude has never hidden his sexuality since then. 
 However, the ever so controversial star has kept a well-maintained secret about his partner. But that doesn't mean he has never given any hints though?
Coming Out As Gay At Age 16; Childhood Bullies
Not many can imagine the pain and torture of constantly getting bullied throughout their childhood. Unfortunately, Jason Gardiner has faced a past so dark even the bravest would avoid. However, the dancing sensation has no regrets whatsoever about his gone days.
Read Also: American Journalist Emily Bazelon, A Rising Voice On Abortion and Bullying, Juggles Between Her Work and Personal Life
Born in Australia and adopted by his parents at an infant age of 6 months, Jason faced an extremely difficult childhood full of bullies.
A little different ever since his early days, he would constantly get bullied for his love towards ballet. And the bullying wasn't only limited to students in the school, but the teacher got their fair share towards him as well.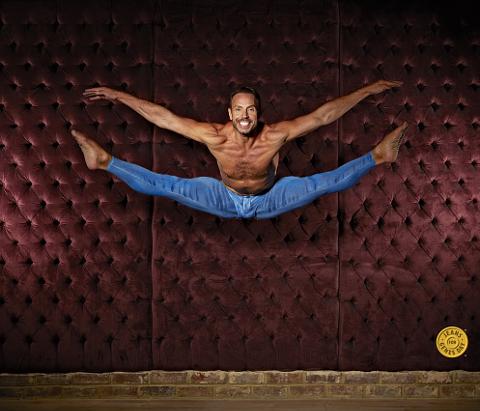 Jason Gardiner performing his moves at a fundraising event in the UK in 2013. (Photo: digitalspy.com)
Jason revisited his childhood memories in an interview to Mirror in 2012,
"It was clear from an early age I was different from other boys. The bullying was merciless - every single day I suffered physical abuse. One day a lad kicked a ball right into my face at close range. He broke my nose. The final straw came when I was stabbed in the back with a compass. Mum then removed me from school"
Confused about his sexuality led Jason to a mental warfare that caused him anorexia in his early teen days. However, at the age of 16, after going through an entire childhood of bullying, Jason came out in open to his mom. Talking about his coming out journey, the dancer recalled,
" I called Mum into my room and she could see I was shaking and pale. I said, 'Mum, I have something to tell you. I think I'm gay.' She said, 'Thank God! I thought you were going to say you were on drugs! I've known you were gay since you were a little boy'."
Jason stands today as one of the most popular stars on television and he credits his tough childhood for making him the man that he is today.
"Every day I'd throw up going to school and spend every lunch break in the library. Which is why I'm so good with words. So, up their a*ses. It's made me the person I am today. I wouldn't change any of it, actually."
After facing such a tough childhood and constant mental stress, it is no surprise that the reality star has such a thick skin today, and remains unaffected by any critics he receives whatsoever.
Hints Of Partner: Has Boyfriend Or Secretly Married To Husband?
After identifying himself gay at age 16, Jason till this day, at the age of 53, hasn't quite revealed who his love partner is. But, it can't be said that he has not given any hints till date though. The choreographer has been found to tweet about his partner, but nobody knows who the secret guy is.
See Also: Gay Dancer Louie Spence Reveals Husband/ Partner Rare Details!
On 1 June 2010, the dancer apologized for his lack of tweets mentioning he had been busy with his partner,
"Sorry for my lack of tweets lately but I had my partner here from NY and we had so much to do as he is opening his London store soon!"
The series of secret partner tweets took its next turn on Valentine's Day 2013, where he mentioned he was going out for a romantic Valentine dinner with goodness knows who.
"Off to a very romantic Valentine's dinner in Madrid... I hope you are doing something romantic too. For all the single tweeps I send u LOVE"
With such tweets, Jason has forced a lot of people to scratch their heads wondering who his boyfriend actually is. Or is he already married and keeping his husband's identity a secret?
However, the star judge who returned back to his hit show Dancing On Ice in 2018, gave a completely opposite statement in 2108 while talking to Mirror about his relationship status,
"I'm single. And I don't have anybody that wants to mingle. Apps and dating sites are great if you just want a hookup. And sometimes that's fine, but I'm at that point in my life where I want something more."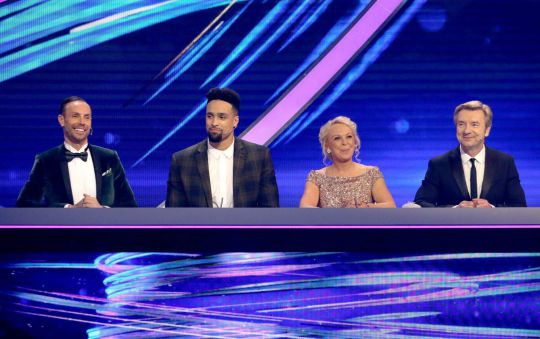 Jason Gardiner (rightmost) returning on the judging panel of the show Dancing On Ice in 2108. (Photo: Rex Shutterstock)
The statement comes out totally contrasting his series of tweets over the years about this partner. However, with Jason's weird sense of humor which has been highlighted in his mocking over Princess Diana's death, it could just be one of his hard to understand jokes.
You May Also Like: Openly Gay Robin Cousins Secretly Married Partner & No One Knows
However, jokes or not, one thing is for sure. The sharp mouthed choreographer has been successful in hiding the identity of his partner for now, if there is one.