Entertainment
Jay Ellis Wiki: His Dating Affair, Defensive Nature Towards Relationship With Girlfriend, Gay Rumors and Facts
We meet different people in life but not every person is perfect for us, as our companion. So what are the qualities that you seek in your partner? Will you prefer an individual with appealing appearance, wealthy person or a person who loves you to the moon and back?
Stating this context, let's have a look on Jay Ellis' love life and his nature towards his girlfriend. In addition to that let's learn more about gay rumors along with his short wiki-like bio.
Jay Ellis Affair And His Defensive nature towards Girlfriend:
As we say that love is blind and love knows no race and color, Jay Ellis falls for a beautiful Serbian model named Nina Senicar. Fending off the gay rumors, Ellis is dating Nina openly, and according to some source, the pair began their relationship since 2015.
Back in October 2015, Ellis and Nina made their first appearance as a couple in amfAR's Inspiration Gala. Though they are dating openly, they haven't flaunted each other's picture in their respective social media accounts.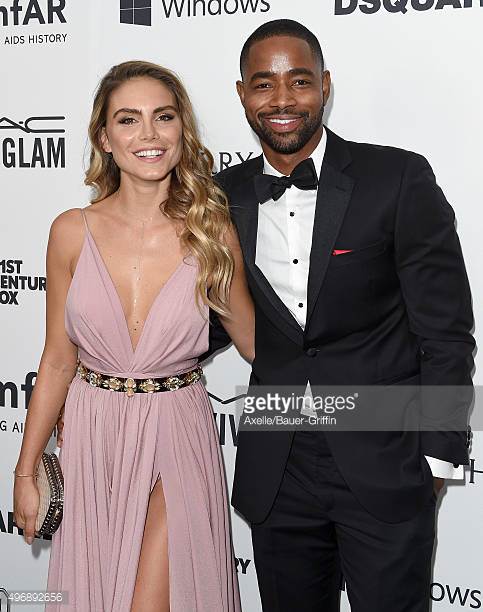 Caption: Jay Ellis and his girlfriend, Nina Senicar at amfAR's Inspiration Gala at Los Angeles in 2015.
Photo Credit: Getty Images
Earlier this year in February, the "Insecure" actor defended his lady love in an interview with Charlamagne Tha God on Power 105's "The Breakfast Club." 
During the interview, the host Tha God asked about Ellis' swirly relationship with his model girlfriend. He even asked Ellis whether he is afraid of facing backlash regarding his relationship, as he has a large black female fan base. 
The thirty-five-years-old actor replied-
"I am in a relationship. I'm in a very happy relationship and that's where I leave it. I don't really worry about anything else and that's it. I think for me, we give so much of ourselves in what we do no matter what side of the industry we're on so for me…a relationship for me is probably the most important thing that I think two people can have."
Caption: Jay Ellis talks 'if cheating is justifiable' and gives few details about his relationship in an interview with The Breakfast Club.
(Video published on February 8, 2017)
In an interview, Jay shared that he said that he is one woman man even shared that the qualities he is seeking in his woman.
Caption: Jay Ellis shares what love means to him and talks about his dream woman. (Video Published on November 6, 2013)
But the question arises; is Nina Senicar, his dream woman, whom he was searching to spend his rest of his life? Will his girlfriend be a perfect wife for him?  Will they get married? Only time will tell!
Stay with us for further updates on Jay Ellis and Nina Senicar!
A little more about Jay Ellis:
Jay Ellis was born in December 1981. His father worked in Air Force, while his mother worked as a finance executive. Ellis is the graduate of Concordia University and has received Suma *** Laude. 
Standing tall at the height of six feet two inches, Jay Ellis has attained a commendable height of success in his profession as well.
The handsome and talented Ellis first gained reorganization for his appearance on the BET series THE GAME. He has then appeared in Masters of Sex, How I Met Your Mother, NCIS, Grace and Frankie, and Grey's Anatomy.
With his hard work, dedication, and passion towards his craft, Ellis has been able to accumulate a splendid net worth of $3 million.