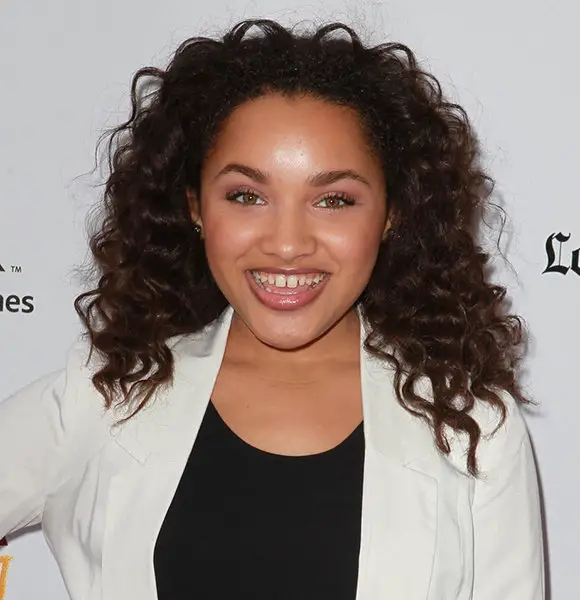 American actress Jaylen Barron prefers to keep her relationship low-profile but doesn't miss any opportunity to give subtle hints about her boyfriend. The actress famous for her portrayal of Zoe in the TV series Free Rein has on frequent occasions spilled some details about her boyfriend on social media sites.
Though she has made few revelations, still these details are enough to know that Jaylen leads a successful love life along with her prospering professional career.
Want to know what she revealed? Just continue reading!
Jaylen Barron Keeping Boyfriend Hidden?
When it comes to her dating life, Jaylen keeps hush from revealing the identity of her boyfriend but has frequently mentioned him through her Twitter account.
Concerning Jaylen's beau, if we are to glance back at Jaylen's tweet of 11 March 2015, she mentioned that people would often ask her the reason for not having a boyfriend, and she would give the excuse of being single as bad execution in her dating life.
See Also:- Hyun Bin On Girlfriend & Mystery! Heartthrob's Wife-To-Be? Status NowHyun Bin On Girlfriend & Mystery! Heartthrob's Wife-To-Be? Status Now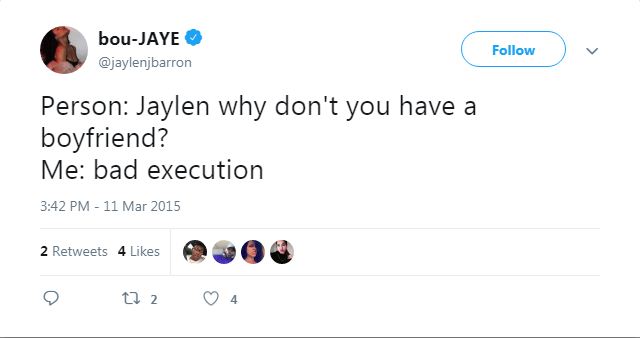 Jaylen Barron's Explanation For Being Single  (source: Twitter)
Further in July, she again did state the term "boyfriend" in one of her posts on Twitter, in which she expressed gratitude towards God, maintaining that her partner wasn't an ignorant and illiterate fool, thanks to God's mercy. She shared a tweet on 2 July 2015 quoting,
"thank God my boyfriend isn't illiterate and ignorant."
Well, if fans are to believe what she gives away in her tweets, she is indeed dating, but she is quite subtle while giving away the details. 
Meanwhile, on 29th January 2018, she once again spilled some details regarding the man she is dating. The post clearly stated that she is dating an athlete, but according to her, it is tough to date an athlete.
"Dating an athlete is tough man"
Though Jaylen keeps hinting about her beau now and then, she admits that she is an extremely private person. On 30th January 2018, Jaylen shared a tweet expressing that when it comes to opening up about her relationships, be it with friends, family, or her romantic partner, Jaylen prefers keeping things private.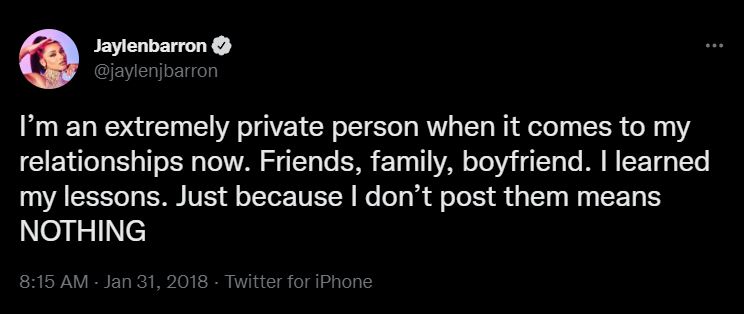 Jaylen Barron's Explanation For Private Relationship with Boyfriend and Others (source: Twitter)
Recently, on 23 May 2018, Jaylen mentioned via a Twitter status something after which many are assuming that she might have broken up with her boy. Through a tweet, she explained that she found the word "boyfriend" very scary, which could be hinting that Jaylen broke up with her significant other and possibly had some unresolved trauma from the relationship.
You May Also Like:- Who Is Caitlin McHugh? Wiki Details From Age to Pregnancy Revelation
Well, despite multiple tweets, it is still doubtful if Jaylen actually split up with her beau or whether she was indeed dating in the first place. Hopefully, she will come forward to decode the mystery of her dating life.
Nevertheless, recently the actress was seen having a good time enjoying the ocean view, possibly on a date? Because it looks absolutely romantic.
Jaylen On A Mystery Date (source: Instagram)
Apart from her mysterious dating life, the actress has made a huge name for herself in the acting industry so let's read more about her.
Short Bio
Born in Nevada, TV actress-model, Jaylen Barron was conceived to her parents on 31 August 1998 in a family of mixed ethnicity consisting of Venezuelan, Brazilian, and African-American heritage.
Though additional information on her parents remains confined, she revealed in an interview with TVOverMind that her mother is Mexican and her father, is African-American. Moreover, it is known that she has a younger sister Sofia Barron, who is also a model by profession.  
One tweet regarding her parents implied that the 24-year-old actress had got strict parents, which could have been terrifying, especially in her teenage years.
When Jaylen had nearly reached the age of seventeen in February 2015, she posted a photo status on Twitter asking her followers how they convinced their parents to allow their respective lovers for a sleepover. Jaylen even asked her fans to teach her the techniques.
Jaylen, who stands at the height of 1.63m (5 feet 4 inches), started her career as a model working for "Tween store Justice." Later, she grabbed some recurring and guest roles in Disney, and Nickelodeon shows, and also started working full time as an actress.
Don't Miss:- Austin North SPLITS With Girlfriend of Four Months | What Went Wrong?
As of now, Jaylen Barron is famously known for her character on the TV shows like See Dad Run (2012), Shameless (2016), GoodLuck Charlie (2013) series, Free Rein (2017) and a few others. The actress recently starred as the lead role in the film "Blindspotting."
As the star's career is flourishing, we cannot wait to update you guys more on Jaylen Barron, so, Keep Reading!