Entertainment
Jazz Jennings Transgender, Surgery Details, Dating Status, Family
To the fans of the TLC reality TV show, I am Jazz; the name Jazz Jennings should not be new. The show, which centers around Jazz, a transgender girl, introduces to the world the struggles faced by the Jennings family while raising a transgender girl.
Being the focus of a TV show, the life of Jazz is almost known to everyone. But today, let's take a look at the summary of the life of the trans star through a different perspective.
Is Jazz Dating Boyfriend?
If one follows up the show I am Jazz on TLC, they must know that a new member was added in the picture of its fifth season. The person was none other than Jazz's first love, Ahmir Steward, who is an LGBT activist and identifies as non-binary.
You Might Like:- Angelica Ross Transgender, Dating, Married, Family
The two first met online and finally in person when Jazz went to Philadelphia to attend the Transgender Health Conference.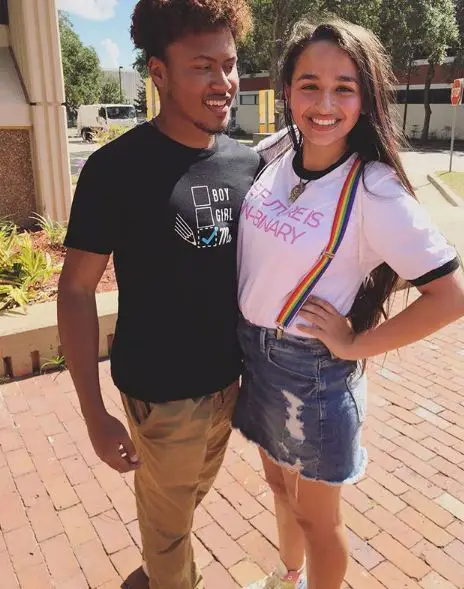 Jazz Jennings with boyfriend Ahmir Steward on February 2019 (Photo: Jazz Jenning's Instagram)
However, the relationship was not all rosy. Since Ahmir lived in Philadelphia, the two were in a long-distance relationship. Adding to the relationship woe was Jazz's parents' worry about the fast relationship. 
Further, as Ahmir also joined a college in Pennsylvania in January 2019, fans speculated that the young duo parted ways. 
To add more fuel to the speculations, Ahmir posted a photo of himself with a caption that hinted he might be single.
"Although we may be single sometimes, we will be beautiful at all times...Everything is temporary. Except for the bad b***h vibes that you bring to the table."
Ahmir explained to RadarOnline that season six of I Am Jazz will play out the details of the alleged breakup between Jazz and him. So as of November 2019, there is no evidence of the couple breaking up.
Jazz Jennings' Surgery Details
Being a transgender person, Jazz was on hormone blockers since she was 11 years old that paused any further development as a male. She also started taking estrogen pills since high school.
When she finally came of age for the gender confirmation surgery, there were complications as she did not have enough tissue growth for the operation to be carried out, and several surgeons denied to carry out the process. Furthermore, she had to lose thirty pounds before the surgery, which in itself was challenging.
Explore:- Hailie Sahar Before, Transgender, Facts
But after finding the surgeon who was ready to perform the gender confirmation, Jazz finally completed the last step of her transition. She then underwent surgery in June of 2018. 
Some Interesting Facts