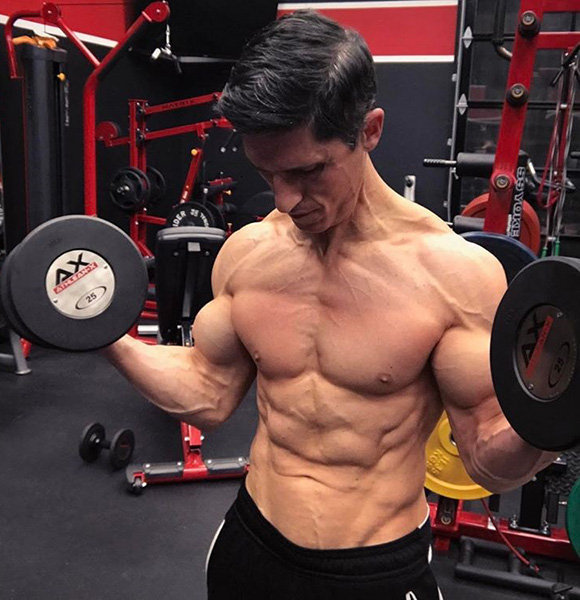 Personal trainer-turned-YouTube star Jeff Cavaliere needs no introduction. With 7.2 million subscribers on YouTube, the founder of ATHLEAN-X Training Systems is one of the better-recognized faces in the fitness/bodybuilding sphere.
Unlike his compatriots, he opts to keep his family away from the prying eyes of the public. Delve into Jeff's biography to learn more!
Bio - Age, Nationality, Height & Weight
Believe it or not, Jeff - who boasts height & weight of 195lbs (88.5 kg) and five feet eight inches (172.5 cm) respectively today - was a skinny kid in his teenage years.
Born on 28th June 1975 in Connecticut, the American YouTube sensation's fascination with fitness began in high school. He initially started working out to better his chances of making it on the school's soccer's first team by building his endurance.
Bio Of Another YouTube Fitness-Savvy:- Anllela Sagra Bio: Stunning Model Explicit Details - Age, Boyfriend & Family
After it struck to Jeff that fitness was his future, he enrolled in the University of Connecticut's "Physioneurobiology" programme in 1993. Per his bio: After earning his Bachelor's degree, Jeff - age 43 - obtained a Master's degree (Physical Therapy) from the same.
Jeff Cavaliere's Net Worth
After finishing college, he worked as a personal trainer for several years before landing his career-defining gig as New York Mets' physical therapist in 2006.
Around the same time, the "strength and conditioning specialist" began to gain traction for the workout videos on his YouTube channel.
By then, Jeff - who garners a reported net worth of $2 million and rising - was already contributing health-related articles for Men's Fitness. Using his experience he learned at the MLB outfit, he even authored two books - Major League Insider Training Manual and Teen Sports Nutrition Blueprint.
Feeling the need to start his own company, he left New York Mets after three glorious years in 2009. Plus, the fitness guru wanted to shift his focus on raising a family with then-wife of one year.
Inside Jeff Cavaliere's Family Life With Wife & Kids
Though Jeff's blonde wife is a subject of many of his social media posts, she remains a mysterious figure.
See Also:- Carel Struycken Wife, Net Worth, Family
Besides the fact that the fitness guru and his life partner got married in 2008, very little info is available on the duo's history.
Jeff Cavaliere shares a rare snap of his wife on Valentine's Day 2018 (Photo:- Jeff Cavaliere's Instagram)
Nevertheless, Jeff and his yet-to-be-identified wife are proud parents to twins -- both of which are boys. Like their mom, the University of Connecticut Alum's kids are also the recipients of his affection on social media. Speaking on the fatherhood experience, the father of two once wrote:-
"I've worn many hats in my life, but NONE have been more rewarding than being a dad to my two little men."
The crew of four may be the furthest thing from a perfect family, but they sure make an adorable pack.