Entertainment
Anllela Sagra Bio: Stunning Model Explicit Details - Age, Boyfriend & Family
Bodybuilding, in a sense, turned Anllela Sagra's whole life around; not only did she become an overnight success through the stated sport but also was able to meet her current boyfriend, who follows the same line of work as hers.
With 11.2 million Instagram following, she's easily one of the biggest names - if not the most prominent name - in the fitness/bodybuilding arena. A native of Colombia, Anllela's meteoric rise to international stardom, however, is much more than that meets the eyes.
Delve into the fitness model's biography to learn about her inspiring come up, height, age & family!
Fitness Model Anllela Sagra's Bio Unveils Her Emergence, Height, Age, & Family
A chance meeting with a trainer, who would introduce her to the world of bodybuilding, in 2011 kick-started her inspiring career.
Inspiration Story From LiveRampUp:- Tim Cook Inspiring Coming Out Story, Being Gay & Partner To Married Status!
Having landed few modeling gigs, then 18-year-old Anellela - who was studying fashion design at the time - decided to jump ships and go full-on fitness mode. She did, however, had reservations with her newfound passion. In her official website's bio, she explains:-
"I was undergoing my studies in fashion design, I would only model a few times during the week. I was extremely thin since a muscular body is not something desired in the modeling world... "
The transition from being a "traditional model" to becoming a fitness model wasn't as smooth as Anllela would have liked. Chronicling her predicaments, she writes:-
"My modeling career started coming to a halt due to the all the muscular mass I was gaining. Many told me to stop training because I was "hurting" my body, but the passion I had for the life I was starting to live was incredible."
Her dedication eventually paid off. A year and a half since practicing bodybuilding, she secured the third position in her very first fitness competition. The result, however, placed Anllela at a crossroads.
Torn between whether to pursue a more conventional modeling path or follow her newfound passion, she opted for the latter. In the end, the Colombian beauty - boasting 5 foot 9 inches(175 cm) height - decided to risk it all. In the bio mentioned above, she recalls:-
"In life, there is no such thing as luck, there are only opportunities and it is your decision whether or not to take a chance on them. I decided to take it and risk everything, lose everything and just jump into the world of possibilities and the truth is that it was the best decision I ever made in my life."
Now age 25, all of Anllela's uncertainties feel like a distant memory as she is one of the most recognizable faces in all of the fitness/bodybuilding realm.
Fellow Instagram Fitness Model:- Yovanna Ventura Bio: Age To Family - Model Who Dated Justin Bieber
The modeling genes seem to run in the Sagra's family. Born on 6th October 1993 in Colombia, the 1Up Nutrition sponsored model's a sister of fellow Instagram fitness guru, Laura Sagra.
Besides Laura, her boyfriend also makes regular appearances on her Instagram videos.
Dating Fellow Instagram Fitness Guru; Guardian Angel Boyfriend
The world of fitness is one tree that keeps handing Anllela its fruit -- or in this case, a boyfriend.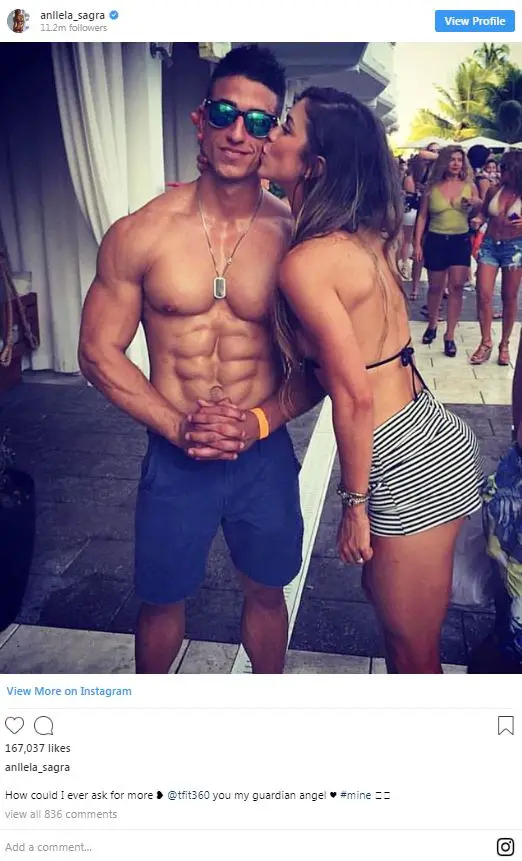 Anllela calls her boyfriend guardian angel (Photo:- Anllela Sagra's Instagram)
Since she and fellow fitness guru & Instagram star Tomas Echavarria began dating in 2015, the pair's romance has been likened to that of the Hip-Hop power couple, Jay-Z & Beyonce. They are what to the fitness world what Brad Pitt and Angelina Jolie meant to the Hollywood.
More On Brangelina:- Melanie Bromley Announces! Won't Get Married & Have Husband, What Happened?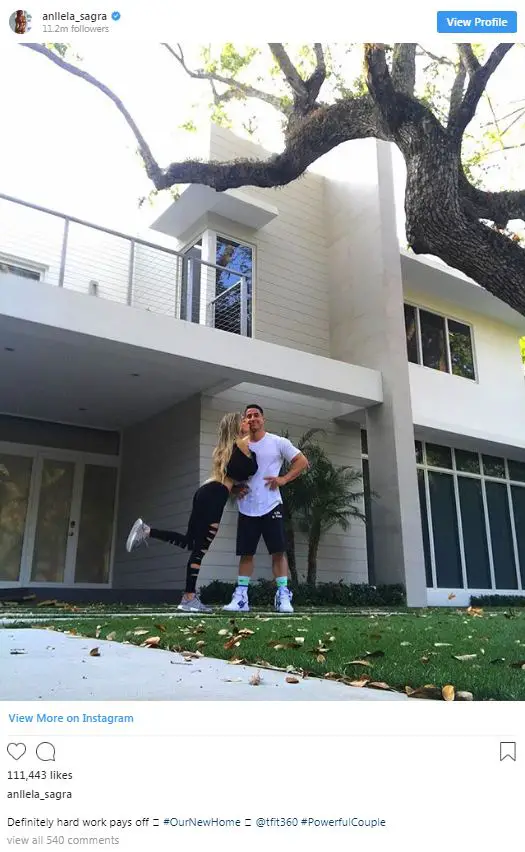 Anella Sagra and Tomas move to their new house (Photo:- Anllela Sagra's Instagram)
Given the lovebird's dewy wealth, one is less likely to find a more fitting parallel.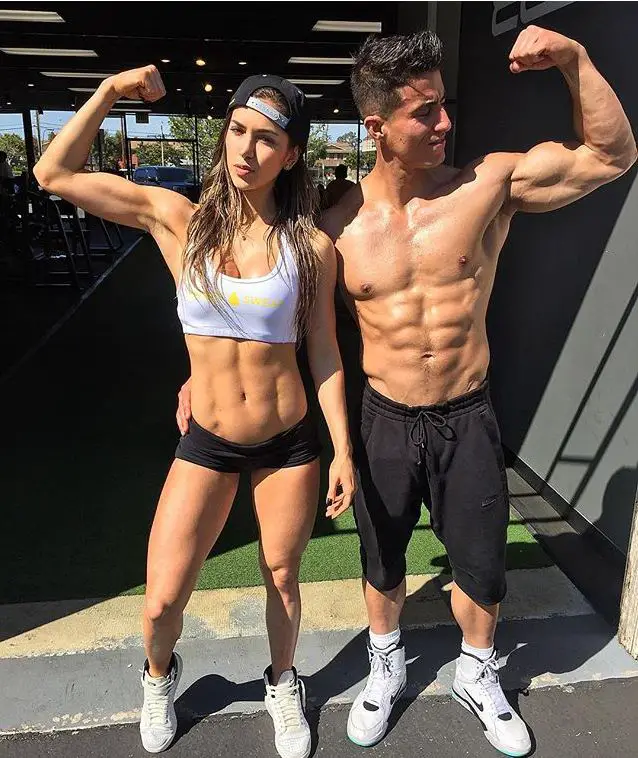 Anllela and her boyfriend Tom flex for a camera (Photo:- greatphysiques.com)
The Colombian model and her American boyfriend are relationship goals, who just happened to possess body goals as well.