Entertainment
Jeff Lewis Not Getting Married! The Flipping Out Star Having A Rough Time With Partner After Baby Arrival
Jeff Lewis Not Getting Married! The Flipping Out Star Having A Rough Time With Partner After Baby Arrival A romance between opposite gender is the acceptable norm of the society, but partners always needn't be of the opposite gender. A gay couple story of Jeff Lewis and Gage Edwards is one of such stories, but meanwhile, their connection appears to be shaking much often.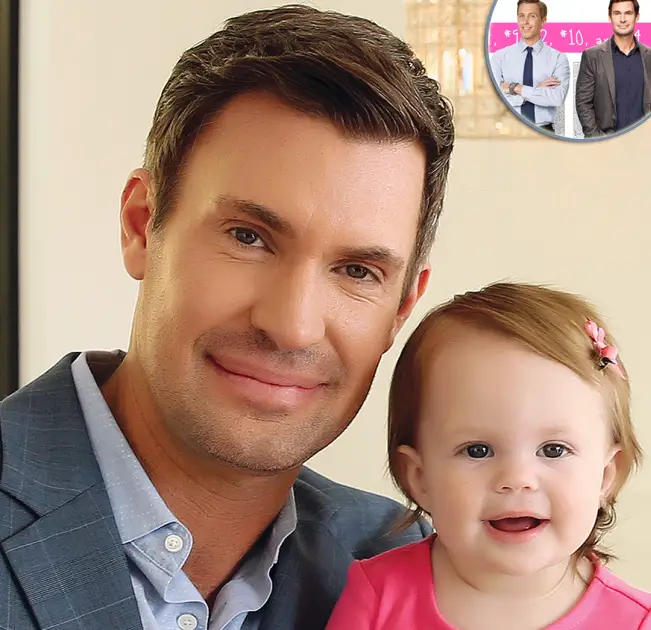 A romance between opposite gender is the acceptable norm of the society, but partners always needn't be of the opposite gender. A gay couple story of Jeff Lewis and Gage Edwards was one of such stories.
While many thought the couple would undoubtedly opt for escalating their ongoing relationship with the arrival of a daughter in their lives, but the couple appeared to be facing some issues between them.
So, what is relationship status of the duo? Let's find out in details!
Jeff Lewis And Gage Edward's Relationship 
It won't amaze you if a man produces a baby being in partnership with his wife, but it may seem uncanny to you for what Flipping Out's Jeff and his partner came up with. The two decided to be parents and increase the size of the family with the help of a surrogate.
The to-be-dad, Jeff also took to Instagram back in September 2016 to let his fans know the addition of a new member in the family.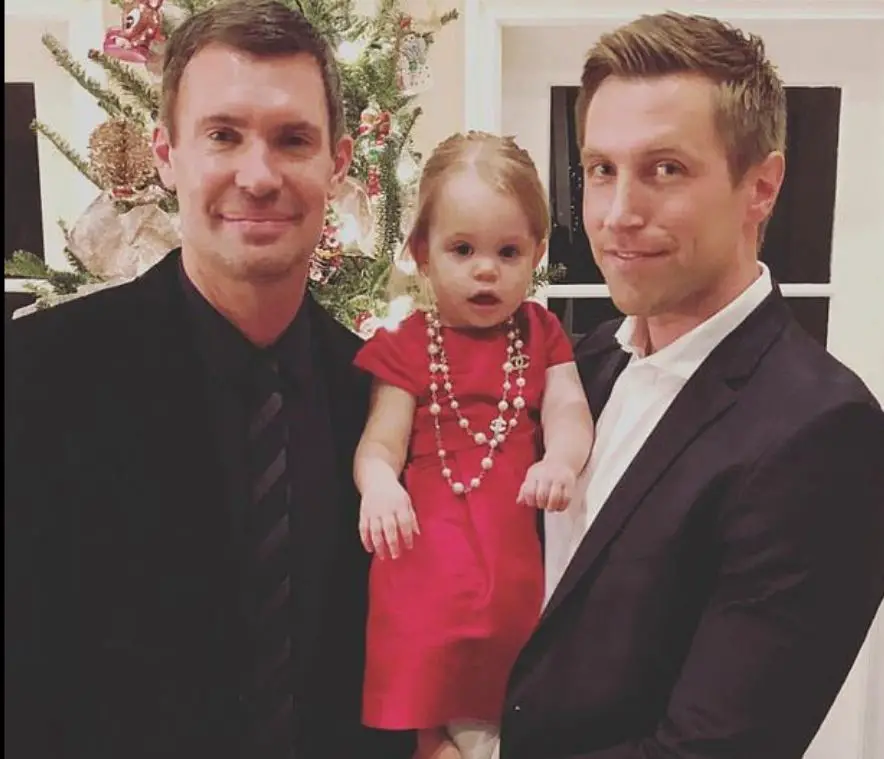 Jeff Lewis poses with boyfriend Gage Edwards( Right) and daughter Monroe Christine Lewis (Photo: www.dailymail.co.uk)
And a month later in October 2016, Jeff, along with Gage, welcomed a baby girl named Monroe Christine Lewis.
Reality Star's Baby Bliss:- Bekah Martinez Married, Boyfriend, Baby Daughter
The baby bliss was short-lived, as the two didn't appear to be in good terms after the baby's arrival which seemed only because of the pressure of the fatherhood. Since then, Lewis has posted plenty of adorable pictures of the little angel, but his partner Gage has not been part of any of those social media posts.
Talking about the fight between the couple, Jeff's partner Gage said,
'That first night she came home and she screamed, that started the next three months of holy s***, what did we do?' 
Furthermore, the cracks in the couple's relationship weren't limited to the pair anymore, as Jeff was venting about their relationship with someone in his office.
 "We're brewing for a huge f***ing fight."
Contrary to these offensive words, Jeff later spoke to Parenting OC and noted that he was still in connection with Gage as he mentioned:
"As a parent, you just can't do it all ... It forced Gage and I to reevaluate." 
While Jeff has always loved to make fun of Gage, he accepts that he has a feeling of love and respect for him.
One of his Instagram posts presented a similar scenario, where he japed relating Gage, but it vividly appeared to be his act of showing love to his partner.
Well, in regards to escalating the ongoing relationship with Gage, Jeff has shared that there are chances of the couple tying the knot while speaking to Andy Cohen on "Watch What Happens Live with Andy Cohen" in early 2017.
Jeff told:
"I don't know. I don't know. I mean it's gonna happen — eventually — right? It'll happen. It'll happen."
He also had gushed about Access Hollywood back on August 2016, and he shared that he has been given legal advice. He divulged,
"I just found out, my attorney said that [Gage] is now eligible for palimony because it's been seven-and-a-half years," 
And then he added,
 "I'm on the hook anyway, I might as well get married."
While the relationship was still on hold between the gay couple, fans hoped for the link to escalate into marriage. However, the result just happened the opposite. 
Splits After Daughter's Birth 
Far from tying the knot, Jeff and his boyfriend of ten years broke up in Valentines Day 2017. The reality star broke the news while talking in Sirius XM show Jeff Lewis Live in February 2019.
End Of Romance:- Phil Elverum Split, Wife, Michelle Williams
The reason behind the loved pair's split was constant fights due to the arrival of the baby girl. Jeff and his former beau couldn't handle the pressure of parenting which proved to be a crack in their relationship. Thus with a heavy heart, Gage moved out of their shared home.
Surrogate Sues
Jeff's daughter's birth met with a controversy when his surrogate sued the Bravo network for filming her without consent in 2018. She alleged that she gave permission only for the filming of the ultrasound and refused to film the birth.
According to the victim, the network filmed the birthing process without her knowledge, and she got to know only after the episode aired on TV. She sought compensation for unlawful recording, invasion of privacy and fraud.