'Teen Mom 2' star Jenelle Evans has been seen with a number of men over the years and in the process, has been a mother of two. Are the rumors of her being pregnant again, true? Find out if she will be welcoming a third child.Also learn about a new information about her inmate ex-fiance and what good news came into his life?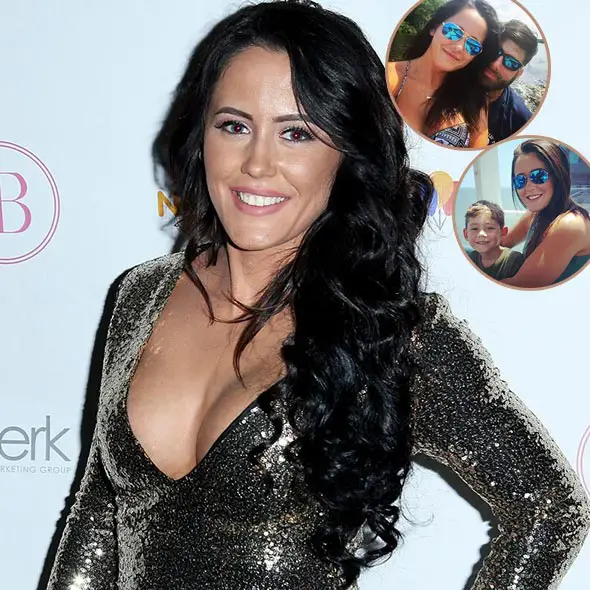 Quick Information
Daughter/s

Ensley Jolie Eason,

Lesbian

No

Hair Color

Black

Hair

Long

Height/ How Tall? 5' 1"
Net Worth

Not Disclosed

Dating/Affair

David Eason (m. 2017)

Ex-Husband

Courtland Rogers (m. 2012–2014)

Ex-Boyfriend

Andrew Lewis (2006-2009), Kieffer Delp (2010-2012), Gary Head (2012), Nathan Griffith (2013-2015)

Wedding Date

2017

Divorce/Split

Yes(Once)

Husband/Spouse

David Eason (m. 2017)

Relationship Status

Married

Date of Birth Dec 19, 1991
Son/s

Jace Vahn Evans, Kaiser Orion Griffith

Sister/s

Ashleigh Evans

Brother/s

Colin Evans

Mother

Barbara Evans

Father

Robert Evans

Ethnicity/Race

White

Religion

Christianity

Zodiac Sign

Sagittarius

Profession

TV Personality

Birth Place

Oak Island, North Carolina, United States

Nationality

American
Former Teen Mom 2 star Jenelle Evans had a history with some men over the years and in the process, became a mother to two children. There were rumors of her being pregnant for the third time, but were there any truth to those gossips?
Find out if she welcomed a third child. Also, learn about new information about her inmate ex-fiance, and what good news came into his life?
Welcomes Child; Wedding Follows
The pregnancy rumors turned out to be genuine when Jenelle gave birth to a healthy girl child named Ensley Jolie Eason in January 2017. Jenelle got earlier criticized as she became pregnant after dating David Eason for only about two months.
Ensley is the first and only baby of David; whereas, Jenelle has two more children from a previous relationship with Nathan Griffith: Jace Vahn Evans, aged 10, and Orion Griffith, 5. Ensley, who is two-year-old now, is getting along with her siblings as the three share a deep siblings bond.
Soon after delivering the child, another good news was waiting for Jenelle.
Jenelle Evans Engaged:- On Course to Getting Married! David Eason Confirms Engagement with his Girlfriend Jenelle Evans
In September 2017, Jenelle and David got married in a romantic wedding event. The marriage was a family ceremony and got attended by all of her children.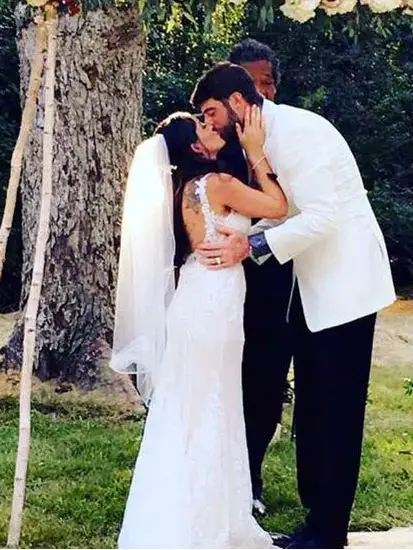 Jenelle Evans and David Eason get married in September 2017 (Photo: People.com)
Nearly two years after the wedding, there were rumors that Jenelle and David were on the verge of ending their married life. However, the couple disproved the rumors saying they didn't need to post a picture on social media every day to show their love.
Exiting MTV - Reasons Divulged
In May 2019, Jenelle's career as a reality star received a massive blow after MTV revealed that it had severed ties with her. Back in February 2018, the network had cut ties with her husband David too.
More On David's Firing:- MTV Gets David Eason Fired! Tweets That Started It All
Per the statement released by MTV, the network had stopped filming with Teen Mom 2 as of 6th April 2019.
The news of her relationship with the famed network came within a week after her David admitted to murdering their family dog after it allegedly tried to attack Ensley, the pair's daughter.
Via an Instagram post, the Teen Mom 2 star's husband defended his actions by writing:-
"I don't give a damn what animal bites my baby on the face... whether it be your dog or mine, a dog is a dog, and I don't put up with that s--t at all. I'm all about protecting my family... "
Not only did the killing of the family dog ended the married duo's life on TV, but, it also created a rift in their romance as well. After the initial strife, Janelle - who professed sadness over the tragedy - and her husband David made attempted to mend their marriage. 
However, the Teen Mom 2 star claimed that she was not fired from her job, but Jenelle is still in doubt about her role in the MTV franchise.
Bond With Husband Stronger After Public Drama
July 2019 saw the mother of three children, Jenelle Evens, get reunited with her children after losing the children's custody in May.
Following an incident that involved the death of their family dog Nugget, the couple was deprived of their children. As the case unfolded, it was discovered that Jenelle's husband David had shot the dog to save their 2-year-old daughter.
In an emotional Instagram story, David addressed the fans and said that the dog was biting the face of his daughter, and it was his primary goal to protect his daughter. However, during that process, they lost their children temporarily.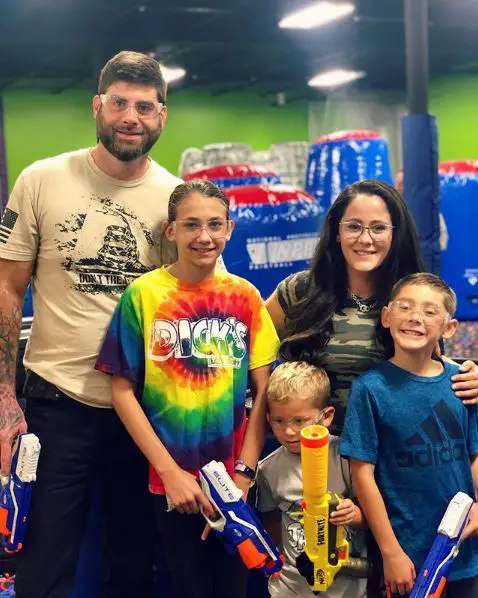 Jenelle Evans with husband David Eason and children in August 2019 (Photo: Jenelle Even's Instagram)
Interestingly, the happy parents were reunited with their children on 3 July 2019 and said their relationship was getting even stronger with this particular incident. During this time, the two went to many places seeking advice and realized the value of children and family.
Split With David, New Chapter In Life
Things again started going south for the Teen Mom 2 star, Janelle Evans.  After losing her job in the show from the actions of her husband Janelle was making a living out from her makeup line the JE cosmetics. 
Soon the frequent bad product reviews for her Universal Brow Kit lead the manufacturer to lack behind in sale. Furthermore, the company turned out unregistered as a business entity in the state of North Carolina. Adding insult to injury, Janelle split with her husband, David Eason.
Officiating the news in her social media, the reality star announced starting a new chapter in life and making the decision for the betterment of her children. Also adding to the same, she opened up about her financial struggles, and being with David could mean getting fewer chances to involve in any other job.
Facing a harsh reality ahead of herself, Janelle took the decision and is ready to meet new obstacles in life.
Ex-Fiancé's Wedding in Prison
Courtland Rogers, with whom Jenelle was previously engaged-to-be married, was last heard of when he got arrested not for one or two but four felony counts, two probation violation and one each for habitual felon and possession of heroin. He entered the news again, but this time, attempting a marriage as a convict.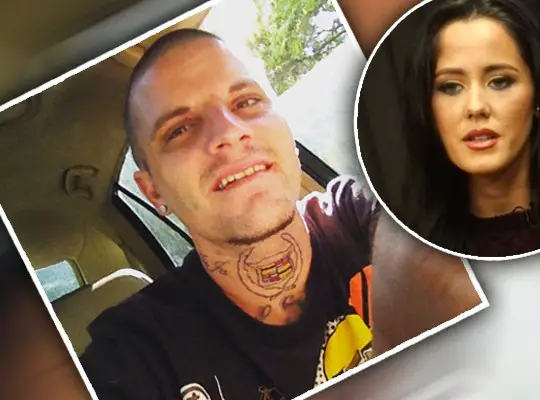 Courtland Rogers on the left and Jenelle Evans on the right (Source: wp.com)
Yes, Rogers could not wait to tie the knot with his baby mama, Taylor Lewis.
They had already attempted to get married in the jail when he was being held up, but the cops didn't allow it. So, they decided to have a wedding once Rogers got transferred into a prison. However, no news has come stating if they got married or not.
Jenelle Evans' Bio
Jenelle Evans was born on 19th December 1991 in Oakland, North Carolina, USA. She had a son at the age of 17 as per her relationship with Andrew Lewis. She aborted what would've been her second child with ex-husband Courtland Rogers.
Jenelle Evans Health:- Jenelle Evans Is Hospitalized, What Happened & What's Her Health Status?
She had her second son Kaiser with Nathan Griffin. She had been an integral part of Teen Mom 2 (TV Series documentary) since 2011. She has also been a part of The Doctors (TV Series) recently.