Entertainment
Jennifer Beals And Her Somewhat Incomplete Family With Failed Relationship With Husband; Reveals Slight Fear With New Role
A family is something that provides us with the strength and courage to come over any hurdles in our life and thus, we value our family more than anything else. But when you see one part of the family fall apart, you feel incomplete. Jennifer Beals and her husband's failed relationship also form a similar context.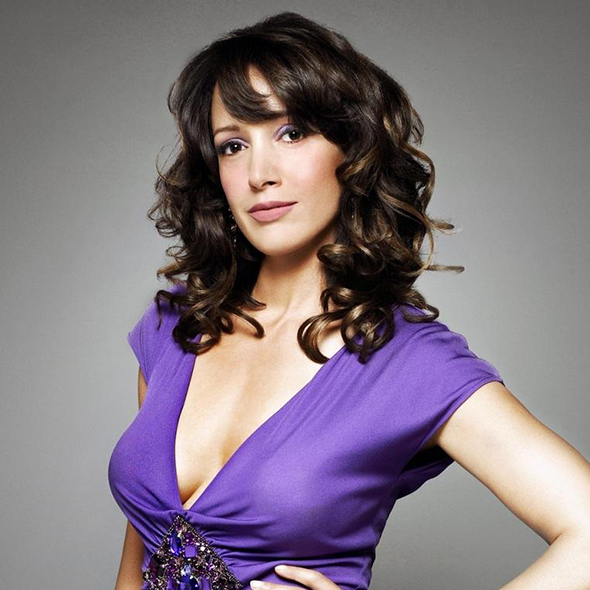 Marital relationships are something that takes a person to a whole new level, and you suddenly seem to feel like your life headed in a new direction. But everything seems to be falling to pieces when the marital bond cannot rise to the expectations.
Similar was the case with actress Jennifer Beals who underwent the same trauma.
However, Jennifer shouldn't have many complaints with life as love knocked her doorsteps quite soon after her divorce. Married for the second time, Jennifer seems to have learned from the failure of her past relationship.
Now a mother as well, Jennifer's family life surely makes up an interesting read.
Jennifer Beals' Family Life: Husband, Children, and More
Jennifer was previously married to an independent film director Alexandre Rockwell. The couple got married in 1986 in a private ceremony, New York. But, they got divorced in 1996, without revealing any particular reason.
You May Also Like: Annie Wersching Third Child With Husband | Baby Boy Archie Is A Gem
But Jennifer moved on from the relationship and is now married to an Entrepreneur, Ken Dixon. Jennifer got married to Ken on June 21, 1998, after getting along in 1997. 
The couple shares a daughter together, who was born in 2005. Moreover, Ken also shares two children with his ex- wife.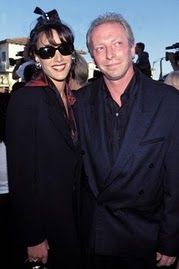 Jennifer Beals and Ken Dixon took what was remaining from their past marital lives to form a new one. (Photo: whosdatedwho.com) 
Regarding her daughter's birth, Jennifer shared,
"When I gave birth to my daughter , leaving the hospital, my mind completely blown open. You realize that with every single person on this earth there was some woman who gave birth to them. It's such a simple idea but all of the sudden I felt like I joined the sisterhood of being a mother" .
With the actress recently marking her 20th anniversary with her husband, Jennifer and Ken look all set for happily ever after along with their family.
Scared/Nervous About Her New Role?
It is common for someone to feel timid while beginning something new. But when a professional like Jennifer opens up about feeling nervous about her new role, it definitely grabs the headlines.
During an interview on the 6th March 2017, she revealed her nervousness for her role in a new project, Taken. She said, 
"It's not an intellectual process for me. Do I get that connection to that person right away? Do I understand them? Am I slightly afraid? That's always a good thing."
But then again she showed everyone why she is a successful actress in the industry when she further added,
"Fear is a good indicator that the hurdle in front of you might be a good idea to try to jump," 
Good thing Jennifer is willing to jump through the obstacles and move forth in her path.  
See Also: Imani Hakim Soon To Add Husband Tag? Boyfriend & Dating Affair Reflect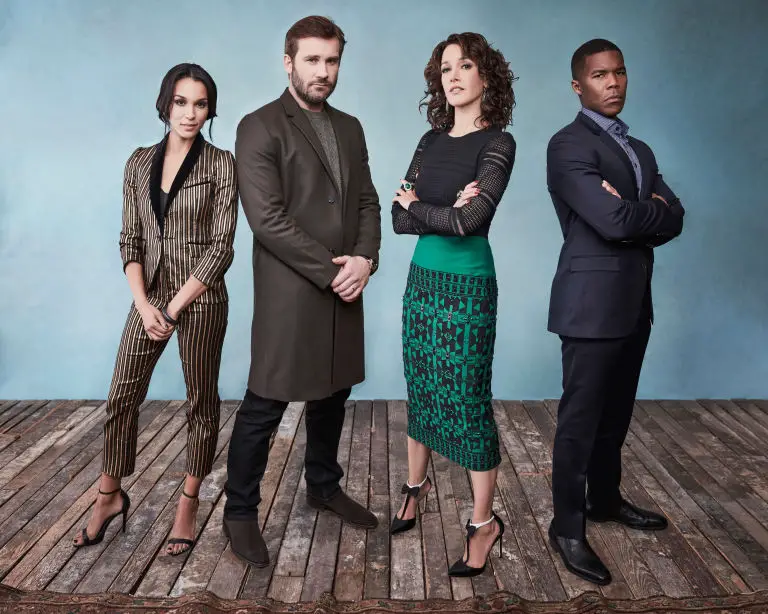 The cast of Taken, L-R: Brooklyn Sudano, Clive Standen, Jennifer Beals, and Gaius Charles. (Photo: elle.com)
Furthermore, Jennifer seems to have progressed smoothly in her career paths being a part of new and exciting projects. Jennifer played a recurring role in the series The Last Tycoon. Today, she is busy suiting for her upcoming 2019 movie After.
The Gay/Lesbian Rumors That Surround Her: 
Jennifer Beals portrayed a lesbian role in the series, "The L Word" as Bette Porter, and her magical chemistry with her co-star "Laurel Holloman", who also portrayed a lesbian character turned her into a gay/lesbian icon. Although she is not a lesbian, she is a dedicated spokesperson for LGBT rights and society.
"When I was working on the pilot, I once casually kissed my husband in a restaurant and suddenly I realized that if we were a gay couple, that moment would have been a very big event in that particular restaurant. It awakened in me my sense of otherness that certainly connected me to this role . When I work, I always want to tell the truth and when I choose a project it's always about the story." 
Moreover, Jennifer Beals also volunteered for the 2008 presidential election campaign for Obama, focusing specifically on the LGBT community and issues.
 To add to her LGBT support, Jennifer is also set to celebrate her birthday on 19 December 2018 by supporting the Center for Environmental Health and the Gay, Lesbian and Straight Education Network.
Jennifer has asked for a donation with her fans to help GLSEN continue to "create safe and affirming schools for all, regardless of sexual orientation, gender identity, or gender expression."
Don't Miss: Selenis Leyva Shares A Daughter But What About Her Married Status? Also Reveals About Supporting LGBT For Sister
Besides her raising the voice for the LGBT community, Jennifer has also been found raising the voices of the unheard through her social media account.
The actress has taken to Twitter on several occasions to voice her displeasure regarding the country's political scenario, including one about the Trump's administration's decision to buy American teachers a gun on 23 August 2018.
"An insane, unfathomable position. My mother was an amazing school teacher on the South Side of Chicago who endeavored day in & day out to provide her students the education they craved even if that meant bringing in extra supplies. Adding a gun to the equation is truly absurd."
Hence, apart from being a tremendous actress, Jennifer continues to remain a social activist raising voices of the unheard through her fame.