Entertainment
Jennifer Lawrence Wedding, Husband, Baby, Net Worth
Jennifer Lawrence said her wedding vows alongside her fiance... first met her husband after being introduced by their...Chris Jenner was present to join the pairs start to married... headlines in February by secretly getting engaged to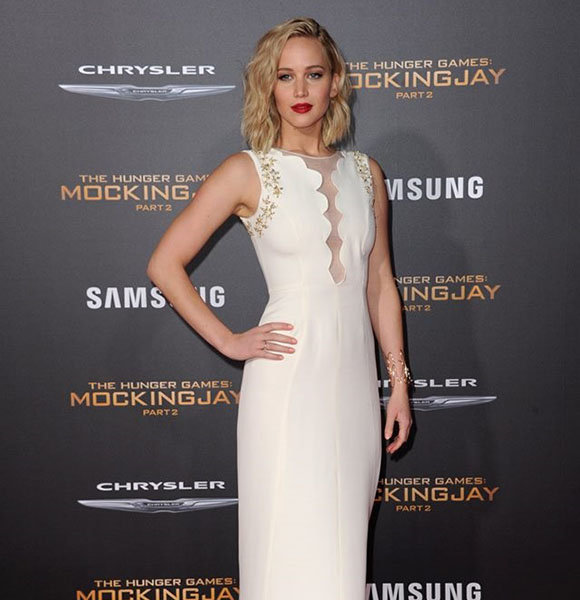 Hollywood heartthrob Jennifer Lawrence is officially off the market!
On 19th October 2019, the Hunger Games actress said the wedding vows alongside her boyfriend-turned-fiance, Cooke Maroney. About 150 guests, including high profile celebrities like Adele, Bradley Cooper, and Chris Jenner, were present to join the pair start their married life.
Likewise, other celebrities such as Nicole Richie, Joel Madden, Cameron Diaz, and Sienna Miller were invited to the auspicious day, but it's not confirmed if they were able to make it to the wedding.
Their wedding reception was held in the stunning Belcourt Mansion in Newport, Rhode Island. Interestingly, the Oscar-winning actress was spotted donning her Dior wedding dress, and her choice was evident as she is Dior's brand ambassador.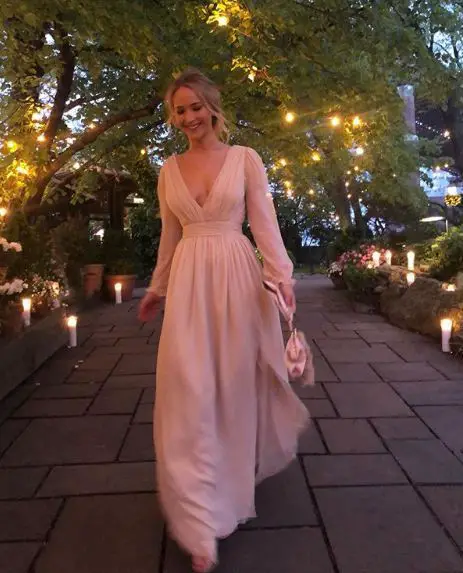 Newlywed bride Jennifer Lawrence as seen on her Dior's bridal dress at her wedding on 19th October 2019 (Photo: parade.com)
On the catering side, the pair didn't compromise on the hospitality of their guests either. Reportedly, about $31000 was spent just for the food, which consisted of ecofriendly organic foods served by reputed caterer Heirloom Foods. So, it's apparent that Jennifer shared no expense at the wedding.
First Met, Baby Rumors, Engagement
She first met her husband, Cooke Maroney - director of New York Art Gallery - in 2018 after being introduced by their mutual friend, Laura Simpson. Since then, the two were spotted spending PDA filled times in various places and events. But above all, they made headlines in February by secretly getting engaged to one another.
Thanks to the media, she was spotted with a massive ring on her finger, and shortly afterward, her representatives confirmed their engagement.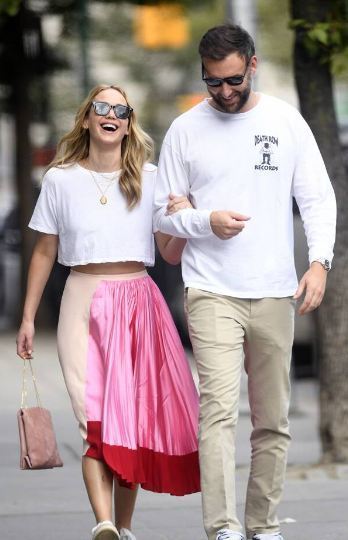 Jennifer Lawrence and Cooke Maroney as seen before their marriage in 2019 (Photo: eonline.com)
Interestingly, her fans might come across news on her pregnancy soon. In 2018, reports surfaced about her desire to have a child, after the actress' celebrity friend Amy Schumer referred that Jennifer's "biological clock is ticking louder than ever."
Everything About Chris Fischer:- Chef Who Married Amy Schumer
Only time will tell if the newly-married pair are ready to bring a baby to their life. But as much as her relationship looks pleasant now, the start of her dating life had it's own ups and downs.
Dating History, Crisis After Breakup
The Oscar-winning actress' significant relationship began hand in hand while working on her films. In 2010, while shooting her movie X-Men: First Class, she began forming a friendly relation with co-star Nicholas Hoult. Although they dated for about five years, it was an on-again-off-again relationship.
Relationship Status Of Nicholas Hoult :- Nicholas Hoult & Model Girlfriend Secretly Welcomes Baby - 'First Time Dad'!
In 2013, Jennifer broke up with her boyfriend without citing any reason behind it. However, a year later, during the release of X-Men: Days Of The Future Past, they gave their relationship another shot. But, they split shortly a few months later in August without any news of reason behind their split.
Even though she started dating singer Coldplay frontman Chris Martin the same month, both of them split shortly afterward. However, she remained on good terms with Chris as they were seen on many occasions together even after the breakup. Moreover, it prompted rumors that they have begun dating again.
But in reality, her split with Nicholas had left her emotionally scarred to some extent. Moreover, the emergence of the internal crisis was apparent in her life during her singlehood stage as during in an interview with ABC, she quoted,
"I was also in a relationship with somebody for five years and we broke up around the same time I wrapped the movies. Being 24 was this whole year of, 'Who am I without these movies? Who am I without this man?'" 
On top of that, Jennifer had expressed her desire to start a relationship with someone who wasn't aware of her fame. But, the actress couldn't stand by her words as she began dating established director Darron Aronofsky in Septemeber 2017 while working on her then-boyfriend's movie titled Mother.
Interestingly, she managed to keep a very lowkey profile on her relationship with her director boyfriend with whom she had a significant age gap of 22 years.
But unable to maintain their relationship; she split with him in November the same year.