Entertainment
Jenny Milkowski Married Status At Age 34! Husband Talks Now & Then Has Fans Confused
Emmy-winning writer, Jenny Milkowski is the name in the traffic reporting world, which sums up the attractive beauty, charm, and talent in one place. Performing in the shows like The Mix, Saving Leonard, and Gaming Under the Influence: The GUI Show, the media personality and content creator has lengthened her resume by adding big projects under her name. 
However, her dating resume has been holding a silence in this regard for the famous reporter, known for her works on WFLD-TV's Good Morning Chicago, prefers to do so.
She has made several remarks of her married and love life but hasn't provided substantial evidence that has placed her well-wishers in an eternal state of confusion.
Social Media Speaks Of Husband; Married Or Not? 
Jenny, age 34, has always confused her fans by providing insufficient details about her marital status and dating life. 
See Also:- WWE Host Peter Rosenberg, Beautiful Wife & Massive Net Worth Suits Best
Back in January 2011, Jenny talked about her married life via a tweet in which she mentioned that her husband wanted her to steal toilet paper from her workplace and bring it home. She wrote on her Twitter,
"Husband just asked me to steal toilet paper from my work to bring home. #doweneedmoney?"
After she posted the tweet, Jenny, who celebrates her birthday on 14 January, suddenly went silent about her love life for four long years until 2015 when she talked about having a boyfriend.
On 25 January 2015, she posted a Facebook status describing a particular Friday night dinner with her boyfriend and friend where they had Lobster Roll and Infield Fly Rule. She wrote in the post,
"Was here Friday night with my boyfriend and friend---had the Lobster Roll and Infield Fly Rule---SO good! Plan on coming back"
However, there was no mention of a husband or even a divorce which caused fans to question if she was married in the first place. Also, she didn't reveal the identity of her so-called boyfriend, which left many wondering if she was making these things up only to confuse her fans. 
Later, on 23 October 2015, she uploaded a tweet with the photo of Ryan Reynolds calling him as her forever boyfriend.
Jenny thinks performing a wedding at Disney would be the worst thing that could happen to a couple. She even dedicated a tweet on 2 May 2016 and even posted a sarcastic photo to prove her point.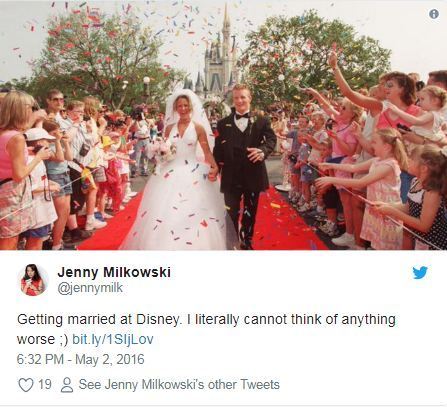 Jenny expresses her opinion on getting married at Disney (Photo: Jenny Milkowski's Twitter)
Moreover, Jenny also identified actor Charlie Day as her future husband in one of her Facebook posts which she uploaded on 7 February 2017. The 5 feet 3 inches tall actress even shared a picture of the two calling themselves as prospective bride and groom.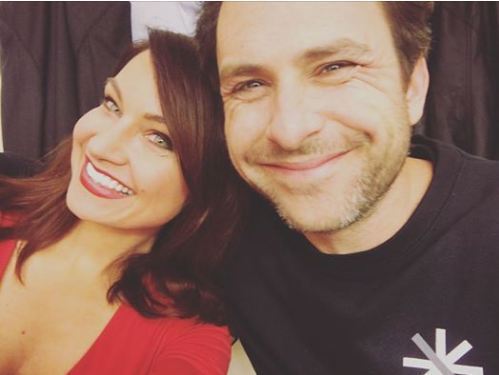 Jenny calls actor Charlie Day as her future husband on 7 February 2017 (Photo: Jenny Milkowski's Facebook)
About a month later, the self-proclaimed dating expert mentioned about having a boyfriend via Twitter; however, like her earlier posts, she didn't reveal any details of her so-called lover. 
Read Also:- Stephanie Santiago Dating At Age 29? Details From Boyfriend To Surgery & Height
Jenny's dating status is still a mystery to her millions of fans, and unless she reveals a legitimate partner, her endless posts on social sites may speak the actual truth whether she is married or not, clearing the confusion of her followers. 
What Is She Up To Now?
Jenny's dating life might not be public knowledge, but her recent projects are no mysteries. As of now, the media personality and content creator is busy focussing on her radio show, Jenny Milk & Jay which is currently broadcasted by Hubbard Broadcasting.
Jenny serves as the host and producer of the podcast presenting the show with co-host, Jay Styles.
The radio program, which first released on 29 March 2018, is an afternoon talk show that airs on WSHE-FM Chicago (100.3).