Entertainment
Stephanie Santiago Dating At Age 29? Details From Boyfriend To Surgery & Height
Stephanie Santiago Dating At Age 29? Details From Boyfriend To Surgery & Height it came in the light that Stephanie got her bad guy when she started dating an American football quarterback Back in 2012, the New York City native had stated that her son was a good boy. She even revealed about her plastic surgeries in 2014, stating she made body enhancements through liposuction and Brazilian butt lift surgery. she didn't need boyfriend since she had a lot of appreciating friends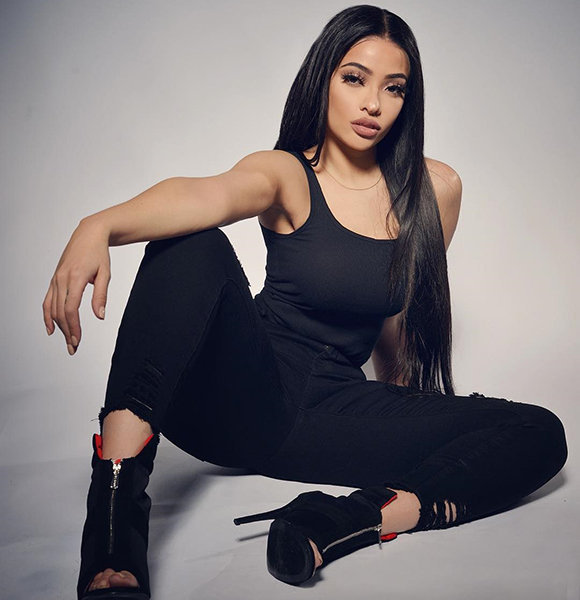 Afro-Puerto Rican-American model Stephanie Santiago comes on the frontlist of attractive personalities to be followed on Instagram.
The controversial figure was in a relationship; she had found her preferred bad guy, who was an NFL player.
Let's explore her current dating status in the article. 
Stephanie Santiago's Dating Status
Stephanie Santiago, who possesses the height of 5 feet 6 inches (1.72 Metre), is a dream girl for her male fans and attracts a lot of fans by her alluring physique.
According to her one of her Twitter posts in January 2011, she was dating her boyfriend, for whom she bought a MacBook. 
Later in August 2011, in an interview with xxlmag.com, she opened up about her dating strategy and mentioned the kind of guys she would date.  
Talking to the magazine, Stephanie opened up about her dating choice. stating,
I go for the bad guy. I always go for the bad guys. I like the good guys but I don't know I'm just attracted to bad guys. I like the challenge. When it's too easy its not fun any more and it gets boring. I end up straying.
Two years later, she started dating a football quarterback, whom she first met on Instagram, but they broke up soon.  
Dating Colin Kaepernick
In 2013, it came in the light that Stephanie got her bad guy when she started dating an American football quarterback, Colin Kaepernick, who had a long dating history.
According to Lipistickalley.com, they first met through a conversation on Instagram. 
However, their fling reportedly did not last long as they got split after weeks of dating together.
One of the members of the website states that Colin unfollowed her after people found out that they were together in his home sharing his bed.  
If the reports from Lipistickalley.com are to be believed, her relationship with Colin was just a short fling.
After Kaepernick, it looked like she was dating someone with whom she broke up in 2014.
In July 2014, she replied a tweet stating that she broke up with her boyfriend.
Later, in August 2014, she also stated that she didn't need boyfriend since she had a lot of appreciating friends.
Back in 2012, the New York City native had stated that her son was a good boy, on Twitter.

Stephaine Santiago praises her son while replying to fan (Photo: Stephaine's Santiago's Twitter)
Despite her revealing tweets, Stephanie has not been spotted publicly dating yet. At age 29 in 2018, she is still deemed single. 
Yeezus Controversy
Stephanie witnessed controversies when she walked on the stage without a single piece of fabric on the opening set during Kanye West's Yeezus Tour in 2013.
Apart from controversies, she also gained enormous media attention after she appeared fully nude, with her body covered in body paints, but people called her out for vulgarity in public to which she remained unapologetic.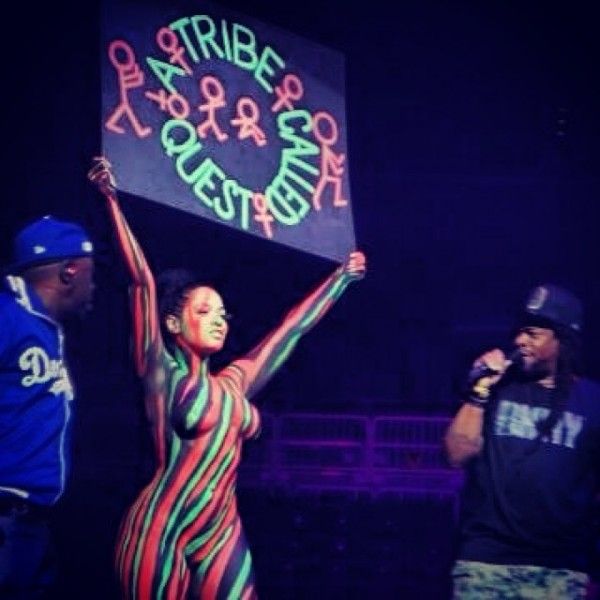 Stephanie Santiago as Bonita Applebum during Kanye West's Yeezus Tour in 2013. (Photo: Blackvibes.com)
It is a known fact that the proud model likes to flaunt her body. 
She even revealed about her plastic surgeries in 2014, stating she made body enhancements through liposuction and Brazilian butt lift surgery.
The famous model was also deemed as "the 25 hottest urban models to follow on Instagram" by complex.com in 2013. 
Likewise, the New York Post regarded her as one of "the sexiest New Yorkers on Instagram" in 2015.
Modeling
Stephanie Santiago, born on 5 December 1988, rose to fame as a model through her bold Instagram posts.
She has worked as a host on Angela Yee's Lip Service podcast. Moreover, she also appeared on the show, Uncommon Sense with Charlamagne with rapper Joe Budden, on MTV2.
The famous video-vixen, who derives mixed ethnicity from her American and Afro-Puerto Rican parents, has also appeared in various music videos including Birthday Song, Forever Now, Give it 2 u, and No Games.