Coming from a family of racers, Martin Truex Jr. had racing in his DNA all along. Passing down the family baton from his father, he and his younger brother Ryan have lived up to the legacy of their father.
Though Martin was the first to step foot in the professional racing scene, his brother was soon to catch up with him. The siblings might even face each other on the race track someday.
Previously the winner of NASCAR Monster Energy Cup Series Championship in 2017, Martin is representing the no. 19 in the 2019 Monster Energy Nascar Cup Series. 
Girlfriend Or Wife?
Martin Truex Jr went through a lot in life, whether it be on his professional or in personal terms. 
One of his most challenging moments was going through his long-time girlfriend, Sherry Pollex's ovarian cancer. The racing couple was in a state of shock when the doctor diagnosed Sherry of a stage three cancer.
Fighting Cancer:- Ruth Bader Ginsburg Husband, Children, Family
Though there was a feeling of enormous grief, the couple was not going down without a fight. After months of treatments and chemotherapy, Sherry was miraculously cured of the disease. 
Both Martin and his girlfriend now work to create awareness amongst people on cancer. The pair also has a foundation named after Martin, which provides community service and donations for the needy.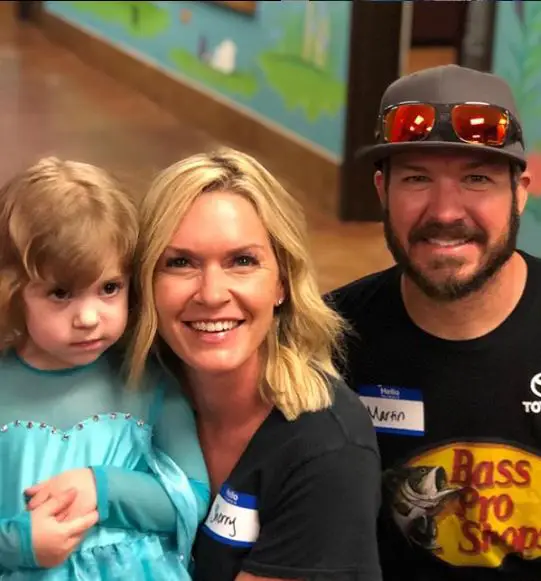 Martin Truex Jr with girlfriend Sherry Pollex during 10th Annual Catwalk for a Cause in April 2019 (Photo: Martin Truex Jr's Instagram)
Having weathered the storm together, the loving couple could soon get serious with their relationship. Martin and his girlfriend Sherry are probably on their way to get engaged before long pronouncing each other as husband and wife.
Bio: Family, Age
Born in Mayetta, New Jersey on 29 June 1980, Martin Truex Jr. had a nick for racing from a young age. He often helped out in his family seafood business to collect money for go-kart racing.
At the age of ten, he raced in his first go-kart competition in New Egypt. The race didn't go well as he escaped a colossal injury in a crash at the racing track. However, as a teenager, he was already familiar with the situation around the racing competitions.
Formidable Foe:- Denny Hamlin Wife, Net Worth, Family
In 2000, Martin's father launching him in the New Hampshire International Speedway via his project; which he once worked with during his own racing time.
Days passed by as laps, and with each passing day, the Mayetta native got better and better. For two consecutive years, the youngster was named Busch Series Most Popular Driver. Later in 2017, he also went onto claim the NASCAR Monster Energy Cup Series Championship.
Net Worth & House
Racing had been going on for a long time in Martin's family. The sports which the family holds so dear had given them everything that they possessed, including fame and fortune.
As a successor of his father, the two time Nascar Busch Series Winner bagged unprecedented success in the field of racing. He also worked for the likes of Toyota and Chevrolet in the NASCAR Cup Series, Atlanta Motor Speedway, and Monster Energy Series.
Coming out as a lethal track driver, Martin is now at the back end of his career. At the age of 39, he made his 500th career appearances in Monster Energy Series in August 2019.
Alongside a vast net worth of $30 million for himself, the racer has a $1.5 million mansion in Mooresville, North Carolina and a display of racing cars at his disposal.