Retired NBA athlete Shawn fathers six kids from...married his wife in...shares three children with the wife of...turned 49 years of age on...witnessed family tragedy at the age of...owns the net worth of...garners the height of...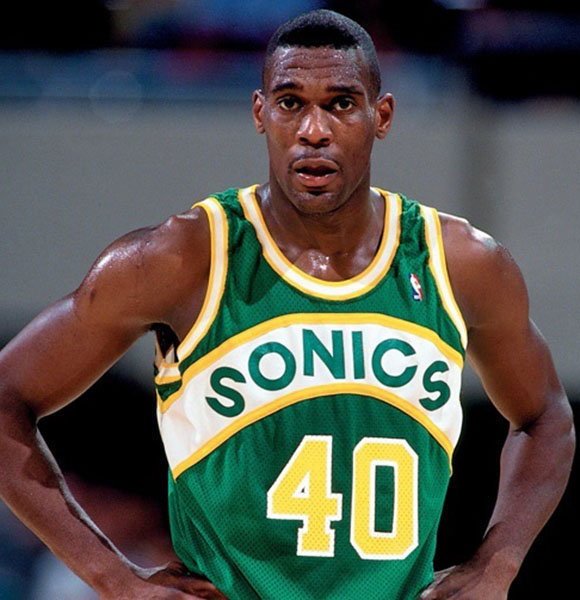 Very few people can deny Shawn Kemp's legendary status. At his prime, the retired basketball player was a menace.
A Seattle SuperSonics' 17th overall pick at the 1989 draft, Shawn appeared in - not one - but six NBA All-Star games. Five of the six features came between 1989 to 1997 as a SupeSonic athlete while one came in 1998 as a Cleveland Cavaliers player.
For a guy with such an illustrative NBA career, Shawn's personal always hogs all the limelight.
Married, Wife & Kids Details
A notorious womanizer, Shawn allegedly fathers seven kids from six different women. Some media outlets even quote his number of offsprings to eleven while reporting nine baby mamas. 
For his part, the former Cleveland Cavaliers player refrains from speaking on his love children and their mothers. All he acknowledges are the three kids he shares with wife Marvena Kemp.
Fellow Legend:- Barry Bonds Wife, Kids, Married, Family, Net Worth
Ironically, Shawn first spotted his then-future wife Marvena during a basketball match. The duo remained friends for several years before giving dating a shot. By the time of their wedding in 1995, they had been friends for almost a decade.
Less than a year into their married life, Shawn and Marvena welcomed their firstborn Jamir. Meanwhile, the couple's two kids - Jamar and Jaman - were born four years apart.
Despite ex-martial affairs involving Shawn and his mystery baby mamas, Marvena always remained his favorite. For her part, the mother of three kids stood by him amid cheating controversies.
Net Worth Now
With so many alleged children to care for and child & spousal payments to make, Shawn is in a financial mess now. Thus, it shouldn't come as a surprise that he boasts a meager $5 million in net worth despite a trailblazing 14 years stint in the NBA.
Per reports, the former Seattle Supersonics player made $90 million in career earnings. As an active NBA star, he penned countless endorsement deals, including a lucrative one with sports giant Reebok.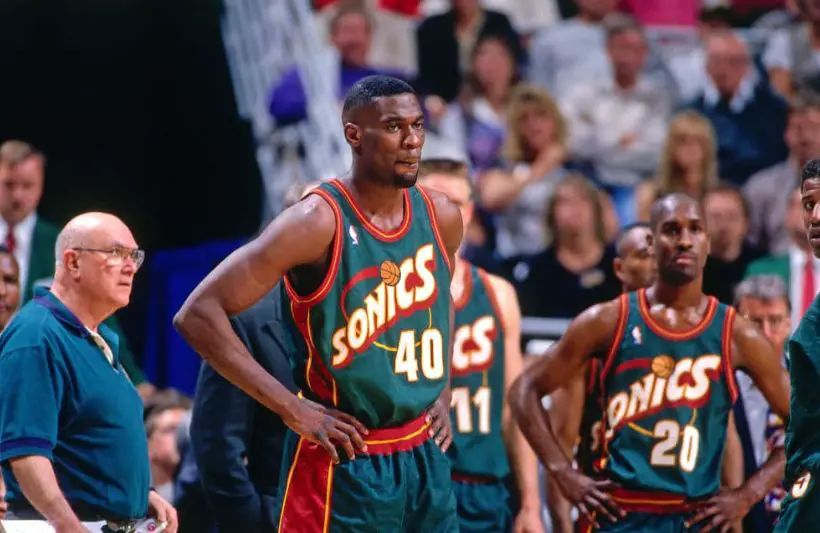 Shawn Camp in action with Seattle Supersonics circa the mid-1980s (Photo:- slamonline.com)
To recoup the fortune he lost, Shawn even dabbled in the hospitality business. He is the mastermind behind - not one but - two Seattle-based eateries called Oskar's Kitchen and Amber's Kitchen.
Age, Family & Height
A native of Elkhart, Indiana, Shawn was born in 1969. He turned 49 years of age on 26th November 2018.
Discover Future NBA Star:- Sharife Cooper Bio, Age, Height, Salary, Family
Shawn's childhood was far from conventional. Hailing from a broken family, he witnessed his parents' divorce as a kindergartener. In many ways, basketball provided an outlet to channel his anger all the while giving him much-needed stability in life.
Inspired by his sister Lisa, Shawn eventually began to take the sports seriously. Playing for Concord High School, he committed to play college basketball for the University of Kentucky. He would later join Trinity Valley Community College.
Boasting six feet and 10 inches (2.8 m) in height and 95 kgs in weight, Shawn got drafted to NBA in 1989.