Entertainment
Jermaine Fowler Wiki: Family guy with Girlfriend and Baby – Any Plans on Getting Married?
Jermaine Fowler Wiki: Family guy with Girlfriend and Baby – Any Plans on Getting Married? As for Jermaine Fowler, who is a stand-up comedian, is a family guy with a girlfriend and a baby girl. The comedian and actor, Jermaine is already blessed with a child with his make up artist girlfriend.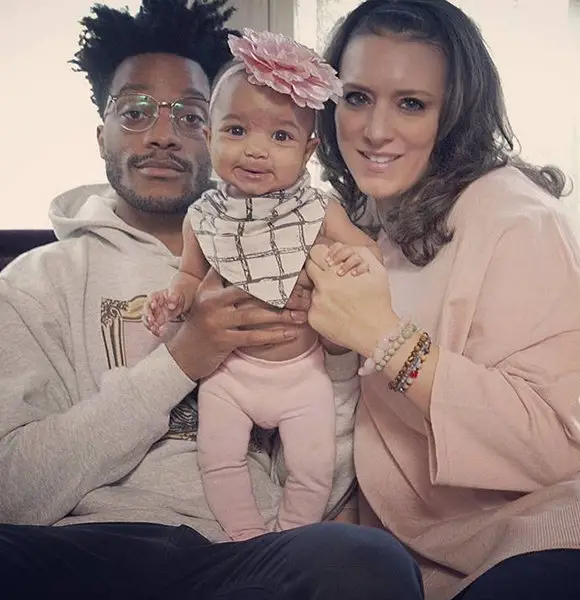 Love does not need to be sealed in marriage; one can be committed without announcing the commitment.
Proving the statement is the stand-up comedian Jermaine Fowler, as he is already father to a baby girl, but with his girlfriend and not a wife.
But still, the query remains; is he up and ready to make his girlfriend his wife? Or is the couple already married in secret wedding?
Keep reading to find that out!
Jermaine Fowler Wiki: And His Family of Three!
Jermaine Fowler and the mother of his child Meagan Hester, who is a make-up artist, has been in a committed relationship for a while now. The couple is blessed with a baby girl named Thebe Orion Fowler, who just turned one year of age in July 2018.
See Also : Emmanuel Hostin Wiki: Sunny Hostin's Beau, Parents To 2 | Bio & Net Worth Detail
Even though the beginning of their relationship remains confined, Meagan has been sharing their togetherness on her Instagram since 2015. Back on October 17, 2015, Meagan uploaded a picture with Jermaine, addressing him as "poopies."
The couple seemed to have a stable romantic relationship, which strengthened even more after Meagan got pregnant with their baby. Meagen even flaunted her nine-month baby bump on her Instagram back on July 1, 2017.
Just a few days after Meagan shared the baby bump, Jermaine and Meagan became parents for the first time, welcoming their baby girl into their world of spotlights.
Meagan announced her new-born baby's name and her official birth date by sharing a beautiful picture of Thebe Orion Fowler on Instagram on July 14, 2017.
However, Jermaine, who is currently inactive on Instagram, willingly tweeted about the father-daughter moment that he shared with Thebe. On the tweet, he regards his daughter as his "everyday motivation." 
Moreover, the duo seems to enjoy their family of three thoroughly while Meagan keeps updating her followers about their family life. However, the couple remains hush-hush about their plans to getting married, but by the looks of it, the wedding might just be around the corner!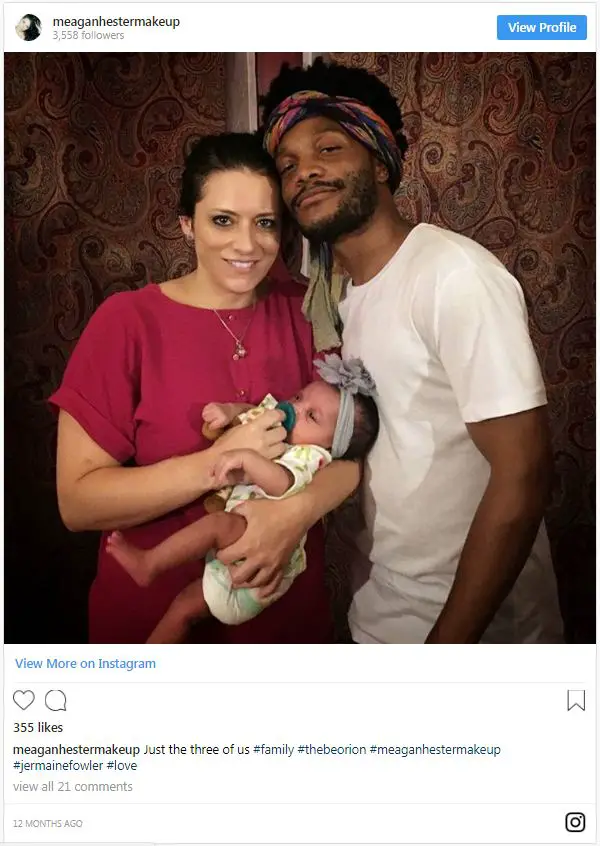 Jermaine Fowler with his wife and baby. (Photo: Meagan Hester 's Instagram)
Even though the couple is off to visit their friend's wedding, their own wedding seems to be nowhere around the corner.
You May Also Like: Laura Main & Partner Married Secretly? Family Insight & Relationship Status
Moreover, even though the couple has not disclosed much about their relationship, Meagan is doing her best in being the woman behind her man's success, promoting Jermaine's hit CBS sitcom 'Superior Donuts.'
Jermaine, who has three siblings; a twin brother and a younger sister, started his career when he boarded a bus and moved to New York with a dream and few of his belongings. He made his debut in filmography as a cast member in 'Guy Code' back in 2012, and was even selected as one of the variety's 'New Faces.'
Jermaine, who is one of the young rising talents, was involved with sketch comedy where he appeared in several highly popular sketches such as 'Student Loan STDs,' and 'LeBron James Ditches Space Jam.'
Jermaine is not just an actor and writer but is involved in the production sector as well. He produced his comedy special, 'Give 'Em Hell, Kid' and is also an executive producer of 'Superior Donuts.' 
The Washington, D.C. native also made his big-screen debut starring alongside Armie Hammer and Lakeith Stanfield in the movie, Sorry to Bother You. Jermaine had actually got into comedy to pursue his acting career instead he ended up spending 11 years to the field and more to go. 
Recently, he just sold his comedy pitch to New Line, The Come Up which is his original story. Jermaine stars in the show and is also an executive producer. The project also features Lil Rel Howery and brothers Keith Lucas and Kenneth Lucas as co-stars. 
Don't Miss: For A Week Robin Leach Swapped His Longtime Wife But Is Rumored As Gay Despite Having Children
With his career in the rise, Jermaine definitely enjoys his dollars even though he is yet to disclose the exact figures of his net worth.