Many say interest and passion can not make way for one to earn some extra money or even a career. However, DeRon Jenkins has proved everyone wrong.
For the former NFL cornerback, his construction and renovation career started with the passion for improving his first home. After he renovated his basement and added a bathroom and pool table's room, his mind opened up to a new career.
Now a licensed contractor as well as the star of Flip or Flop Nashville, he earns handsomely from his renovation business and reality show.
Bio: Career, Net Worth, Ethnicity
Born on 14 November 1973, Derik Jerkins is a native of St. Louis, Missouri. Raised by African-American parents, he is a former football cornerback in National Football League (NFL) and Arena Football League (AFL).
The athlete was a part of the football team at Ritenour High school in his hometown St. Louis and also played for the University of Tennessee before the Baltimore Raven drafted him in the second round of 1996 NFL Draft.
Another NFL Star:- Gardner Minshew NFL, Contract, Stats, Salary
As a professional footballer, he achieved 298 tackles, three interceptions and one sack in the NFL.
He retired in 2004 from NFL and became a licensed renovator. Soon, he started his own business, DY Constructions Inc. & DY Properties LLC.
With his ex-girlfriend and real estate agent Page Turner, he brought the HGTV show Flip or Flop to Nashville. The show - premiered in 2018 - shows the adventurous journey of renovating the worst properties into profitable gorgeous homes.
A passionate renovator and a real estate expert, his talents have helped HGTV achieve a top-five cable ranking among upscale women at the TV shows' time slot.
His protracted football career, renovation business, and the TV show contributed to his net worth, estimated $1 million as of 2019. Transforming Nashville, one house at a time, DeRon is sure to take his net worth to new heights as well.
Married To Wife Or Gay?
As of 2019, Former Tennessee Volunteers and Titans player DeRon is not married to a wife but has a daughter from his previous relationship. According to the 45-year-old former athlete's social media, his daughter joined college at the beginning of 2019.
Even though there are rumors of him being a closeted gay, his past relationships suggest otherwise. DeRon's girlfriend history includes his co-host of HGTV show, Page Turner - who is also single as of 2019.
Apart from being business partners, DeRon and Page's dating life goes a long way back. Their relationship started when Page met him as a real estate client a decade ago and fell for each other.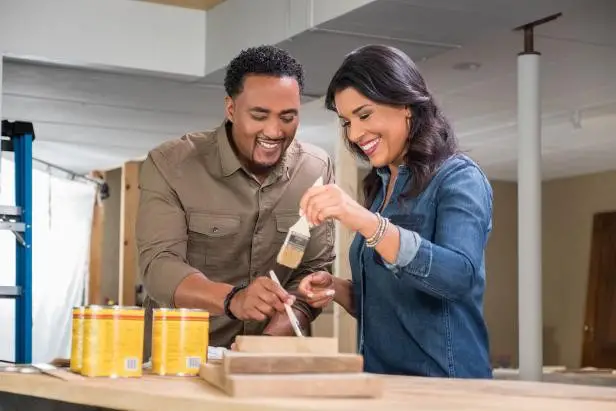 Deron Jerkins and Page Turner in a still from Flip or Flop Nashville (Photo: realitystarfacts.com)
Even though their romance did not last long, their friendship did. Their amicable breakup was done in silence as both pursued their career. However, their reunion as a duo in Flip or Flop sparked some gossips about a possible romance.
Not to mention, the duo admits that their split has laid a better foundation to a working relationship - which has sprung out of respect, chemistry, and friendship. However, the former lovers have no intention of rekindling their romance for now.