Entertainment
Jess Conte Blissful Wedding Day Revisit; Age, Wedding Pictures - All Facts
Like every other millennial romance, the love affair between YouTube sensations Jess Conte, age 22, and her American husband, Gabriel Conte, age 24, too started in the proverbial "DM."
Discerning the commonality - love for music & dedication to Christian faith among others - between her and then-up-&-coming internet personality Gabriel, the Brisbane Australia-native messaged him on Instagram, using a church as the pretext.
What spiraled after the initial DM is true of telling of how millennials find love in the age of the internet.
Journey From Engagement Ring To Wedding Ring
In 2014, Jess went from being a small-time YouTuber to an overnight sensation after her video "When Mama Isn't Home / When Mom Isn't Home" hit the viral status. While on the other side of the Atlantic, Gabriel was beginning to garner traction because of his videos on the now-defunct Vine.
Another YouTube Couple:- De'arra Taylor: Everything You Seek From Her Age, Hair, To Her Job That Let's her Explore The World With Boyfriend
In less than two years, their lives intertwined forever and for good, following a brief exchange in the DMs. If the unbridled faith in God brought them together, it was the recognition of the undeniable chemistry by the couple that kept them as a unit through the trying times.
Of all hurdles, the distance posed the most imminent threat to their budding romance. But, instead of letting it weigh heavy on their hearts, Jess and her boyfriend Gabriel used it as a fuel to intensify their bond. And, nine months after the first DM exchange, the smitten couple got engaged in September of 2016.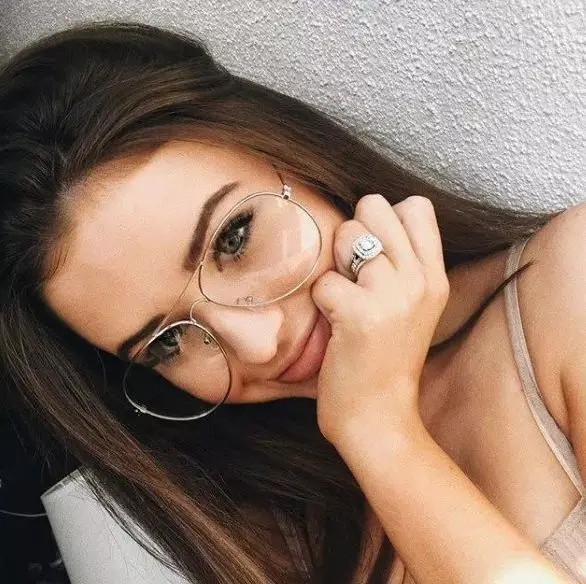 Jess shows off her engagement ring via Instagram in September 2016 (Photo:- engagementringbible.com)
The engagement ring, a platinum cushion cut shaped ring with double pave setting, used during the proposal by Gabriel turned out to be a custom-designed, expressly made to mirror a ring that Jess once adored.
Like their engagement, the smitten duo didn't waste any time to tie the knot. Three months after sharing the commitment to get hitched, they changed their engagement ring for the wedding ring.
Wedding Details - Dress, Hair & Pictures
Held on 18th December 2016 at Wedding at Tiffanys (her hometown), Jess' wedding to boyfriend-cum-fiancee Gabriel was nothing short of picturesque.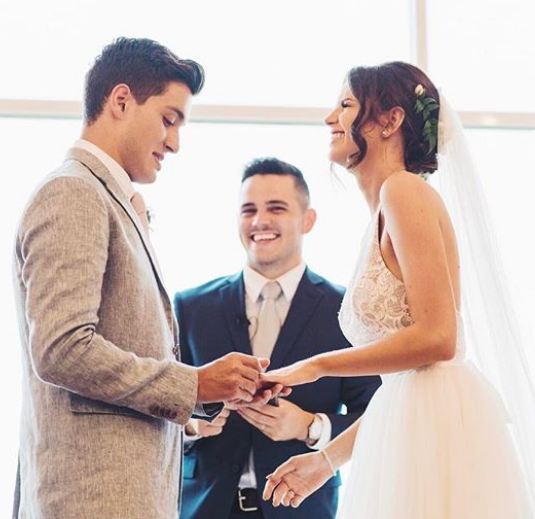 Jesse and her groom, Gabriel exchanges wedding ring on 18th December 2016 (Photo:- Jess Conte's Instagram)
Donning the wedding dress by Wendy Makin Bridal Designs, the YouTube personality - boasting the height of 5 foot and 5 inches (170 cm) - stunned the guests in attendance as she walked down the aisle flaunting the hair and makeup done by Horse Meat Disco Salon.
All the wedding pictures came from the courtesy of The Finches. Meanwhile, Michael Kelly Films handled the videography aspect of the ceremony.
When the bride and groom's family & friends got done enjoying the marvelous dinner - one that included Smoked Salmon, Chive & Baby Caper Tarts
Crostini, Smoked Chicken, Avocado, Shallot & Aioli as canapes and Char Grilled Mooloolaba King Prawns, Seasonal Salad & Mango Dressing as an entree - Musician Josh Lovegrove and DJ Rocking U Wild supplied them with hip-shaking indulgence.
Equally Beautiful Wedding:- Nick Jonas & Priyanka Chopra Unite Culture In Stunning Interracial Wedding
All in all, the wedding was a massive success. Two years on, both Jess - who celebrates birthdays on every 23 July - and her husband, Gabriel can't help but wax poetic about that the fateful day.
Between the day they got married to their second wedding anniversary, a lot seems to have changed. From releasing a collaborative effort titled Holiday to selling adorable clothes via her self-owned clothing line to buying their first home, Jess - who's applying for a green card - with her husband by the side has come a long way.
And, to think that the genesis of the duo's inspiring love story got its kickstart via a DM is mindboggling, no less.