Entertainment
Jessica Jung Hints Escalating Dating Affair with Boyfriend into Married One! But When?
Jessica Jung, who rose to fame as a K-pop singer in 2007 as a member of Girls' Generation, remains in love with her boyfriend and the couple even acknowledged their relationship in front of the public, following dating rumors.
Like most of the couples, Jessica wasn't spared from the questions regarding their marriage. Well, Jessica confessed her desires to exchange wedding vows but did the couple fix any dates? Was the wedding around the corner?
So, let's go through the answers
Desire Of Getting Married
The sensationally gorgeous Jessica was in a romantic relationship with the Chairman and CEO of Coridel Group, Tyler Kwon since 2013. The dating rumors of the couple first surfaced in 2014 but were denied until Jessica left Girls' Generation in late 2014.
According to WOW-TV, Jessica met Tyler in Hong Kong in 2013 and was spotted together several times although they denied their affair.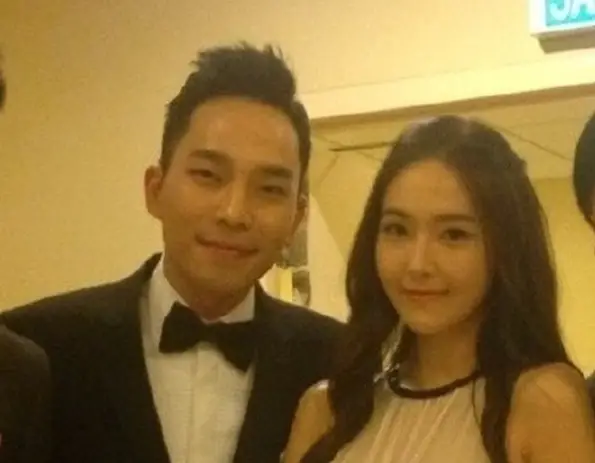 Jessica Jung and her long-time boyfriend Tyler Kwon pictured together in 2013 at the Huading Image Awards backstage (Photo: soompi.com)
Jessica officially confirmed her relationship with Tyler in an interview with Star News in 2016 and stated,
"I actually didn't admit nor deny [the relationship]. However, he's already become my official boyfriend. It's been over three years since we started dating. I've dated him the longest amongst the guys I have dated thus far."
Furthermore, she revealed that she couldn't open up about her relationship because she was bound by the terms and contracts of her agency. Well, Jessica didn't forget to say that her boyfriend is smart and intelligent.
Jessica also talked about her plans for getting married saying that she too wants to tie the knot as all of her friends are getting married. Conversely, she said that she would get married when it's the right time later.
Cuba Gooding Jr. Married :- Dating, Children, Net Worth
Similarly, at a press conference in Hong Kong held for her cosmetic brand Blanc & Eclare on July 19, 2016, she disclosed that she doesn't plan to marry anytime soon and further said that prefers to keep her personal life private when inquired about her boyfriend.
Meanwhile, Tyler also shared the picture of his lady love's extended play 'With Love, J' on his Instagram, which not just promoted Jessica's album, but also confirmed their relationship.
Jessica and Tyler not only shared a romantic relationship but they are associated via business.
Tyler is the head of Jessica's agency Coridel Entertainment as well as the investor in her brand Blanc & Eclair.
Parents, Education
Jessica is very close to her family, especially her sister Krystal.
At the age of 11, Jessica and Krystal were on vacation in South Korea where they were spotted by a member of S.M. Entertainment in a shopping mall. Jessica and Krystal had a reality TV show in 2014 called Jessica & Krystal, and they were even considered sister goals.
The Jung sisters were born with Asian ethnicity to boxer-turned-lawyer father. Moreover, her mother Pan Pan Yeung is an established martial artist and a gymnast with appearances in films such as Angel Terminators, Beach Spike.
Well, Jessica almost lost her mother in 2018 after she came across an unfortunate event during the filming of the movie Amazing Spring.
During the filming of a fire scene in the movie, the fire went out of hand which resulted in the seven percent second-degree burn. Thankfully, her mother survived due to years of experience as a stunt artist too. She even quoted,
"I think it was God's arrangement. Since I am an experienced stunt person, I reminded everyone that if it gets too hot, they should scatter to the sides instead of backing up."
The news must have come as a shock to Jessica. But considering the fact that her mother has been in the business for more than four decades, this mustn't have been the first unfortunate incident that occurred in her life.
South Korean Actor :- Lee Min-ho Dating Status Now; Who Is Korean Hearthrob's Girlfriend?
Jessica, who is fluent in both Korean and American English, attended Korea Kent Foreign School after she moved to South Korea to pursue her entertainment career.