Entertainment
OITNB's Jessica Pimentel Dating Status Now, Height, Ethnicity & Facts
Jessica Pimentel is an American actress known for her appearance in the TV series Orange Is the New Black (2013-2019)...She is dating her boyfriend...They first met in...Her boyfriend is a musician who was born on...Jessica stands at a height of...She attended the...Her birthday falls on...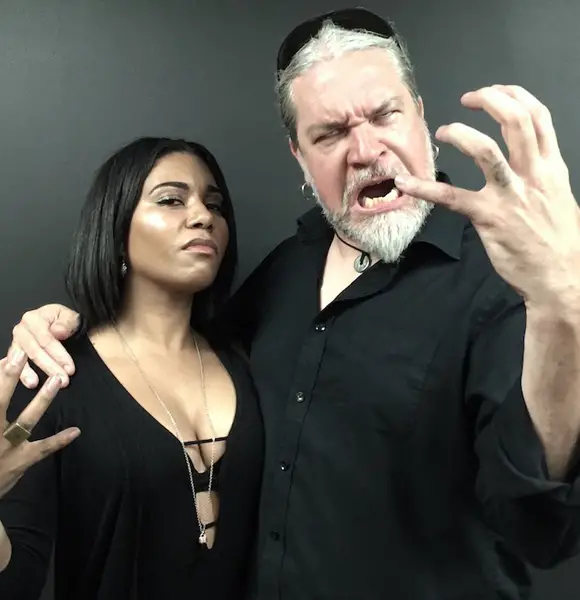 American actress Jessica Pimentel is best known for her portrayal of the character Maria Ruiz in the Netflix original series Orange Is the New Black (2013-2019). She has also appeared in other TV series like 12 Angry Viewers (1997), Law & Order: Special Victims Unit (2005-2015), Mercy (2010), and Person of Interest (2014-2015).
Apart from being an actress, Jessica is also the frontwoman of the heavy metal band Alekhine's Gun. 
Dating Status 
The actress is dating Tomas Haake. 
Jessica Pimentel poses with boyfriend Tomas Haake in January 2020 (Photo: Jessica Pimentel's Instagram)
The two first met in 2013 and talked for a year before they started dating in 2014. 
Who Is Tomas Haake?
Jessica's boyfriend Tomas is a Swedish drummer and musician who is a member of the technical metal band Meshuggah. His first appearance with the band was on their 1991 album Contradictions Collapse. 
In the year 2012, Tomas was named as the fifth-best modern metal drummer by MetalSucks.net. 
Relationship Insights Of Celeb:- Dustin Milligan's Romance With Actress Girlfriend, Net Worth, Height
Tomas was born on 13 July 1971 in Sweden. 
Bio: Age, Parents Details
The actress was born on 20 September 1982 in Brooklyn, New York. Her parents immigrated from La Romana, the Dominican Republic to New York when they were teenagers. However, when Jessica was just six years old, her parents got separated, and the actress became estranged from her dad.
Jessica is the only child of her parents. 
Education Details
She graduated from the High School for the Performing Arts in New York City; she played the violin while she was a student there. 
Further, she went to the prestigious American Academy of Dramatic Arts in New York City and got a degree in Theater Arts. And there, she was awarded the Cleavon Little scholarship, and she was a member of the professional acting company as well.
Get To Know ESPN Analyst Jessica Mendoza:- ESPN Analyst Jessica Mendoza Personal Life, Net Worth & Exclusive Facts
Also, she is a student of dance and martial arts.
Facts About Jessica Pimentel Including Height, Ethnicity 
Jessica boasts a height of 5 feet 4 ½ inches(1.6m).
She is nicknamed as 'the crusher.'
The Orange Is the New Black (2013-2019) actress is a practitioner of Tibetan Buddhist philosophy.
Her first notable film role came with the movie Pride and Glory (2008), in which she portrayed the character of Angelique Domenguez.
She has a mixed ethnicity; she is a Latina of Native American, Italian, Malian, Irish, and Iberian heritage. 
Her Zodiac sign is Virgo.