Entertainment
Dustin Milligan Is Rumoured To Be Gay? Is It True? What Happened To His Actress Girlfriend?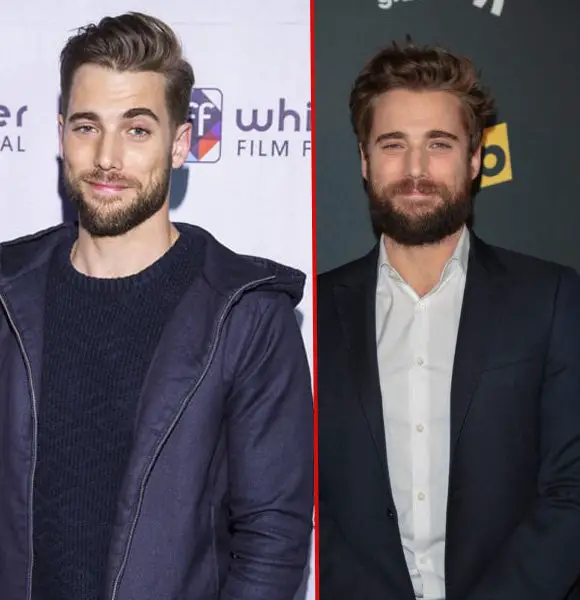 There are many celebrities that support the LGBTQIA+ community. However, whenever celebrities promote the LGBT+ community, especially when they are single, the public questions their sexuality.
Dustin Milligan, a TV actor, had a similar experience. After supporting the LGBTQIA+ community, he was reported to be gay.
Let's find out about his sexuality. 
Is Dustin Milligan Gay?
TV actor Dustin Milligan rose to fame through his TV series 90210, in which he played the character of Ethan. Further, he has also appeared in movies like Final Destination 3 and Slither and TV shows like Runaway and Into The Dark.
Fame comes along with rumors. When Dustin supported LGBT+ individuals, he was also suspected to be gay. However, Dustin's sexuality is straight.
Another Celebrity With The Same First Name:- Is Dustin Clare Married Or Still Dating? Gay, Children Details
Although he is unmarried, he is a strong supporter of LGBT+ people. He even made the decision to quit delivering gay jokes in 2010, and he even encouraged others to do the same.
However, the rumors about him being gay sparked when he did a Drag Queen look on Secret Celebrity Drag Race. Dustin did an interview for the show where he talked about a life-changing experience of being on Drag Race. He also discusses how he feels about himself now that he's had the experience.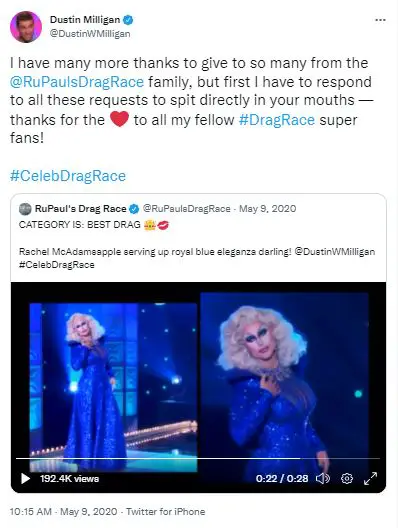 Dustin as Drag Queen in Secret Celebrity Drag Race. (Source: Twitter)
Following his performance on the show, Dustin discusses how he felt empowered by his appearance.
However, being a drag queen doesn't explain him being gay. He did it only once for the show and hasn't been seen like that after the program.
On the other hand, he is in a relationship with his long-time girlfriend, ending all the rumors about him being gay.
Dustin Milligan's Girlfriend
Dustin has been in a long-term relationship with Amanda Crew. Dustin's girlfriend Amanda is a movie actress; she appeared in the musical cartoon Dragon Tales when she was in fourth grade. She is popularly known for her roles in Final Destination 3, Sex Drive, and The Haunting in Connecticut. 
More About Dustin Milligan's Girlfriend Amanda Crew:- Amanda Crew Might Just Be Dating! Who is Her Partner-in-Crime Boyfriend?
Dustin met his girlfriend, Amanda, in 2010 while they were shooting for the indie action crime drama Repeaters. They began to date the same year.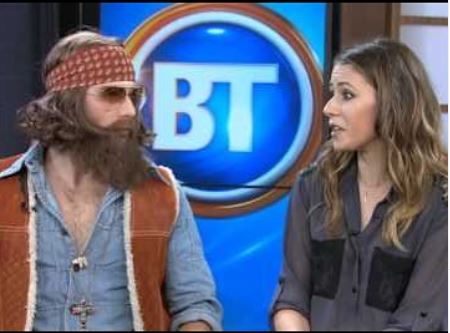 Dustin Milligan with his girlfriend, Amanda Crew. (Source: Instagram)
Dustin and Amanda have been together for more than a decade. They both don't share their personal life with the public. But, Dustin has shown his support for his girlfriend on his social media.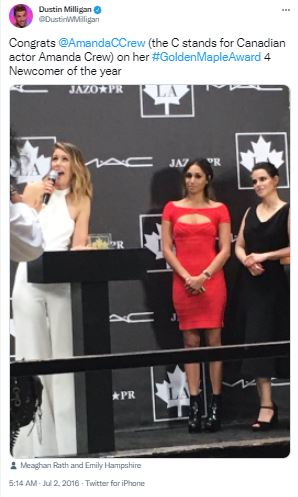 Dustin supports his girlfriend. (Source: Twitter)
There has no information about their update or split. However, we can make a safe assumption about them still in relation because all of Amanda's photos are still available on Dustin's social media.
Even though they have been in a very long relationship, they don't have any kids together or share any news regarding their marriage. Instead, they seem to prioritize their career before starting a family.
However, Dustine was not only in a relationship with Amanda; he also dated Jessica Stroup.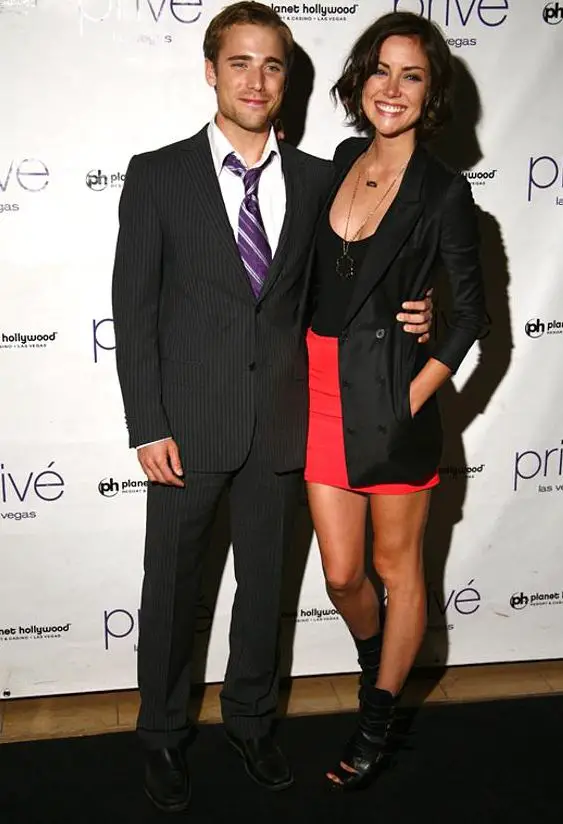 Dustin Milligan poses with ex-girlfriend Jessica Stroup (Photo: vegasnews.com)
Before meeting Amanda, Dustin met Jessica in 2008 on the set of 90210. They remained together for almost two years before finally splitting in August 2010.
He has a successful entertainment profession in addition to his wonderful relationship with Amanda.
Dustin Milligan's Career
Dustin Milligan, age 36, was born to Brian Milligan and Jean Milligan. His real name is Dustin Wallace Milligan. 
His career began after performing in school plays, which interested him in acting. While pursuing a career in acting, he used to work as a cake cutter. He had gone through a lot of ups and downs before getting recognized. He shared about auditioning for the role of Edward in the Twilight franchise, but the part landed with actor Robert Pattinson. 
After going through many struggles, he got his breakthrough from Schitt's Creek. Now he is a well-known actor, writer, and producer. He has made a net worth of $4 million with his hard work. 
Dustin will be seen in more movies in the coming future. We hope with his building career, he will soon start his family. 
We will surely give more updates on Dustin Milligan in the future. Till then, stay tuned with us.