Jill Ellis is the famous...gaining experience for three...soon became interim head... her relentless hard work and passion for the team...added to her net worth...the salary is... is married to her...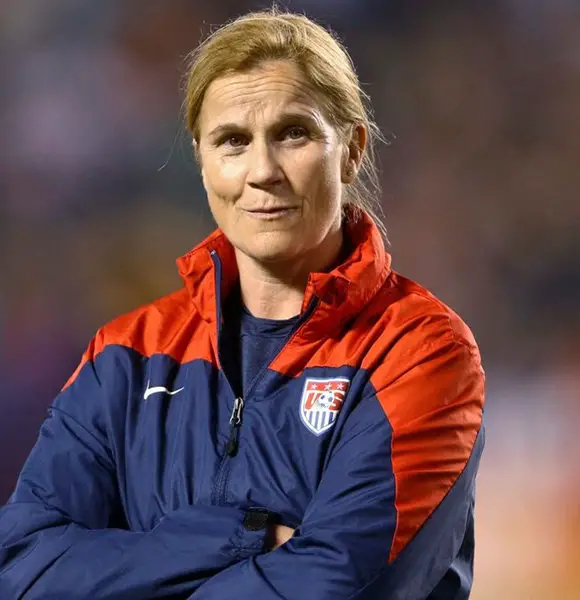 Jill Ellis is the famous coach of the 2019 women's World Cup-winning soccer team. The 52-year-old made her career debut as an assistant coach at Maryland and Virginia.
After gaining experience for three seasons in Virginia, she created her coaching program in Ilinois and moved on to the UCLA Women's team. With 11 seasons' experience at UCLA, she then moved on to the USWNT, assisting the head coach Pia Sundhage in the 2008 Olympics.
Serving as the team manager and development director in the United States Soccer Federation, Jill soon became interim head coach and eventually grabbed the head coach position.
Salary & Net Worth
Jill became the head coach for the U.S. women's national soccer team in May 2014. With her relentless hard work and passion for the team, Jill has proved to be an exceptional mentor, respected by all her trainees.
Exceptional Scoccer Coach:-Alex Ferguson Health, Hospital, Net Worth, Now
While she has been a renowned coach for the American team, her salary is rather low in comparison.
Despite earning the gold medal at the 2015 and 2019 World Cup with her team, according to The Equalizer, Jill's salary in 2018 was approximately $291,029.The given amount is 11 times less than the former men's national coaches, who earned $3.354 million between 2013 - 2016.
However, winning the world cup has certainly added to her net worth. According to the U.S. Soccer Federation, a world cup victory adds around $260,869 to a player's salary. As the back to back world cup winning coach, her salary in 2020 might increase as well.
Daughter With Wife
Jill is married to her longtime girlfriend Betsy Stephenson. The couple exchanged wedding vows back in 2013. Soon after their marriage, they moved to South Beach, Miami in December.
In regards to the date of their marriage, same-sex marriage in the United States was legalized on 26 June 2015, so it's a mystery how the two got officiated two years before.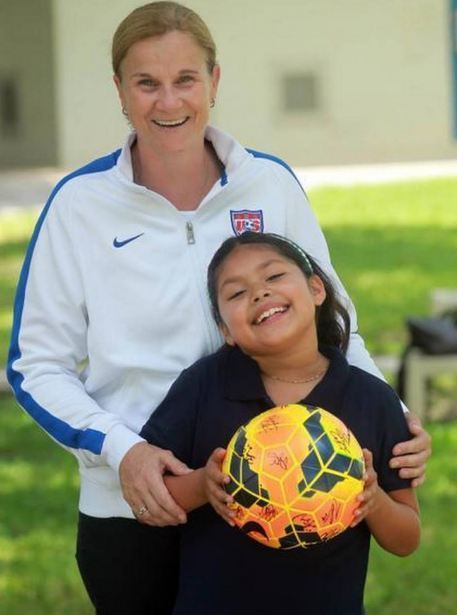 Jill Ellis with her daughter Lily Stephenson-Ellis on November 2015 (Photo: Jill Ellis Instagram) 
Anyhow the pair have enjoyed each other's company for a few years now. Lighting up their family came little daughter Lily Stephenson-Ellis, whom they adopted as a baby.
Early Life, Family
Daughter of the legendary soccer coach John Ellis and mother Margaret Ellis, Jill was born on 6 September 1966. Raised in England, her interest in the game came naturally to her like any other children of her age.
Soon after moving with her family to the states in 1981, her inclination to the game of soccer rose. She began to play for the then-dominant Braddock Road Youth Club and Robinson Secondary School. According to her brother Paul, her soccer career flourished after she came into the United States.
American Personality:- Joe Biden Wife, Children, Net Worth, Now
Her plays garnered the attention of many sports scholarship. Thus, she earned a place at William & Mary College. Playing at the forward position at the college from 1984 to 1987 she was named Third-Team All -American. Jill's coaching career also began while working for the same college.