Joe Biden is the 47th Vice President of the United States...Joe is married to...According to the former Vice-President, his wife...As America's darling Democrat, Joe- height...
As the Vice President of the United States, Joe Biden served under the former President Barak Obama for two terms.
Before his stint in the White House from 2009 to 2017, the politician served as the Senator of Delaware for 36 years. Taking his first swearing in 1973, Joe was the third-youngest man ever to get elected in Senator position.
Aside from his political endeavors, Joe also worked in documentaries, namely Finding Match, The Cancer Moonshot Story and Lorena. Similarly, the celebrated politician authored a book named Promises to Keep in 2007.
Wife & Children Details 
Joe is married to Dr. Jill Biden - a school teacher by profession. The pair tied the knot on 17 June 1977 at New York City's United Nations Chapel. According to the former Vice-President, his wife, Jill saved his life. Looking back at Joe's family history, he isn't wrong.
Similar:- River Kelly Smith Bio, Cause Of Death, Granger Smith
Before marrying the teacher, Joe was married to his first wife, Neilia Hunter.
The pair even had three children, namely, Beau, Hunter, and Naomi. With his family's support, Joe was rising in his political career. In 1972, he won the office as a Senator of Delaware but, was yet to be sworn in.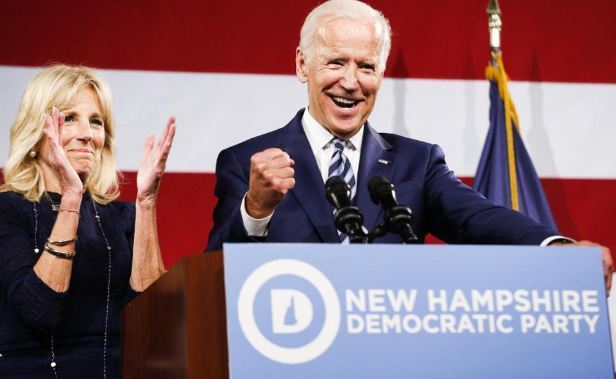 Joe Biden and his wife, Jill Biden (Photo: specials-images.forbesimg.com)
As a happy man, he was hiring staff in Washington while his first wife took their children to Christmas shopping, Delaware.
Sadly, the joyous moment turned into a tragedy when Joe's wife Neilia's car got into an accident. The unfortunate incident took her and their daughter of age one, Naomi's life.
A widowed father of two remaining children, Joe had given up desire for a happy marriage. But, he got a second chance at happiness with his second wife, Jill. The married pair are parents to a daughter named, Ashley, who was born in 1980.
Sadly, Joe had to bear another devastating tragedy in 2015 when his son Beau died in 2015 at the age of 46 due to cancer.
Where Is He Now? Net Worth
As America's darling Democrat, Joe - height 6 feet and a half inches (1.84 m) - isn't going anywhere from the political scene. On 25 April 2019, he announced his candidacy for the 2020 US Presidential Election. If sucessful, it will be Joe's third stint at the White House.
Another 2020 Presidential Candidate:- U.S. Senator Kamala Harris Education, Nationality & Parents Info
Well, Joe's last tour to the White House had helped him increase his net worth.
In 2014, he was estimated to be worth $900K, but the money grew as he spent more time as the Vice-President of America at the office. The 76-year old's net worth increased to an estimated $1.15 million in 2017. In the same year, he also purchased a vacation home worth $2.7 million in Delaware.
As of now, he is estimated to be worth $4 million.
Interesting Facts About Joe Biden
Born in 1942 at Scranton, Pennsylvania, USA, Joe is a Scorpion according to his birthday, 20th November.

While at his educational institution, University of Delaware, he used to play football in halfback position. But, he later quit the sport to give time to his girlfriend, who lived outside of the state.

Joe's younger son, Hunter dated his deceased son Beau's widow, Hallie Biden in 2017.

President Obama awarded him with the Presidential Medal Of Freedom in Jan 2017.

He was in the list of Time Magazine's 100 Most Influential People in the World in 2013.