Entertainment
Jill Tavelman With Her Unsuccessful Married Life That Ended With A Costly Divorce; Revealed About Being Cheated On By Husband
Quick Information
Date of Birth

1956-04-09

Age

64 Years 3 Month(s)

Nationality

American

Profession

Actress

Ethnicity/Race

Caucasian

Daughter/s

Lily Collins

Relationship Status

Single (2019)

Divorce/Split

Yes (Once)

Ex-Husband

Phil Collins (m. 1984–1996)

Net Worth

Not Disclosed

Height/ How Tall?

N/A

Hair

Long

Hair Color

Blonde

Lesbian

No
Divorces are always hard but it becomes even harder when divorce alimony is required to be given, and for instance, there is the divorce of Robert Herjavec with Diana Plese which cost him about $263 million. However, Jill Tavelman has a different side of her married life. Jill Tavelman did have a costly divorce. Moreover, her husband cheated on her.
Jill Tavelman's Married Life:
Jill Tavelman was married to her husband, Genesis frontman Phil Collins in 1984. The couple welcomed their daughter, Lilly Collins on March 18, 1989, who grew up to become an actress.
Multiple Boyfriends:- Rosalyn Gold-Onwude Married & Husband | Multiple Dating, Found Soulmate?
Jill was the second wife to Phil as he was previously married to Andrea Bertorelli but unfortunately, couldn't be the last. The couple split in 1996, 12 years after being together as a married couple.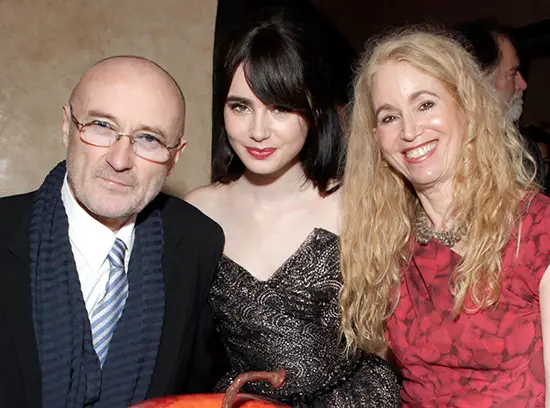 Jill Tavelman with her daughter Lily Collins and ex-husband Phil Collins at the Mirror Mirror Premiere (Source: eonline.com)
Surprisingly, Phil Collins used one of the cruelest ways of ending a relationship, i.e. break up through a FAX. The 65 years old singer sent Jill a FAX explaining how he felt about them and their future, along with Lily who was just five years at that time. However, after the divorce, Jill received a massive amount of $17 million for the divorce settlement.
Shocking Tragedy:
When Phil sent the heartbreaking FAX to Jill, he was allegedly having an affair with a woman; for the second time. When Lilly Collins came up with a book 'Unfiltered: No Shame, No Regrets, Just Me', which excerpts her father's memoir, 'Not Dead Yet,' she revealed Phil's cheat on her mother, i.e. Jill.
His first affair started in 1992, the time when Phil was performing in LA and met his childhood romance, Lavinia Lang. He wrote,
"Seeing her: time stops, then rattles backward, fast, dizzyingly, to teenage dreams. I am not thinking about my nearby wife, 3-year-old daughter and mother-in-law. I know that recounting this makes me sound like a right shallow bastard. But I'm not that way. I'm very loyal. Very committed."
Phil and Lavinia even came to a decision on leaving their partners but later Lavinia backed off from the plan in fear of losing her kids, and no reported harm was done to his relationship with his wife.
Heart-Breaking Split:- Peyton List Split, What Caused Boyfriend Cameron Monaghan Break Up?
After that, Phil stayed faithful to her and her child, but that was until Phil met Orianne Cevey, who at that time, served as a translator in Geneva. He wrote,
"For the next couple of days, I'm like a dog with two tails, but at the same time: I'm about to go to Paris. And in Paris, I'm due to meet my wife and our 5-year-old daughter, who are flying in from London. What have I done? Well, I know what I've done. I've betrayed my wife and child. Again. And I've set sail for perilously uncharted waters. 'Meet Phil Collins' new mystery girlfriend. She's young enough to be his daughter.' Ticks all the midlife crisis boxes."
"I try to outline the way I feel about us, about the future. The most reliable and quickest way to get this letter to her is to fax rather than post it. So that's what I do."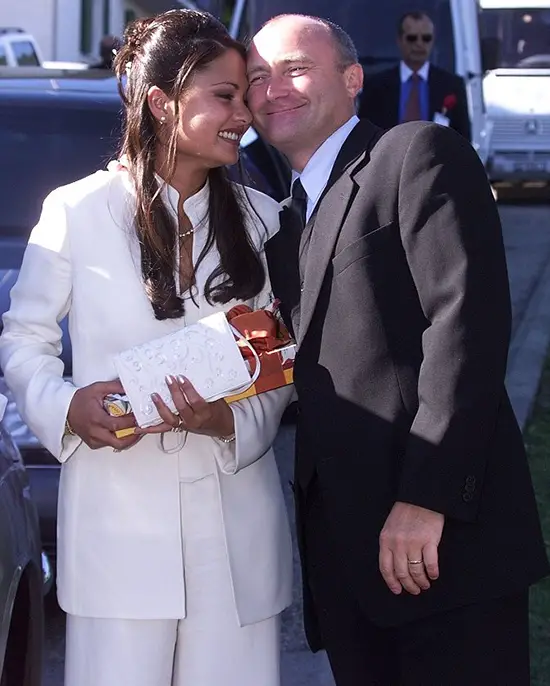 Phil Collins with ex-wife Orianne Cevey in Switzerland in 2009. (Source: dailymail.co.uk)
Eventually, on the second time, Phil left his family allegedly leaving a breakup message on FAX and went on marrying Orianne in 1999, only to get divorced with her in 2008.
After three failed marriages, Phil started dating Dana Tyler, who works as a newsreader. Back in 2010, he had mentioned that he didn't want to get married for the fourth time as it meant a huge loss of fortune to Phil if the wedding resulted in divorce.
But looking at Phil's massive net worth of $260 million, a few millions shouldn't have been much of an issue to him.
Divorce Through FAX Rumored?
After a decade, Phil finally broke the silence and addressed that FAX was not the source through which he asked for a divorce to Jill. He said,
"[It] really hurt my career or my public persona, and it was based on an untruth... So, I just thought it would be an opportunity just to lay it all out, and if I say it didn't happen, I'm trusting that people will believe me."
Unlike her husband Phil Collins and daughter Lily, Jill Tavelman is not much of a famous personality and is only known for being the ex-wife of Phil and mother of Lily. She has not disclosed her date of birth, but according to sources, she currently ages 62.
Raising Kid After Divorce:- The Marilyn Denis Show's Marilyn Denis: Raising Son as Single Parent Post Divorce
Any recent activities related to Jill Tavelman are currently undisclosed and so is her net worth. However, Jill once made the news for buying a house next door to her for $4 million more than the quoted price as she paid a sum of $12.4 million to prevent the house from being torn down to make a mega-mansion. This purchase solely gives hints that Jill Tavelman has a net worth exceeding $10 million.
Jill - who currently owns and runs an antique store in West Hollywood, California - is not known to have dated any men after her divorce from Phil. However, she is close to her daughter Lily, who works as an actress and is famous for performing in movies like To The Bone, Mirror Mirror, and Blindside.