Entertainment
Is Stand Up Comedian Jimmy Carr Gay? What Is His Personal Life Like?
Jimmy Carr is one of the best British comedians in the world...has been with his girlfriend Karoline from 2001...is not married and has no kids...has a net worth of around $16 million...for his education, he attended Cambridge University and got a degree in Political Science...his age and height are given below...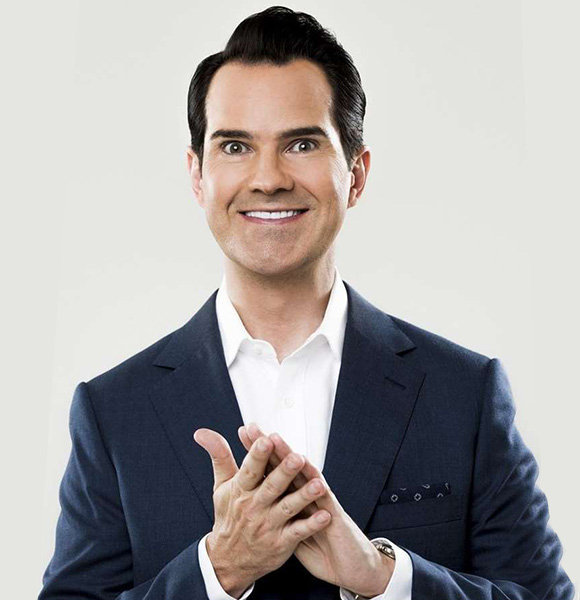 Jimmy Anthony Patrick Carr has secured a steady fan base that appreciates and supports him for his dark humor and uncanny jokes. He has been able to make a career out of doing something he loves, making people laugh.
However, he has kept his personal life to himself, leading people to question his sexuality.
Is Jimm Carr Gay? 
Carr, age 48 years, has been in the industry for two years now. And during the long run of his career, he has been subjected to questions about his sexuality. 
More speculations began to rise after he did a segment on his youtube channel titled "What goes where when you are gay?". But this was not Carr talking about himself, but rather it was a stand-up comedy about the general experience of gay people.
Carr has been in a two-decade-long relationship with his girlfriend Karoline Copping since 2001. His Canadian girlfriend is a commissioning editor for channel 5. Shortly after meeting, they fell in love and started dating. However, even after a two-decade-long relationship, the two haven't been engaged or married in public eyes. 
It seems like marriage hasn't been a priority for these two but what matters is that they are together. They two don't seem to have any children together, but we wish the best for these two lowkey love birds to have a healthy and happy family. 
To answer the question regarding his sexuality, having a romantic relationship that has lasted for as long as it has, Carr is not gay.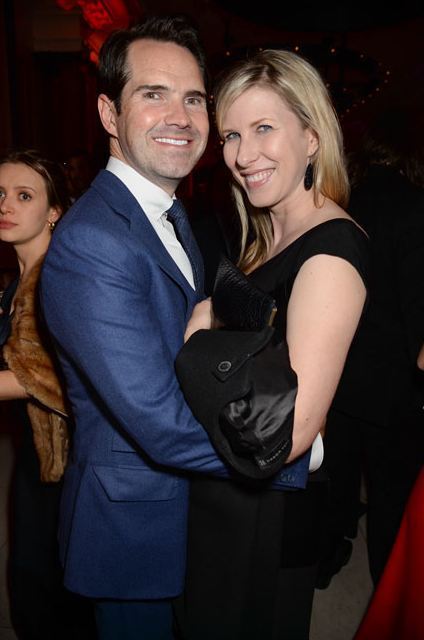 Jimmy Carr with longtime girlfriend Karoline Copping (Photo: Hello! Magazine)
British Comedian:- Piff the Magic Dragon From AGT Drowned In New Shows & Tour Schedule
Sharing Laughs, What About Troubles?
Carr has spent a chunk of his life making people smile and accumulating many assets while doing so. However, this British Irish comedian had to go through a complication in 2012 after being involved in the K2 tax avoidance scheme.
The stand-up comedian had been reportedly involved in a scheme to sign new employment contracts with offshore companies where they would have to pay low taxes. This conduct Carr was heavily criticized. 
Carr described the case as "a terrible error of judgment," and he has issued apologies on various platforms. But, his work life and the nature of his jokes haven't made his life always easier.
When he was 26 years old, a comment made on religion had him attacked by many backlashes. He believed that he has lost his faith and made a remark about it on his segment.
That remark got the comedian in dire straits, but he stood by his remarks and got out of the situation soon enough. And these are just some of the many problems the British comedian has faced due to his "jokes."
As of recent, things seem to have been going well for the 48 years old as he has managed to stir away from any controversies.
An Astonishing Net Worth; Career Values 
Even being criticized for his dark-humored jokes, the comedian has garnered a lot of cash flow. His jokes are often labeled problematic, but this hasn't stopped the 48-year-old from having a fan base. 
In 2021 he was named the funniest British comedian. Initially starting a career as a host and a presenter, he started his regular radio show on Loose Ends. After that, he started his journey in stand-up comedy.
He got is a major success in his career when in 2003, he sold out an entire month performance of his show by the second day. He can be recently seen in his show 8 out of 10 cats which he often shares the clips off with his 409k follows on his Instagram. 
Explore:- Is Ricky Gervais Married Now? His Relationship Details With Girlfriend
Jimmy owns a company named FN Good. In 2015, the company turned a profit of $3.27 million and paid taxes amounting to $654 thousand.
He has released ten comedy specials to date: Live (2004), Stand Up (2005), Comedia (2007), In Concert (2008), Telling Jokes (2009), Making People Laugh (2010), Being Funny (2011), Laughing and Joking (2013), Funny Business (2016), and The Best Of, Ultimate, Gold, Greatest Hits (2019).
With shows houseful and booked out, he has made a generous amount of earning through his talent. He has been able to amass a net worth of 12 million pounds on his longstanding career. 
He has his tour named "Terribly Funny Tour" happening in different parts of the UK.