Entertainment
Is Ricky Gervais Married Now? His Relationship Details With Girlfriend
Ricky Gervais is one of the funniest comedians of our generation...is not married to his girlfriend...also has no children...does not plan on having kids, or getting married in the future...is leading a happy life with his partner and his cat without being married...his age is...stands at a height of 5 feet...has a massive net worth of around $130 million...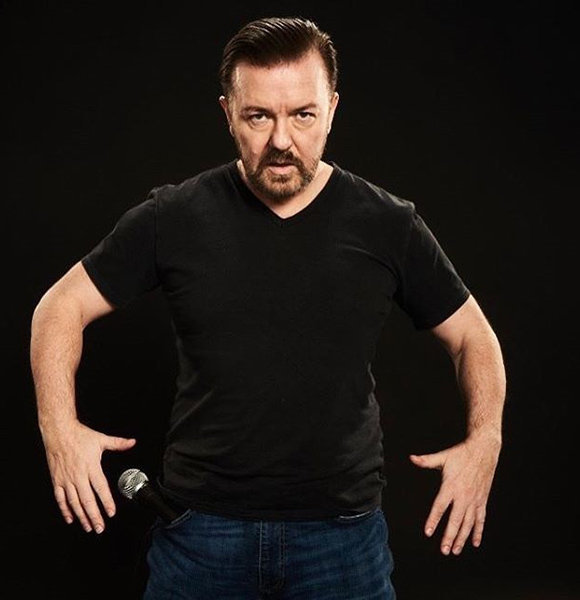 Ricky Gervais is one of the funniest comedians of our generation. He is a master of the art of making jokes about topics that are usually considered offensive, unconventional, or dark
In addition to being a comedian, he is also a comic writer, actor, director, producer, and podcast host. He is the creator of the loved TV show The Office, in which he was involved in many parts of production, directing, and production throughout the period that the series was running.
Ricky is also the writer of the 2019 TV series After Life, whose second season is going to be released in 2020.
Ricky Gervais' Relationship: Girlfriend
Ricky is in a relationship that is 37 years old. And, he is still going strong in the relationship with his author girlfriend Jane Fallon.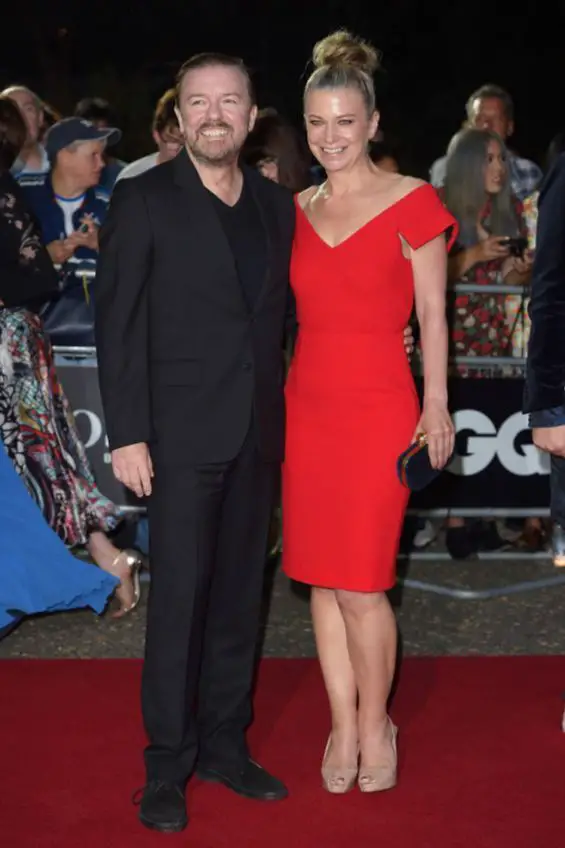 Ricky Gervais and Jane Fallon on the red carpet at an event (Photo: Getty)
Ricky and Jane started dating back in 1982. They were college sweethearts and even lived together in a one-room flat after their college graduation from University College London (UCL).
Life was hard living in that apartment. However, Ricky and Jane together endured it all. He, after failing to make it as a pop star, started to work a desk job in London.
And the same job was the basis for his success in the comedy writing scene, as it was the desk job experience that made him write The Office, which turned out to be the thing that kickstarted his career in the entertainment industry.
Another English Personality:-How Much Is Christopher Nolan Net Worth? Details On His Upcoming Movies
As, Ricky got progressively successful, his love for Jane also kept increasing. They moved into a bigger house in Hampstead, got a cat, and a lavish lifestyle.
Views On Marriage
Ricky and Jane are still going strong, even after all that they've gone through - poverty, lack of success, and recognition. However, his views on marriage are unconventional.
Ricky has said in the past that he and Jane are married in everything but the ceremony. He went on to say the following in an interview,
We are married in everything but the ceremony. We share everything and everything is in both names. We've lived together for 29 years — how are we not married except in the eyes of God?
Ricky doesn't subscribe to the commonly-accepted idea of marriage and having a wife. And similar is the case with having children, as the couple has mutually decided to opt-out of parenthood. In a 2008 The Nottingham Post interview, Jane clarified,
It's a difficult world and you shouldn't have kids unless you really want them.
And Ricky explains the decision further in an interview with the Telegraph, saying,
One good reason I don't want [kids] is that I don't think I'd sleep at night. Before this interview I had to check twice that I hadn't left the doors to the pool open because I was worried the cat would go through them and drown. So with a child, I'd just be stood over it, making sure it was still breathing.
Ricky and Jane are sure one unconventional couple.
Interesting Facts About Ricky Gervais: Age, Height, Net Worth
Ricky Gervais was born on 25th June 1961 in Reading, England, UK.
His full name is Ricky Dene Gervais.
His parents were Lawrence Raymond Gervais - a Franco-Ontarian, and Eva Sophia Gervais, of English descent.
The comedian grew up in a family with three siblings. His siblings are - brothers Larry and Bob Gervais, and sister Marsha Gervais.
He has an upper second-class honors degree in Philosophy.
Read More:- Star Wars' Actress Naomi Ackie Wiki, Age, Parents & Family Details
Ricky initially started as a musician and was in a band named Seona Dancing.
His height is 5 feet 8 inches (1.73 meters).
Ricky is an atheist and is strongly against animal cruelty. His Twitter feed is filled with posts relating to animal cruelty and fundraisers and petitions against inhumane treatment of animals.
Ricky has a huge net worth. His current value stands at around a massive $130 million. 
Ricky makes fun of his partner occasionally on his social media.