Jo Brand is one of the most recognized household names in the British comedy scene. She is a comedian with a dry sense of humor.
The London-native has gone through a lot of stages in her life - and by stages, it implies a lot of career paths. From mental health nursing to stand-up comedy to acting - she's done it all!
But where is Jo now? Also, discover her background and life off the screen.
Marriage And Husband
Is 40 too late to start a family? Well, it wasn't the case for Jo.
Jo postponed her marriage plans until she was 40-years-old. And, when the comedian finally decided to get married, she found the right guy at not the most unexpected place, a comedy show. Jo was 38 when she met Bernie, who is six years younger than her.
Another British Actor:- Joel Fry Married, Parents, Net Worth, Now
She married Bernie Bourke, a psychiatric nurse, on 19th December 1997. And the couple has a lot in common because Jo was a psychiatric nurse herself before going into the comic scene.
Despite marrying at an older age, Jo has two daughters from her marital relationship with Bernie.
She had her first girl, Maisie Harriet, in March 2001, when she was 43. And, her second daughter Eliaz Mary was born on November, two years later.
Jo said in a 2013 interview that she also has grandchildren. However, the details about her grandkids are not public yet.
Family Background, Bio And Age
Standing at the height of a mere 5 feet 4 inches (1.63 meters), Jo Brand is a short woman who touched great heights in her life.
Born on 23rd July 1957, the 62-year-old actress comes from chaotic family background. She was raised in a home where there was a fight almost every day. Her father had a short temper and scolded her for nearly everything. He even burned all her clothes one day.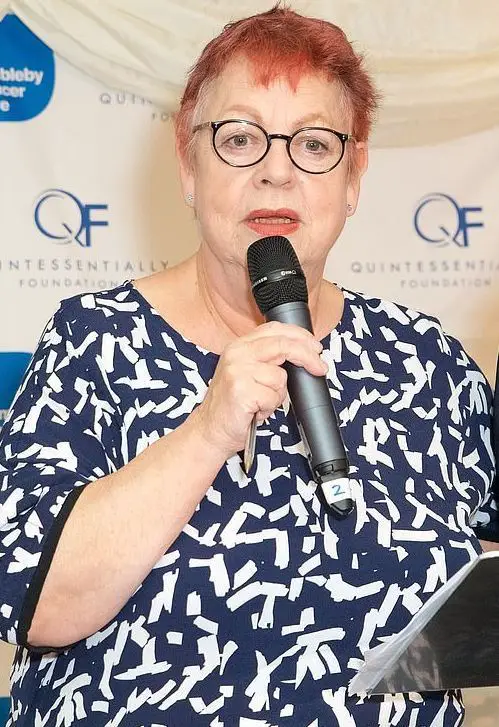 Jo Brand at The World's Greatest Quiz in September 2018 (Photo: dailymail.co.uk)
Following such unrest in the family, her parents split up when she was 15 years old. At the time, Jo's elder brother was 17, while her younger brother was only 13.
Jo is possibly still in touch with her brothers, although she doesn't talk much about them in public.
Jo Brand's Net Worth
Josephine Grace Brand, more commonly known as Jo Brand, is the most well-to-do among her siblings. She has an unexpectedly high net worth of $12 million.
Jo's massive net worth can be correlated to her long and successful career in the show-biz. Throughout her professionally active years, she has gathered 14 credits as a writer and 17 more as an actress.
You May Also Like:- Ben Hoffman Wife, Girlfriend, Gay, Net Worth
In addition to her writing and acting credits, Jo also has 206 credits appearing as herself in various TV shows.
Setting aside her show-biz career, she is also a novelist as she has written 13 books to date.