Entertainment
Jocqui Smollett Biography: Siblings Squad That Brings Out Luscious Tastes
What's better than food with the loved ones?! Maybe only a show devoted to revealing the secrets of sibling love with food. The Smollett siblings' recipe is out with Smollett Eats.
Today, we will be focusing on the life of Jocqui Smollett, one of the siblings, for he has experienced moments every brother or sister would envy. Why not bring your diary down and take the notes on the recipe of Jocqui Smollet's life?
On Our Own: The Siblings Show!
Jocqui Smollett was just a child around the age of 5, from the family of six siblings, when he got into his first TV show. It was not the one or two, but the whole pack of six Smollett siblings that participated in the TV series titled On Our Own aired from 1994 to 1995.
The food-crazed family was cast all together in the series portraying the Jerrico family members sharing the same initials J, which, coincidentally, they share in real life, too.
Food Lover You Might Know:- Who Is Jack Monroe Partner? Engaged & Getting Married - Soon?
Jocqui plays the role of Jarreau Jerrico, who has seven brothers and sisters residing in the O'Fallon Park neighborhood of St. Louis. The series centered on a drama fabricated when their parents got killed in a car crash.
Smollett Eats: Siblings Is The Recipe For Success!
Six Siblings Squad was back into the TV world in 2016, which they left with a significant mark on the audience's hearts. They brought their charm to a whole new level with their food-based TV show Smollett Eats for the audience to enjoy.
Baking and grilling to put the perfect kids' birthday party, to throwing a midnight BBQ party for friends, Smollett squad has every recipe in absolute size and taste for food-crazy individuals.
What distinguishes the Smollett's food-based TV show is the glimpse of sibling's relationship on the kitchen aprons, and fires that make the show more enjoyable.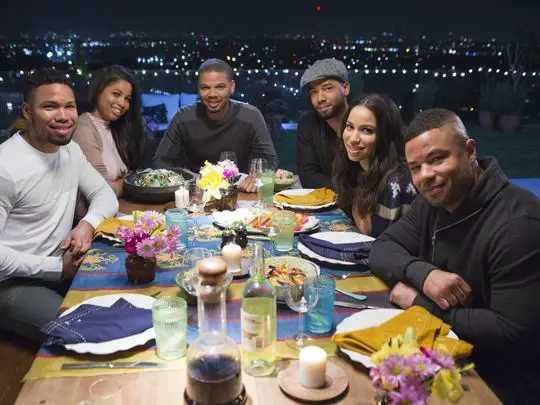 The Smollett Siblings Squad at a dinner (Photo Credit - usatoday.com)
In an interview with USA Today, the siblings poured out their emotions regarding the show.
Jake Smollett explains about the show as,
"Most of the episodes are big feasts. It's a show about us cooking and celebrating as a family."
Jurnee recalls early culinary lessons, quoting,
"Growing up with six kids in the house — five siblings — you have to cook or you were going to starve to death. So, it was for survival. That's why my mom taught us how to cook."
Jake thinks his siblings are the best part of shooting the show.
"It doesn't even feel like work. We have so much fun, and I think it's kind of contagious."
Jojo explains how the army of siblings get along well, briefing,
"We get along really well--people say it's amazing. We've been brought up to reject conflict. We think it's a waste of time to fight and argue,"
Jurnee explains about the center of their brood as,
"Honestly, any sort of celebration we had, or any excuse we had to get together, we were all about the menu."
One of a kind, Smollett Eats gave out not only the recipe for every delicacy but also the recipe for the family's strong bond.
Biography Unveils Parents, Age & Birthday
Jocqui Smollett is the youngest one among the big hood of six siblings that are known mostly for their entire display of pure love and support. The youngest celebrates his birthday on August 2. Jocqui was born in 1994 and currently ages 24.
Biography You May Find Interesting:- Who Are Madylin Sweeten Siblings; Biography Reveals Parents, Net Worth, More
Unlike some of his siblings, he did not dive to the entertainment world, instead choosing to work at a tech firm. His Instagram account once spoke of him as the technologist and founder of Hosted Inc.
Mama and papa Smollets, Janet and Joel, manage the Smollett clan. The oldest, Jojo, 39, works at a nonprofit organization. Jazz is a part of Jacqui's company, and Jake is a chef and food blogger.
Two of the fellow siblings, Jussie and Jurnee, started a production company which has already done some significant works in the entertainment industry.
Jussie Gets Charged With Filing False Report; New Job & Girlfriend
His openly gay brother, Jussie, currently on bail after surrendering himself, has been accused of filing a false report.
The story goes as Jussie - who stars in the hit FX drama Empire - reported to the police in Chicago after getting jumped by "racist" men in late January 2018. After a detailed investigation, Chicago PD learned that the masked men were black and paid to staged the attack -- a claim Jussie denies vehemently to this day.
Although Jocqui initially showed his support to his brother via Instagram post, he hasn't opted to chime in on the matter with the latest developments.
Perhaps, he has his hands full with his job as the manager of Sales Strategy and Analytics at Snowflake Computing, a position he has held since November of 2018.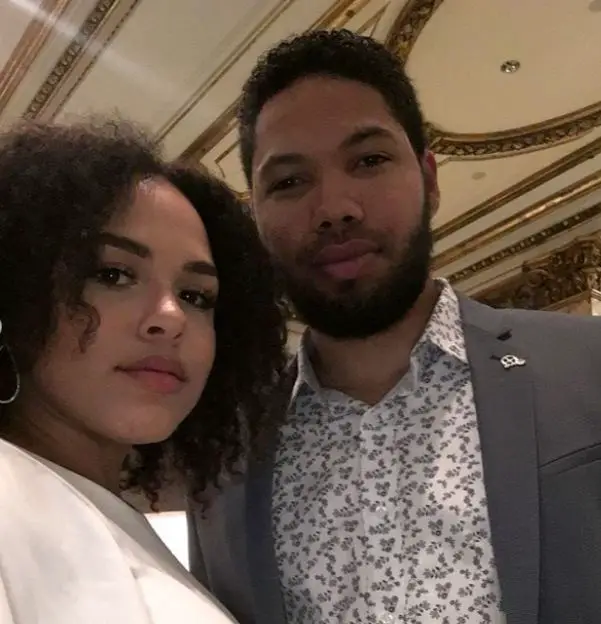 Jocqui Smollett attending the Boat Art Benefit at San Francisco in May 2018 with his girlfriend (Photo:- Jocqui Smollett's Instagram)
Or maybe, the 24-year-old is dealing with the problems of his own with his mystery girlfriend. The said girlfriend hasn't made an appearance on his Instagram since May of 2018.