Joe Anglim is offically an engaged man!
The Survivor competitor announced his engagement to fellow contestant-turned-girlfriend Sierra Dawn Thomas on 9th April 2019. Taking to Instagram, Joe boasted his engaged status with a photo of him kissing his fiancee's hand with a diamond ring on the full reveal.
Flaunting the gorgeous engagement ring, Sierra expressed her will to remain forever with her fiance.
"Forever and ever, amen... "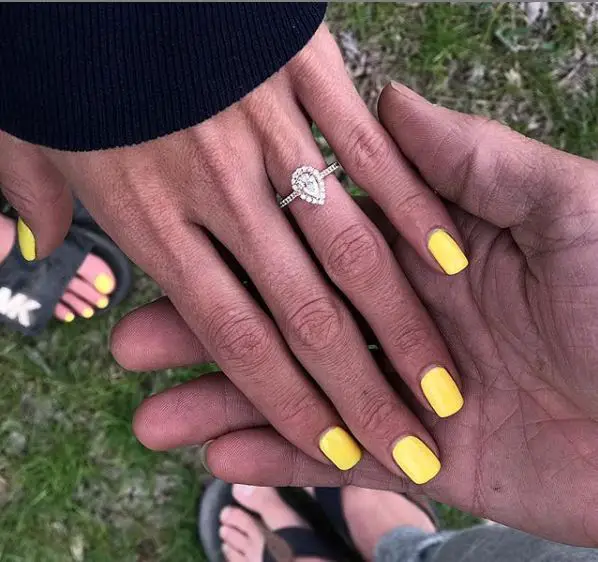 Joe Anglim's fiancee, Sierra Dawn Thomas flaunts the gorgeous diamond ring circa April 2019 (Photo:- Sierra Dawn's Instagram)
The proposal, which was a spontaneous act, couldn't have been more romantic for the lovers. According to Sierra, the duo was returning from Joe's sister wedding in Arizona but decided to camp at a beautiful location in Utah for the evening.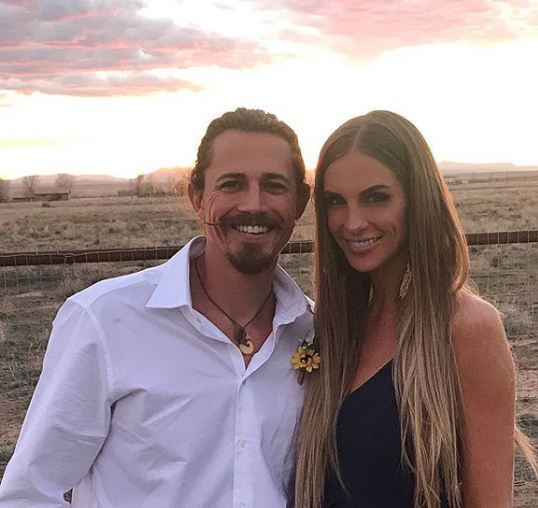 Days before getting engaged, Joe Anglim and his now-fiancee Sierra Dawn attend a wedding in Arizona circa March 2019 (Photo:- Sierra Dawn's Instagram) 
The proposal had it all - beautiful setting complemented by a sunset, deers, and a bottle of rose. Describing the affiar, newly-engaged Sierra told PEOPLE:-
"But then he got off the swing, reached into his coat, and got on one knee. It finally hit me what he was doing. I started crying, and he started crying! We were both crying."
Despite the sudden engagement, the newly engaged duo of Joe and Sierra promised to "live happily ever after."
Relationship Timeline With Fiancee Sierra Dawn
Joe Anglim met his girlfriend-turned-fiancee Sierra on the set of Survivor: Worlds Apart in 2014. Filmed in Nicaragua's sandy beaches and aired in 2015, the 30th season of Survivor saw the duo get alotted to the same tribe.
Ironically, it was Sierra, who voted out Joe in the ninth episode of the said season. Despite all, there appeared no bad blood between the two. After the show, they stayed in touch and became best friends.
Fellow Survivor:- Survivor's Debbie Wanner Has Model Daughter But What About A Husband? Know Everything In Wiki-Like Bio
Around 2017, the lovebirds' relationship took a romantic turn. Following the airing of Survivor: Game Changers later that year, Joe officially revealed that they were an item.
And in 2018, he moved to Roy, Utah to spend more time with his then-girlfriend Sierra. After early jitters, according to him, he seemingly assimilated into the country life. Speaking on the experience a year later, he told Men's Health:-
"I've just been learning a lot about horses and doing a lot of equine massage and training... "
Both Joe and his wife-to-be are supportive and see each other as inspirations. Sierra Dawn Thomas is one of the reasons why Arizona native returned for the 38th season of Survivor dubbed Edge of Extinction in 2019.
Essential Details: From Age To Jewelry
Born on 30th September 1989, Joe grew up alongside his two sisters in Arizona. Growing up, his father was his most significant influence.
Discover New:- Know About Sara Haines' Personal Life: Husband, Married Life, and Family
An athletic individual from an early age, the reality star - as a senior - won a state championship with his high school basketball team. While in college, he helped his volleyball team pull an upset by beating the best team in the United States and winning a championship in Las Vegas.
Speaking of college, Joe - now age 29 - holds a Bachelor of Fine Arts in Metal and Jewelry Arts from Northern Arizona University. After getting his degree, he began working as a self-employed jewelry designer.
At present, he makes his living as a multimedia designer artist and an influencer.