Sierra Dawn-Thomas Wiki Is Absent But Still Know Everything About Her; From Age Talks To Possible Boyfriend And Dating Hailing from Roy, UT, USA, Sierra Dawn Thomas is a famous TV personality and a model as well who has been able to accomplish a fair amount of success at the age of 32. She also is a Barrel Racer. She is beautiful, and she is talented.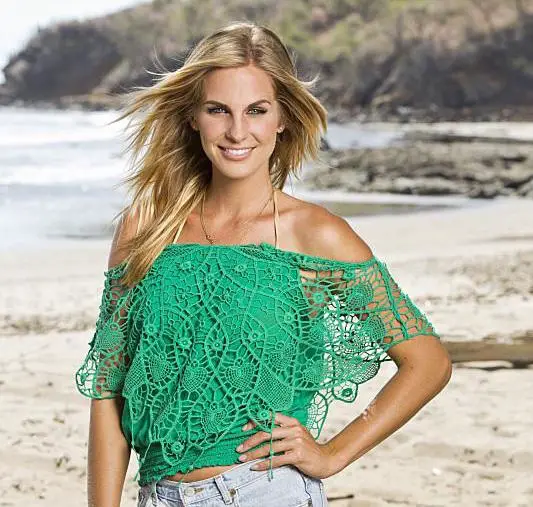 Hailing from Roy, UT, USA, Sierra Dawn-Thomas is a famous TV personality and a model, who has been able to accomplish a fair amount of success at the age of 32. She is also a Barrel Racer.
She is beautiful, and she is talented but, did you know that she is also the part of a famous reality show Survivor. She became the part of the show in 2015 and made quite the name for herself. 
So, let us take a glimpse at how she is again primed to win a million dollar prize in this edition of the show and also see if she has a boyfriend or a partner in her life in her wiki-like bio.
Sierra: A True Survivor?
Born on 18 December 1986, Sierra is a beautiful and skilled model best known for her successful projects like Wieners (2008). But her biggest break came when she impressed the people and the media as a strong contestant for Survivor: Worlds Apart. Survivor is a successful reality show and has proven to be a make or break platform for many over the years. In her last season, Sierra finished 5th, which was quite the achievement for this blonde bombshell. 
In season 30 of the reality show, Sierra played a very safe game where she preferred to stick with her alliance rather than hop out to take larger threats out. But, it was her friendly nature that made her too much of a threat to take to the end, and it cost her dearly, and as a result, she was blindsided by the rest and eliminated in 5th place. 
Explore About Reality Star:- Nick Viall Bio, Family, Dating, Married
But she is a gritty customer, and we know that so she is back again in the 34th season of the very game show and she is looking all set to better her previous experience in the show. 
In an interview about her participation in the series, when she was asked what changes has she made this time around, she answered,
I'm physically stronger, more aware, and better at reading people. Also, emotionally, I am less sensitive.
Also, when she was asked what she brings to the table when it comes to being a team member, she said with authority that she is not just a pretty face. In her words,
I can do anything outdoorsy! I'm physically strong, loyal, easy to talk to, and people trust me. I am in better physical shape than I have ever been. I practice puzzles every day. I'm mentally and physically ready.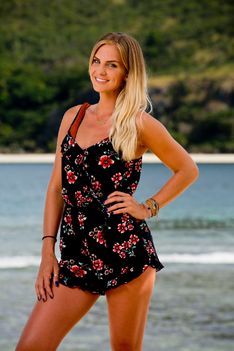 Sierra Dwan Thomas pumped for season 34 of Survivor (Photo credit: survivor.wikia.com)
Moreover, being loyal is what she termed her proud moment the last time she was a part of the show.
My loyalty. I set aside pride and played the game. I am proud of my physical strength. I was a strong competitor in every challenge. 
When she was asked if she will be able to be the sole survivor this time around, she sounded pretty confident of her chances.
I am a 6'1" model and most people just see me as a pretty face, but I'm a cowgirl and rancher who doesn't mind doing a man's job. I am also an extreme athlete. I played basketball, volleyball and ran track and cross-country in high school (got offered a full ride scholarship for college basketball but decided to take the rodeo scholarship). I am a college student who's going to school for a master's in Criminal Justice with an emphasis in Corrections. I believe in strategizing and I am not afraid to push myself mentally and physically. 
Well, judging by her words, she does seem pretty pumped up for her participation this time.
Is Sierra Dating Anyone?
Sierra, who stands over 6 feet 1 inch in height, has been under the spotlight ever since she made her professional life tick and now that she is a well-known personality, she has been able to acquire a big fanbase. Those, who are her fans often wonder if she is dating, married or is single.
Well, the pretty brunette's heart was stolen by her fellow survivor castmate Joe Anglim. And, the pair started dating officially in 2017. But, when the couple first met on 30th season Survivor: Worlds Apart, their relationship wasn't so exceptional to talk about.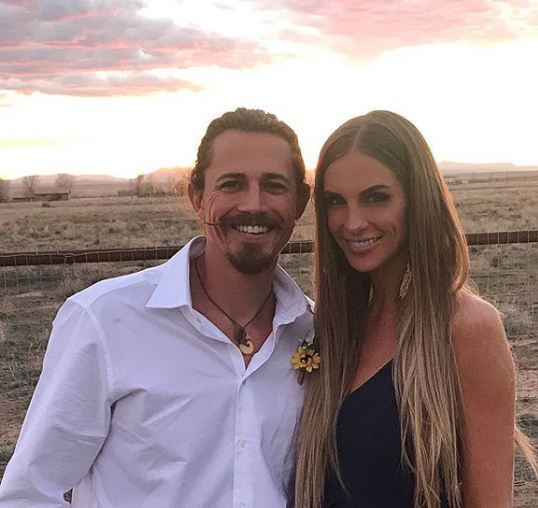 Sierra Dawn Thomas and boyfriend Joe Anglim smile while attending the latter's sister's wedding with on 9th April 2019 (Photo: Sierra Dawn Thomas 's Instagram)
But, after the show ended, the duo connected. They met during Survivors' various events and conventions. Realizing they had so much in common, Sierra and Joe decided to start dating.
Sierra's Engagement
9th April 2019 turned out to be one of the happiest days of the reality star's life. On the D-day, Joe went down on one knee and popped the question with a teardrop-shaped ring. Sierra on the other hand cried and said yes!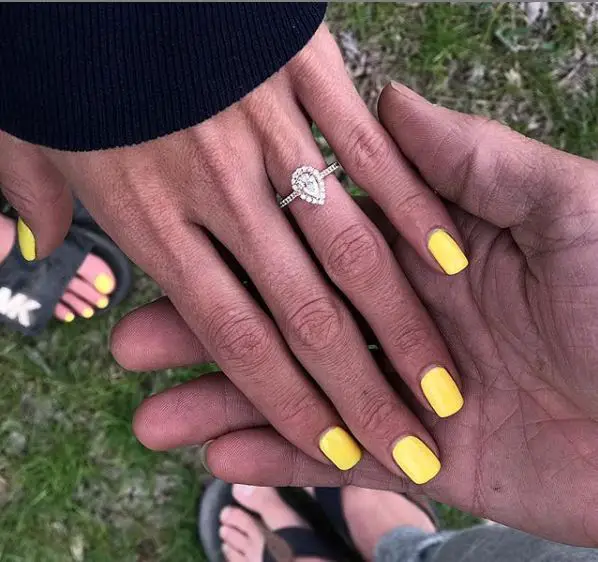 Newly engaged Sierra Dawn Thomas flashes her ring while her fiance' Joe Anglim hold her hand on 9th April 2019 (Photo: Sierra Dawn Thomas 's Instagram )
Well, the bride-to-be had no idea what her beau was up to. The pair had stopped to camp in Utah after returning from Joe's sister's wedding from Arizona.
Read About Power Couple' Engagement:- Alex Rodriguez & Jennifer Lopez Got Engaged
During the camping in front of the mountains and a beautiful sunset, Joe and Sierra became one another's forever.