While the world is always being plagued by pessimism, there are still a few out there rooting for prosperity and success.
Dr. Joe Dispenza, one such optimist, is driven by the conviction that everyone can achieve greatness with unlimited abilities and potential.
The internationally recognized researcher is genuinely a boon in the field of medical science; curing illness and medical complexities of people with his unique approach. Some of his teaching methods include online lectures, workshops, and meditation.
Married, Wife?
Although Dr. Joe Dispenza is a father to three children, the whereabouts of his wife are unknown. So, his children could also be the result of one of his relationships to an ex-girlfriend. Similarly, the doctor is very low-key about his personal front and has not revealed if he was married at some point.
As a parent of two sons and a daughter, Joe raised his children with spirituality and science. He taught them how to manifest incredible experiences in their life and be self-loving.
Also A Doctor:- Dr. Jackie Walters Divorce, Married, Children
Matter of fact, his teaching made a significant impact on his children, especially his daughter. In one of his YouTube videos, Joe shared the moment when his daughter wanted an unlimited shopping spree and how his advice changed her wish into reality.
Joe Dispenza Biography
Dr. Joe Dispenza - aged 57 - is an international educator and has dedicated his life in the well being of the people. He is an expert in understanding the human brain and extracting the best of its abilities.
Dr. Joe received a B.S. degree from Evergreen State College and graduated with his doctorate in chiropractic degree with honors from Life University. Post his graduation, he recieved training for neurology, neuroscience, brain function and chemistry, cellular biology, memory formation, and aging and longevity.
Talking about his career, he works as a faculty member of several educational institutions including the Quantum University in Hawaii, the Omega Institute for Holistic Studies in New York, and Kripalu Center for Yoga and Health in Stockbridge, Massachusetts. He was also invited to chair the research committee at Life University in Atlanta, Georgia.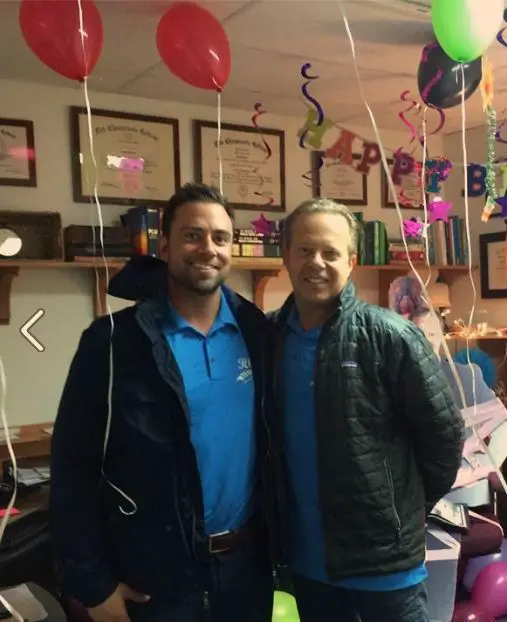 Dr. Joe Dispenza (left) with friend Dr. Mark (right) on his 54th birthday in March 2016 (Photo: Dr. Joe Dispenza's Facebook Fan Page)
In conjunction with working as an educator, Dr. Joe also provides online lectures, workshops to business organizations using neurological principles to enhance their employee's creativity and capabilities.
Also Read:- Dr. Umar Johnson Bio: Age, Wife, School, Net Worth & Racial Talks
As a researcher, he is focused on the latest findings in the fields of neuroscience, epigenetics, and quantum physics. He uses the knowledge to cure illness, anxiety, chronic condition, and even terminal diseases.
Since 2007, he has published several books based on his research in the advanced workshop. As one of the NewYork Times best-selling authors, Dr. Joe published books like Evolve Your Brain: The Science of Changing Your Mind (2007), You Are the Placebo: Making Your Mind Matter (2014) and Becoming Supernatural (2017).
He has also appeared in movies like Beyond the Ordinary (2018), Heal (2017) and E-Motion (2014).
Net Worth & Earnings
Dr. Joe Dispenza enjoys a career is medical science and research. He has changed the lives of many people with his unorthodox teaching style and mantra to see life differently.
His dedication has paid him well as he also enjoys a small fortune earned from his career. Joe runs a YouTube channel with almost 120K subscribers and accumulates $2.3K - $36.3K per year from it.
Further, with multiple jobs, Dr. Joe's average salary as a chiropractor amounts to 60,747 dollars a year. As an author, he accumulates around $51,161 per year, which makes his net worth around a million dollars.