Entertainment
Joe Swash And His Girlfriend Are On Their Way To Get Married? About Gay Rumors and Partners!
It is said that couple's match is a celestial matter. But what ahould be called to the couple who bonded in a jungle? Joe Swash and Stacey Solomon together make up such couple who are thus called the King and Queen of the jungle.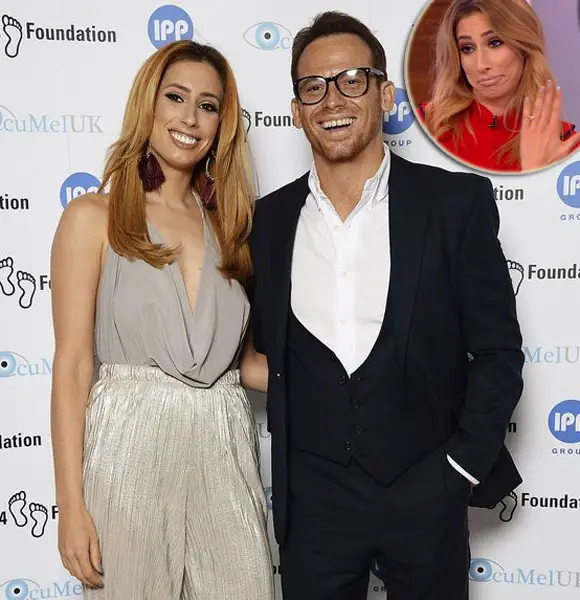 It is said that a couple's match is a celestial matter. But what should be called to the couple who bonded in a jungle? Joe Swash and Stacey Solomon together make up such a couple who are thus called the King and Queen of the jungle.
Joe Swash and Stacey Solomon, the former champions of "I'm A Celebrity…Get Me Out Of Here!" are dating each other but what's the future of this weirdly matched couple? Are they engaged and about to take their relationship a step ahead of marriage? So, why not have a look at this beaming relationship and dig out the truth.
Soon To Be Wife? Getting Married With Girlfriend?
Recently, Stacey flaunted an eye-popping diamond ring in a clip which she shared on Instagram. The artist only meant to show off her manicure through her media post, but the actual thing was more intense than just the manicure. Something else grabbed the attention of her followers, and it was indeed a huge rock on her ring finger.
Related: Stacey Solomon Spills Wedding Plans & Husband-To-Be Joe Swash Is Out Of It!
Soon after that incident, Stacey shut down the rumors at Box Avenue's SS17 launch on 29th May. She said to Daily Star Online:
"I'm not engaged. I just got a manicure and washed my hands and just slipped the ring on that finger because it's skinnier."
She continued:
"It's funny because when you're not engaged you don't even think about it…We've only been together 18 months."
And asked:
"In what reality do people get engaged after 18 months?"
Hence, there were significant rumors that the couple is ready to perform their wedding nuptials, but the couple has confined the answer within themselves. Nevertheless, they have finally decided to take their relationship to the next level and move in together.
The Eastenders actor and his girlfriend have decided to move in together in their new home at Essex. However, talking in The Loose Women in October 2018, Stacey mentioned that she felt weird during the moving in process.
"When I moved in with Joe, it was sort of 'oh gosh this is scary and weird' and you get that funny feeling in your tummy."
Stacey also mentioned that she remains unsure whether or not Joe is 'the one' for her,
"I am really happy in my relationship and Joe is really happy – I hope! But I don't think you ever know if anyone is 'The One'"
So, while there have been no updates regarding if they are getting married anytime soon, they are definitely taking their relationship to the next level moving in together.
How Long Has Joe Been Dating His Partner?
The relationship timeline of Joe Swash and Stacey Solomon isn't too old as they have been dating since 2015. Surprisingly, it took a while for the Loose Women presenter Stacey to announce that she has been dating former EastEnders actor Joe.
It was only back in January 2016 that she hinted their romance, but that wasn't any tidings for the public as we already caught wind of their budding romance when they were seen enjoying a weekend away together.
The lovebirds were spotted on a romantic gateway at Champneys Henlow Health Spa in Bedfordshire where they united for Joe's 34th birthday.
Additionally, they shared adorable family photo ahead of their I'm A Celebrity job together.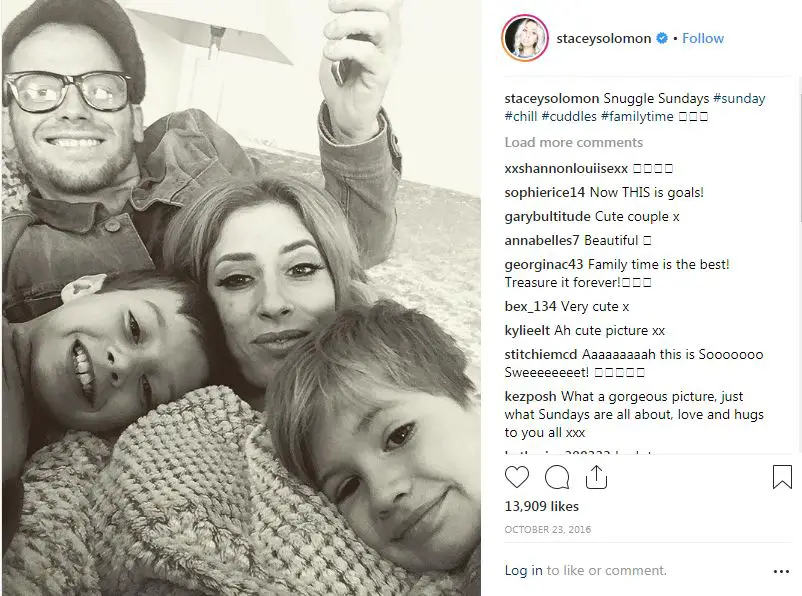 Joe Swash with girlfriend Stacey and her two children. (Photo: Stacey Solomon's Instagram)
The mum-of-two boys, Stacey has opened up about wanting to tie the knot with her boyfriend, Joe. Furthermore, she also revealed her desire to expand her brood.
Don't Miss: Fox Sports' Kate Abdo Furtive Husband & Family | Salary At Age 37
Speaking to NEW! Magazine on 16th May, she said:
"We both want to get married eventually, and hopefully have more children, but it's about timing."
Then, she gushed and talked about Joe:
"He's a lovely, normal man with a good heart and really good morals."
However, Stacey has mentioned her insecurities with what she believes to be 'inappropriate' behavior when females sexually harass Joe. Talking in her show, the Loose Women Panelist, Joe's girlfriend of three years mentioned that she didn't found it right.
"I've seen a lot of women be very inappropriate with my partner and I think, I hate to say it's accepted but it seems to be that it's OK for a woman to be a bit overly flirtatious."
So, while the duo remains unmarried, nobody can argue there is no love between the two seeing Stacey's jealousy over her boyfriend Joe. 
Joe and Stacey's Relationship History:
Joe Swash wasn't single before his relationship with Stacey Solomon. He rubbished all his gay rumors after getting engaged with two partners in the past, which he already ended.
Firstly, the actor was involved with Emma Sophocleous and got engaged to her, but he couldn't take the relationship further. Consequently, he ended up ditching his fiancé and their seven-month-old son Harry Swash on 19 January 2008.
Joe was also found sharing a picture of his son in September 2018 after his 11-year-old son started a brand new school year. The caption read,
"Getting my son's hair cut for his first day of his new secondary school! Where has the time gone?"
Soon after Emma, he started searching his life partner in his co-star and girlfriend Kara Tointon, but it also didn't work out well for him. Their relationship went only from the year 2008 to 2010 while the couple didn't intend to present vivid reasons behind the incident.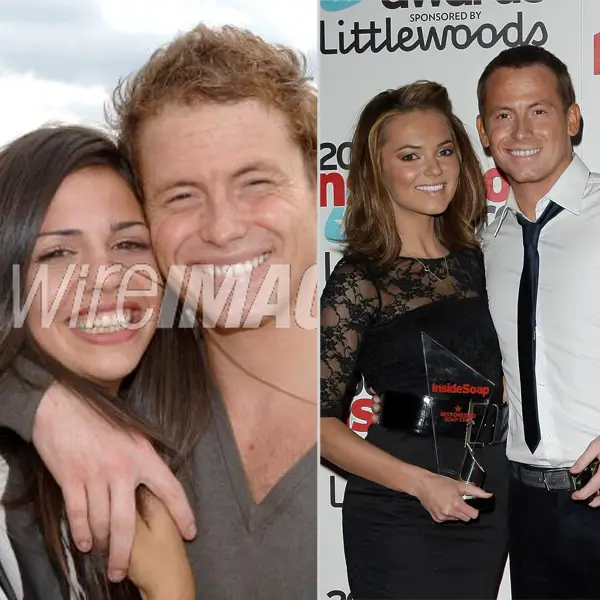 Joe with Emma Sophocleous  (L) and Joe with Kara Tointon (R). (Photo:  Self)
Similarly, Stacey Solomon was in a relationship with Dean Cox, Aaron Barham, and Jackass star Steve-O. All her relationships were unsuccessful. She, first, had a relationship with Dean Cox in 2007.
The relation sustained for two years, and they share a son named Zachary Solomon. Soon after that, she started dating Aaron in 2009. They had a private relationship while they share a baby boy named Leighton Barham.
But news about her breakup with the Aaron made its way up to the media as she called off her engagement with him without any clear reason.
Read Also: Steve-O Ends Dating Affair With Couple Of Girlfriends! Not In A Mood To Get Married Or Had Some Complication?
In 2015, she maintained a relationship with the Jackass star, but it couldn't even sustain for a long time.
She kept her connection with him on hold as she didn't completely want to end up with him. But the mum-of-two boys then patched up with Joe Swash, and now it looks as if she has found a father for her sons. The couple has also shown interest in turning the relation as husband and wife in interviews.
Stacey's small family now includes Joe and her two sons.